Arizona District #6 Little League: Welcome
Welcome to Arizona District #6 Little League serving youngsters residing within the Scottsdale Unified School District and the Town of Fountain Hills.

District Administrator Contact Information:
Irwin M. Altman, District Administrator
Little League Baseball, Inc., Arizona #6
Post Office Box 2283
Scottsdale, Arizona 85252-2283
480-596-2998, facsimile: 480-596-2998
Best way to contact me is through my e-mail address: AZ6LL@cox.net

Umpire in Chief: Rob Trulson (602) 980-2681 rtrulson@ttconstruction.com
Assistant DA: Ann Low (602) 617-9315
Assistant DA: Kimberly Borges (602) 692-7895

Information can also be obtained at:
Arizona State Little League website: www.eteamz.com/azstatell
Western Region Little League website: www.eteamz.com/llbwest
Little League Headquarters, Williamsport, PA: www.littleleague.org

Sunday, June 23
McCormick Ranch Little League Captures 9-10 Baseball Championship
McCormick Ranch Little League (MRLL) was crowned champs last night beating a valiant team from Fountain Hills Little League. MRLL swept through the tournament winning all 4 of its games. District 6 has hosted the 9/10 baseball championship for 9-years. This is McCormick Ranch's 6th title.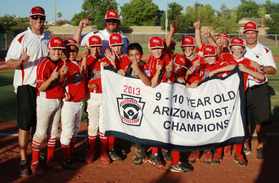 2013 AZ6 9/10 Champs: McCormick Ranch Little League
Sunday, June 23
Arcadia Little League Takes 10/11 Baseball Championship
Arcadia Little League (ARLL) won a hard fought 1-0 game versus Mountain View Little League in the championship game. ARLL went undefeated in its three games. This is the eighth year of 10/11 baseball tournaments in District 6. It is Arcadia's third such championship and second in three years.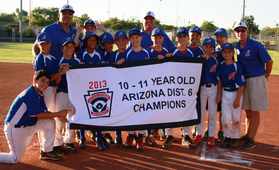 2013 AZ6 9/10 Champs: Arcadia Little League
Tuesday, July 2
Junior Baseball: North Scottsdale Comes from Behind to Win District 6 Championship
North Scottsdale Little League (NSLL) and McCormick Ranch Little League (MRLL) completed their suspended game from the night before. MRLL led 9-6 as the game resumed with NSLL batting in the top of the 6th. NSLL scored 4 runs in that top of the 6th and made those runs count as they held on to win 10-9.
It was NSLL's third District #6 Junior Baseball championship in a 4-year span.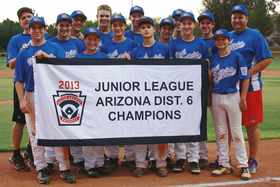 2013 AZ6 Junior Baseball Champs: North Scottsdale Little League
Thursday, July 4
Little League Baseball: Mountain View Wins First Little League Baseball District Championship
Mountain View Little League (MVLL) has been existence for 26 seasons. In their highly successful history they were missing one crown. That WAS a district championship in the Little League division. Last night that drought came to an end.
Desert Foothills Little League (DVLL) and MVLL were clearly two evenly matched teams. With the series tied at one game each, the third and final game was tied entering the fifth inning 5-5. With tensions building, both teams were unable to score in the 5th inning. DFLL threatened in the top of the 6th but could not push a run across. In the bottom of the 6th inning, MVLL grounded a single through a drawn-in infield to plate the game and championship winning run.
Final score MVLL:6 DFLL:5.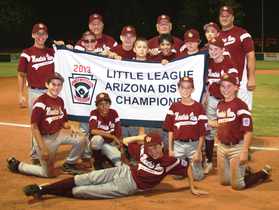 2013 AZ6 LL Champs: Mountain View Little League
Handout:
2013 AZ6LL District Little League Baseball Tournament
Tuesday, July 9
Big League Baseball: AZ#6 Sweeps Doubleheader to Win State Championship
Arizona District 6 won their third straight Big League State Championship last night by sweeping a doubleheader versus Tucson District 5. D6 won the first game 7 - 3 and came back to win the night cap 5 - 2.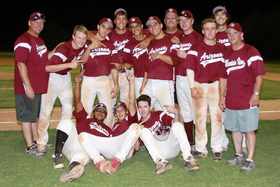 2013 Arizona State Big League Baseball Champions
Friday, July 12
Upcoming State Tournament Activity for AZ#6 Teams
Thursday, July 18
Senior Baseball STATE Tournament: MVLL Seniors win 12 – 5 vs. Host Prescott
Again thanks to Rene Salazar for the following update:
MVLL rode Nathan Salazar for 4 innings last night to secure a victory for MVLL 12 – 5. MVLL used 5 pitchers to give several guys some work on the bump and manage pitching going into weekend play. MVLL used Alec Kvamme, Louis Chavez, Trent Baze and Jonathan Fortier to keep Prescott off the bases. MVLL had 11 hits, and scored 5 runs in the top of the 4th with a 2 run RBI from Jonathan Fortier, and base hits from Phil Leff, Trent Baze, Alec Kvamme and Max Feinberg. MVLL was selectively aggressive at the plate earning 7 walks and 3 runs off them. The weather was nicer last night, yet there will be several make up games today due to wet fields at Prescott HS. Again, another top to bottom team effort last night and everyone is contributing and making a difference. GREAT TEAM EFFORT
MVLL will get a day off today and will head up the hill on Friday afternoon to face defending Senior State Champions Friday night against D2 – Holiday Park. MVLL's pitching rotation is on schedule and MVLL will give Holiday Park a good game. Game will be at Kuebler Field in Prescott.
Wednesday, July 17
Senior Baseball STATE Tournament: MVLL D6 - 5 Tucson D12 - 1
Thank you to Rene Salazar for the following update:
MVLL Senior All Stars battled a soaked rainy day yesterday having to deal with a field repair delay, then a lightening delay on its first game of the Arizonas Senior State Tournament. Prescott got hammered with several needed inches of rain the past few days. MVLL Arrived at Prescott HS to see the field underwater. The city of Prescott had to come and dry the field off causing the start time to be 1 1/2 hours later. 40 minutes into the game lightening was close, so both teams were moved to the dugouts. The game finally ended last night at 9:30 PM.
MVLL had a great performance from NDP/MVLL player Zach Zucchini last night pitching 5 solid innings, allowing only 1 hit, and 1 ER. MVLL played great defense and kept Tucson off the bases with solid pitching and defense. Trent Baze and Jonathan Fortier led off to get on base, allowing Nathan Salazar to hit a 2 run double down the 3rd base line. Tucson came back earning a walk, then a long base hit to right field, scoring their only run. MVLL chipped away with some walks, a bunt, and aggressive running to score 3 more runs from Max Feinberg, Connor Valocchi, Jonathan Fortier. Trent Baze came in middle relieft, and Connor Valocchi came in to close it out. Everyone on the roster contributed, and the team is jelling nicely.MVLL will play the HOST/Prescott Little League tonight at 8:00 PM at Prescott Little League. We anticipate a large home town crowd. MVLL has its pitching rotation in order and is prepared to steal a victory from the home town tonight. Stay tuned for live updates on twitter: @MVLLALLSTARS
Friday, July 12
Arizona State Baseball Tournament Information
By clicking on the "All Star Tournaments" link on the left, you can choose a division of baseball and see the brackets for that particular state tournament.