Ashton Village Swim Team: Welcome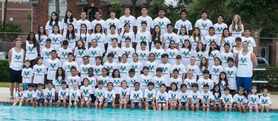 2015 Ashton Village Vikings
Home of the Vikings: 3246 Ashlock Drive, Houston, TX 77082
SWIM TEAM PARTY THIS SATURDAY, JULY 11TH at 5pm
Congratulations to all of the swimmers who participated this year. It was a successful summer! And a BIG thank you to all of the parent volunteers who made all of this happen.
Welcome! You've found the Ashton Village Swim Team Website!
Ashton Village Vikings Swim Team was created as a committee of the Ashton Village Homeowners Association and competed for the first time in the summer of 1990. Approximately 50 swimmers participated in the first meet, and a total of 82 had registered by the end of the season.
This will be the twenty third season for the Vikings Swim Team. The Vikings' tradition remains firmly rooted in four founding qualities: good swimmers, good coaching, good parental involvement and good people.