Asbury Park Little League: Welcome
2013 General Fund
Donations Received: $ 9,441
$0
$ 11,000
2013 Field Maintenance Fund
Donations Received: $ 1,544
$0
$ 5,000
2013 Summer Camp Fund
Donations Received: $ 13,592
$0
$ 14,000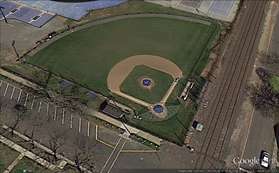 AP Little League Field
Saturday, January 25
Welcome!
Thank you for visiting the Asbury Park Little League web site.
The 2014 Season will be here before we know it!! Below please find a schedule of events for the upcoming season. If you have any questions, please feel free to contact us by phone at 732 768 6860 or by Email at APLittleLeague03@aol.com. We are planning another great baseball season and look forward to your participation!
Registration forms can be found in the Handouts section. We will also have registration forms at the various registration dates.
A copy of the birth certificate and 3 proofs of residency are required at the time of registration for all players. Proof of residency can be things such as insurance card, drivers license, car registration, gas OR electric bill, lease, bank or credit card statement. Players will not be placed on a team until proper documentation is provided.
2014 Season Schedule
March 1, 2014

Evaluation Day

Where: Asbury Park Middle School Gym

Generally only new players need to attend Evaluation Day.

Players will be notified concerning the time.

March 13, 2014

Neptune IHOP Community Night Fundraiser.

Route 66, Neptune between 4pm – 8pm.

10% of all proceeds will be donated to the A.P. Little League

March 25, 2014

Game schedules announced for the 2014 season

April 5, 2014

2014 Season Opening Day Ceremony, 1st game, Raffle

Drawing & BBQ

Where: Asbury Park Little League field

When: 12noon

April 19, 2014

Picture Day

Where: Asbury Park Little League field

Alternative location if raining: APHS Gym

When: Each team will be notified concerning their picture time.

May 31 &

June 1, 2014

Spring Tag Day

June 7, 2014

Closing Day Ceremony, Trophy presentations & BBQ

June 14, 2014

(tentative date)

All Star Play-offs begin

July 6, 2014

Baseball Summer Camp

First group of players go to Williamsport, PA for one week of baseball camp. Approximately 20 players will have the opportunity to attend the camp free of charge, however, payment of a very nominal transportation fee of $50 is required.

August 4 & Aug. 11, 2014

(tentative dates)

Pool Party

Hotel Tides, 408 7th Ave, A.P. Time to be announced
Hardball by Lil Bow Wow