ALL ASPECTS BASEBALL AND SOFTBALL ACADEMY: Programs
2015 Hitting Leagues are forming now !!!
2015

All Aspects Sunday Night

"Hitting League"

4 week sessions!!

1st Session Jan 4, 11, 18 & 25, 2015

2nd Session Feb 8, 15, 22 & March 1, 2015

3rd Session March 8, 15, 22 & 29, 2015
Rules for Hitting League

1. Teams of two will compete against each other in weekly competitions.

2. Four rounds of 15 pitches to each player will occur each session.

3. Points are awarded by hitting the designated point areas inside the cage.

4. One section is worth 3 points, another section is worth 2 points, and the final section is 1 point.

5. Balls that bounce and hit the designated section will not count.

6. Balls that hit the top of the cage and hit a designated section will not count.

7. Scores are judged by an All Aspects staff member and submitted after the round is over.

8. Any disagreements will be settled by a staff member at the facility.

9. Points will be kept for each 4 week session.

10. Points are based on hitting a ball into the designated areas inside the batting cage.

11. The point system will start at the back of the net and wrap around the sides of the cage.

All Aspects Baseball and Softball Academy is now forming a Sunday Night Hitting League open to all ages of boys and girls. Teams of two will compete against each other in weekly point based hitting game. Divisions will be created based on age groups pending amount of players/teams able to be formed. Winners will be crowned for each session! Bring a friend and win it all!

Pay with PayPal account or any major credit card

*

There is a $5 service fee for paying with PayPal or major credit card.

At All Aspects we are always looking to bring new programs to help benefit your childs baseball or softball skills. We hope that you will take advantage of our new Hitting League program.

All Aspects Baseball and Softball Academy
Tuesday, December 1
Girls Fast Pitch Pitching Lessons & Hitting Lessons
All Aspects Softball Instructors Katie Hannagan and BK Siedentopf are available for fast pitch pitching lessons all year round. Learn from proven college players. Don't be fooled by the ones who have never played the position or never accomplished anything at the position.
If interested in girls fast pitch softball lesson please contact All Aspects @ 708.595.0919 or email All Aspects for availability. allaspectsbryan@yahoo.com
All Aspects Baseball and Softball Academy Announcement
Mondays Fall Girls Fast Pitch Clinics with:
Katie Hannagan !!!
This fall keep working on your fast pitch pitching mechanics and fundamentals with our very own Katie Hannagan. These fast pitch clinics will help work on form, balance, proper footwork, technique, accuracy, arm speed, grips and much more!! Must supply your own catcher. Limited enrollment so sign up today!!
Mondays from 6:00pm-7:00pm
First 5 week clinic: Oct 20, 27, Nov 3,10 & 17
Second 5 week clinic: Nov 24, Dec 1, 8, 15 & 22
Cost for each 5 week clinic: $125
*** Individual nights are $30 ***
All Aspects Baseball and Softball Academy
362 East Sauk Trail
South Chicago Heights, Illinois 60411
708-595-0919
Tuesday, December 1
Boys Individual Hitting Lessons
Get off the couch and stop playing video games and let's hit some baseballs !!
I don't believe in sitting behind a
pitching machine
and feeding baseballs to a machine to be a "hitting lesson". I use
no

pitching machines
!!! Players will train the essential mechanics to become a well balanced hitter. Seeing the ball properly, stance, load, stride and swing/bat speed. Learn how to "drive the ball"....Not just hit the ball. If any pitching is done, it will be from one of the instructors not a machine.
Reserve an individual lesson by emailing or calling for availability.
I've been getting a lot of emails lately from coaches and parents
looking to correct common hitting problems.

So today, I'm going to share 4 of the most costly
mistakes... and exactly how to fix 'em.

#4 - Poor eyesight.

In many cases, struggling hitters simply have trouble
tracking the ball because their eyesight is poor.

Does the athlete wear glasses off the field? If so, can
he have some sport goggles or shatterproof glasses made
to play baseball in?

#3 - Swinging too hard.

If your hitter looks off-balance and out of control in
the finish phase of the swing, he's probably swinging
too hard.

Teach him to swing through the ball with a smooth,
controlled stroke.

#2 - No "2-strike approach"

Many youth and high school hitters fail to make an
adjustment for 2-strike situations.

An easy way to increase your chances of making contact
when the pitcher has the advantage is to choke up
2 inches on the bat.

This shortens the swing and improves the chances of
putting the ball into play.

And the #1 hitting problem is...

(drumroll please...)

#1 - Bat too heavy!

Many young hitters have a tendency to use too much bat,
causing them to pull off the ball with the front side.
Resereve a individual lesson by emailing or calling for availability.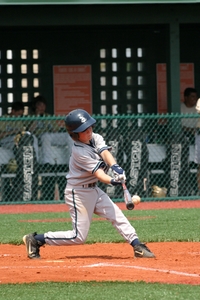 Catcher Lessons available for boys & girls
Learn the proper technique's to play the catcher position from any of our 4 catcher instructors. Sam Antkiewicz, Bryan Milburn, Vanna Lowe or Vanessa Richardson. Having a good pitcher is important. Having a catcher that can block balls in the dirt, give a good target, throw out base runners and block the plate on throws to the plate is just as important. This class is open to girl softball players too !!
Lessons will be available for $40 per session upon request. Having your own equipment is encouraged, but not necessary. Beginners are welcome to attend this class. Contact All Aspects at allaspectsbryan@yahoo.com or call 708-595-0919
Tuesday, December 1
Individual, Group Lessons & Coaches Clinics
All Aspects Baseball and Softball instructors are available for individual boys and girls 30 minute and 1 hour lessons for pitching and hitting lessons upon request. Week nights and weekends are available. Outdoor lessons are available during the summer months. Call 708-595-0919 for details.
All Aspect instructors are available to come to your town and put on hitting or fielding clinics as well as coaches clinics.
Please contact All Aspects at allaspectsbryan@yahoo.com to arrange an individual, group lesson or clinic in your town/league.
Tuesday, November 22
QFS - Strength and Conditioning 45 Min Sessions
QFS ( Quicker Faster Stronger) 45 minute sessions. A NEW approach to a Quicker Faster Stronger Athlete. Our mission is to provide training techniques that enhance the development of young athletes. Our training philosophy is a building block approach. The foundation of the building block approach centers around core, strength and stability.
** QFS is available for personal 1 on 1 training for $75/45 min session or 10- for $550.
** Team package (6 - 12 players) $120 / 45 min session
** Open to public Group QFS sessions every Monday from 6:45pm - 7:30pm, Thurs 8pm-10pm and Sat 8am-3pm
$30/session or sign up for a discounted package:
Any 6 sessions $145
Any 12 sessions $250
** Summer QFS (May-Sept) meets once a week-Call 708-595-0919 for more details.
Tuesday, December 1
Strong Arm Program
The Strong Arm Program was developed to help build proper mechanics of throwing and work on building a strong arm. Only way to build velocity is to throw !!! Drills to help avoid injuries for the 2015 season. This program will help infielders, outfielders, catchers and pitchers.
Throwing a baseball/softball is a fundamental skill critical to success in the game of baseball/softball. Whether pitcher or position player, throwing requires development like any other skill. A baseball/softball player needs to have a strong, well-conditioned and healthy arm. Unfortunately, most baseball/softball players neglect their arms or just take them for granted.
Each Strong Arm Session is 1 hour.
5 Lesson Package $275
10 Lesson Package $550
** Require half deposit at 1st lesson and remaining half at middle lesson.
Email allaspectsbryan@yahoo.com or call 708-595-0919 to book a session.
Thursday, November 17
Web Gem Wed's
WEB GEM WEDNESDAY'S
Every Wed starting October 2014- Dec 2014 All Aspects instructors will work on proper throwing and fielding mechanics for ages 7-14. Work on your throwing and fielding skills with All Aspects professional staff this winter.
Ages: 7 - 14 yrs old
When: Nov 5, 12, 19, 26, Dec 3, 10 & 17, 2014
TIME: 5pm-6pm
COST: $25/session or purchase package of 4 for $80
Call 708-595-0919 or email allaspectsbryan@yahoo.com to sign up !!!
Thursday, April 26
Total Control Sports Products
TCB Ball
Develop Strength and Drive thru the Hitting Zone with this ultimate hitting aid.
The TCB Ball is a MUST HAVE for the serious Fastpitch or Baseball hitter and their teams. Designed to develop maximum strength and drive through the hitting zone.

TCB Ball is 3.2 inches in diameter and weighs 425 grams. The TCB ball can be used for both Fastpitch Softball or Baseball. The TCB BALL is used for both front and side toss. The optimum use is when the front toss method is used. With its weighted design, start out slowly with 3 to 6 solid hits and increase to maximum of 18 to 24 in one hitting session.
TCB Ball Item ID: TCB-Y-425-82
6-TCB-06L-82 $59.99 plus shipping
12-TCB-12L-82 $99.99 plus shipping
TCB Hole Ball 8.0
ONLY WIFFLE STYLE BALL TO THAT GIVES THE HITTER INSTANT FEEDBACK
The TCB "HOLE" Balls are a MUST HAVE for the serious Fastpitch or Baseball hitter and their teams. The only wiffle style ball designed to last...Made from the same base material as the TCB Ball and GUARANTEED FOR 1 FULL YEAR FROM ANY BREAKAGE.

Hits better, throws better with the same flight as ordinary plastic balls.
Weighs approximately 80 grams

TCB "HOLE" Ball is approximately size is 3.2 inches diameter. and is ultimate replacement of hard plastic wiffle balls. The optimum use is when the front toss method is used.
Standard HOLE Ball Item ID: TCB-YH-80
12-TCB-12L-74 $40.99 plus shipping
24-TCB-24L-74 $75.99 pluis shipping
Please send an email if you wish to purchase some Total Control Sport weighted training balls or whiffle style balls. allaspectsbryan@yahoo.com
Both products are available @ All Aspects. Stop in to see these products and purchase. Call 708-595-0919 if any questions. We are an approved TCS dealer.