ALL ASPECTS BASEBALL AND SOFTBALL ACADEMY: All Aspect News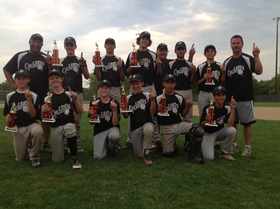 13u Crete Cyclones Lombard Summer Classic Champions
Monday, July 30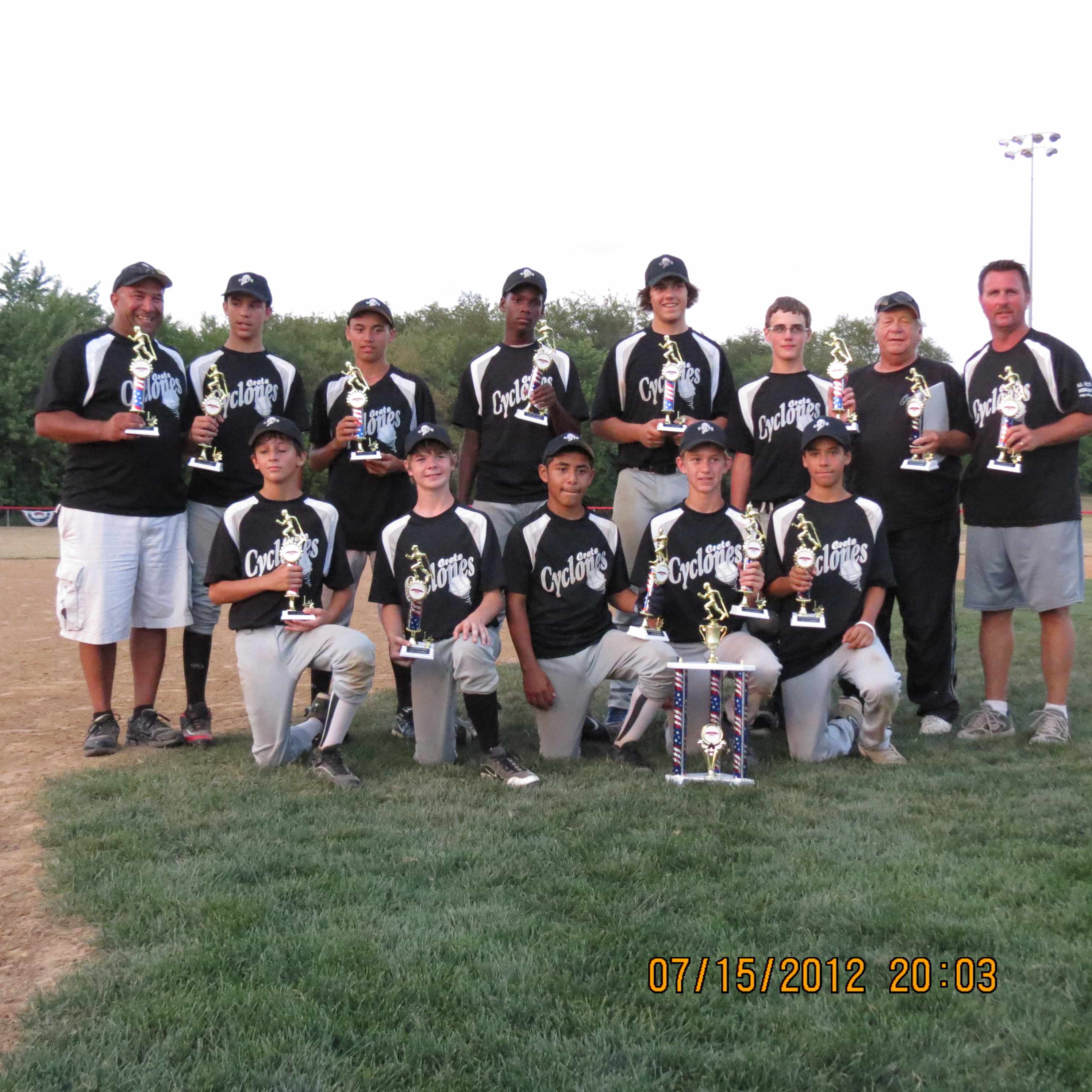 13u Crete Cyclones Chase Nemeir New Lenox Tournament Champions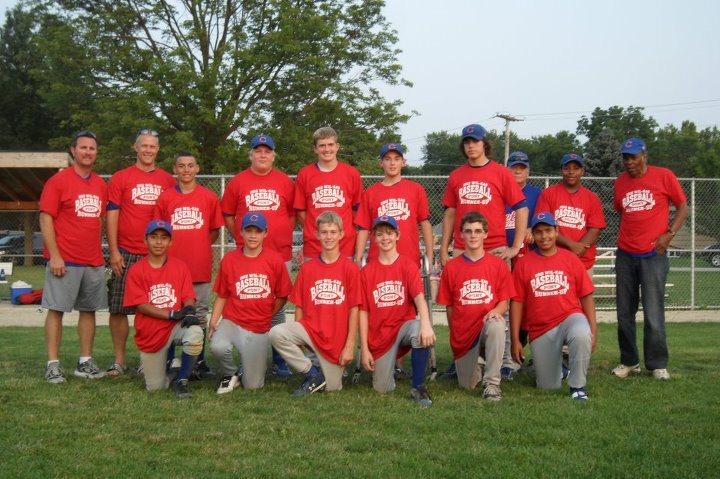 2012 Will-Kan 2nd Place Crete Cubs

2011 Wil-Kan Bronco Champs 20-1
Monday, August 1
2011 12U Cyclone Frankfort Summer Sizzler Champs 5-0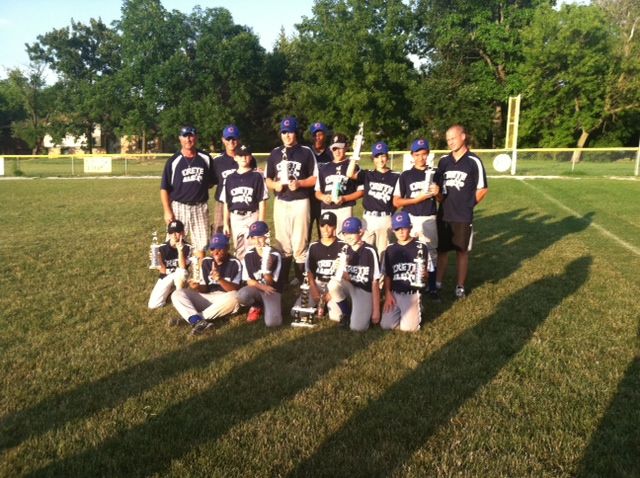 2011 Wil-Kan Bronco All Star Champs 4-0

2011 12U Cyclones OTYA Runners Up
Monday, August 1
Thursday, July 23
2009 Crete Mustang All Stars Finish 1st Place in WIL/KAN Tournament
The Crete Mustang All Stars entered the Wil/Kan Mustang All Star tournament held in Beecher July 14th - July 18th. All Star teams from Beecher, Peotone, Grant Park and Crete competed in a 4 team pool play tournament. Every team played each other and were seeded for the playoff. Crete All Stars beat Grant Park 21-1, Peotone 7-2 and Beecher 8-6 to earn the # 1 seed for the playoff round. Crete All Stars faced Grant Park in first round of the playoffs beating them 18-7 then faced Beecher in the Championship game where the Crete All Stars came back to beat Beecher in the bottom of the 6th inning 5-4. Blake Milburn hit a game winning double to score Josh Bishop and win the Championship.
Pictured in photo (L-R) Bottom row Rayman Hansen, Adrian Esquivel, Nick Shell and Maalik Peirre. Middle Row (L-R) Collin Zarlengo, Josh Bishop, Shane McCormick, Evan Falk, Prince Walker, Blake Milburn and Donivan Williams. Back row (L-R) Coaches Todd Bishop, Pat McCormick, Doug Falk and Bryan Milburn
Wednesday, July 1
2009 Crete Mustang Cubs 2nd place in CAYBSA-WIL/KAN
The 2009 Crete Mustang Cubs finished with a 19-2 record and second place in the end of season tournament for the WIL/KAN league. The boys had a fun and exciting season !!!!
Bottom row (L-R) Collin Zarlengo, Ethan Renstrom, Acis Tourlis, Kennedy Price, Adrian Esquivel and Martin Bender. Middle row (L-R) Blake Milburn, Trevor Henschel, Evan Falk, Ethan Huen, Cam Borns and Mike Munoz. Back Row (L-R) Doug Falk, Jerry Lang, John Price and Bryan Milburn (Not shown in pitcure Mike Arnold)
Monday, October 26
11U Crete Cyclones 2009 Chicago Sunday League 2nd Place
The 11U Crete Cyclones entered the Chicago Sunday League playoffs as the # 2 seed. 1st round game against Oak Forest was rained out and both teams awarded a tie. 2nd game was against Park Forest and the Cyclones were victorious 9-7 advancing to the semi finals.
In the semi final round the Cyclones faced the Beecher Bobcats. Cyclones beat the Bobcats 8-1 with strong pitching and defense. Evan Falk pitched 3 innings, 7K's, 0 hits, 2 walks. Blake Milburn 2 innings, 4K's, 0 hits, 0 walks. Matt Sonntag 2 innings, 4K's, 1 hit and 1 walk. Offense Blake Milburn 1-1, 2 BB, 1 run. Matt Martinez 2-3, 2 runs. Collin Zarlengo 2-3, 1 run and Quinn Palanca 1-2, 2 runs and walk.
Cyclones moved to the Championship game against Palos and lost 8-2. Pitching highlight was Matt Sonntag coming in and stopped the bleeding. Threw 3 innings 5K's and 1 hit. Offense highlights were Blake Milburn 1-2, 1 walk, 1 run, Blake Toman 1-2 and Evan Falk 2-3, 1 run and a towering 240 foot blast over left center field fence.
Shown in photo. Bottom row (L-R). Mike Penney, Matt Martinez, Ethan Renstrom, Blake Toman and Coach Chris Palanca. Top row (L-R) Coach Bryan Milburn, Blake Milburn, Quinn Palanca, Evan Falk, Kyle Johnsen, Matt Sonntag and Coach Jim Penney.
Not shown in picture: Collin Zarlengo, Mike Munoz, Trevor Henschel and Mike Arnold.
Friday, July 10
Crete Cubs at Windy City Thunderbolts Game
The Crete Cubs had their end of season party at the Windy City Thunderbolts game in Crestwood, IL on July 9th, 2009. The team participated in the FIELD of DREAMS where the kids get to go out on the field with the Thunderbolts players prior to the game. Picture below shows Baby Bren giving the boys a pep talk before they are to go out onto the field with the Thunderbolt players. Wonder where he gets that from ?
Players in picture (L-R): Kennedy Price, Collin Zarlengo, Mike Munoz, Mike Arnold, Blake Milburn, Cam Borns, Evan Falk, Ethan Heun, Martin Bender, Acis Turla, Trevor Henschel, Ethan Renstrom and last but not least is the back side of Baby Bren.
Saturday, November 8
2008 Crete Mustang Wolverines 2nd Place in CAYBSA-WIL/KAN
The 2008 Crete Wolverines finished with a record of 17-3 and 2nd place in the Crete Area Youth Baseball and Softball Association. In the picture to the left the bottom row (l-r) Daniel Pentecost, Adrian Esquivel and Cole Richter. Middlerow on knees (l-r) John Daviera, Mike Munoz, Alex Pentecost, Blake Milburn and Ethan Renstrom. Middle row standing (l-r) Trevor Henschel, Evan Falk, Quinn Palanca and Matt Sonntag. Back row are the coaches (l-r) Curt Richter, Rico Esquivel, Dave Sonntag, Doug Falk and Bryan Milburn.
The season could not have been a success without the support of the parents, coaches and players. It was a great season and look forward to the 2009 season.
Thursday, May 28
2007 CAYBSA CHAMPIONS !!!!
The 2007 Crete Cubs finished with a 17-3 record and CHAMPIONS of the CAYBSA.
Bottom row (l-r): Alex Scharnhorst, Adrian Esquivel, Luke Salazar, Cole Richtor, Savion Southern. Middle row (l-r): Matt Stuever, Kennedy Price, Ethan Renstrom, Blake Milburn, Mike Munoz, Dylan Smith, John Daviera, Daniel Pentecost. Back row (l-r): Bryan Milburn, Kurt Richtor, Rico Esquivel
Monday, July 27
2009 Crete 10U Cyclones finish in 4th Place
Bottom row (L-R): Mike Penney, Evan Bogenschneider, Tyrus Johnson, Collin Zarlengo, Blake Toman. Back Row (L-R): Coach Bryan Milburn, Matt Martinez, Prince Walker, Evan Falk, Shane McCormick, Blake Milburn, Maalik Peirre and Coach Jim Penney.
Saturday, November 8
2007 Fall Crete Cyclones
After the 2007 summer in house league (CAYBSA) was over at the end of June and the summer Crete Cyclone team was finished, Coaches Bryan Milburn and Jim Penney took a group of daring 8 & 9 year olds and played @ the Ho Chunk Baseball Fall Ball in Lynwood against teams that were 10U. The boys had their first experience with being able to steal bases, pitching out of the stretch and bunting.
The boys did not win a game in the fall league and were over matched with the bigger 10U players, but they learned so much. Coach Bryan Milburn and Jim Penney are not in this for the glory of winning and having the greatest record. We coach to teach players the game of baseball. Kids learning tee ball, then when the opposing player is pitching to them, to being able to steal bases, take lead offs you have to teach the kids the fundamentals of the next stage while they grow up so they can compete as a baseball player.
Tuesday, August 4
"Huey" The Official Mascot of All Aspects Baseball Academy.
Here is a picture of Heuy who has been selected as the offical mascot of All Aspects Baseball and Softball Academy. He may have the spots like a Dalmation.....but this is a Harliquen Great Dane. Huey passed away Monday Oct 6th, 2013 at home in his bed. Huey was a great dog and mascot to All Aspects. RIP Huey.
Friday, January 30
Welcome Bryce Jenson Milburn to the family
Bryan and Jen would like to announce the birth of our 4th son.
Bryce Jenson Milburn was born Saturday January 24th at 7:09AM.
Bryce was 8.5 oz and 21 inches long. Both are at home doing well !!!