2014 SEASON: NEWS ARCHIVE: TITANS WILL TANGLE IN DISTRICT CHAMPIONSHIP
Wednesday, October 30
TITANS WILL TANGLE IN DISTRICT CHAMPIONSHIP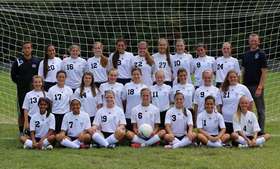 The 2013 Lady Comets are headed to the district final
So, it has come to pass. It hath been declared that the number one and number two seeds shall meet for the crown. Nearly everyone in the tri-county area wanted this matchup, but perhaps few wanted it more passionately than the Lady Buckhorns of Wallenpaupack. The high-flyers from Hawley have stated publicly that they "fully expect to win the district championship this year." (emphasis added) In contrast, I tend to personally identify with the Rolling Stones and say "I got no expectations" when reflecting on the outcome of a girls' high-school soccer game.
However, as promised, I will offer below my highly-anticipated karmic-driven "keys" to the game for those misguided few who have requested my self-indulgent ruminations.
Before turning to my purely conjectural articulation of "keys to the game," let us first briefly set the stage. Wallenpaupack rides into this match carrying a 16-3-1 record that includes a home-field victory over Scranton Prep. The Lady Buckhorns are, both on paper and on the pitch, a fully-fitted scoring contraption that packs enough offense into its roster to fuel the needs of five teams. Indeed, some of us are given so little in this world while others are blessed with so much. And the highly blessed Lady Buckhorns have averaged 4.3 goals per game over the regular Lackwanna league season, and have just finished putting 5 more shots into the net in their one-sided win over Williamsport yesterday.
Quite honestly, Wallenpauapck is a nightmare to defend--for example, if you key on the infinitely talented Mann sisters, then Hope Decker will get you, and if you take all three of these girls out of the game, then Skylar Wirth will score, and if you can somehow control all four of these girls, then Tori Ciszak will step up, and all of the time you have a talented Raenne Ehrhardt lurking in the shadows. Most teams simply scream: "this is not fair! " Tactically, your options are limited. You cannot zone them, you cannot man-mark them--you almost have to play some creative and "magical" combination of defenses; perhaps even a defense that has not yet been invented.
The Lady Comets prevailed 2-0 when these two sides matched up earlier this year in Hawley. However, the beloved soccer stars from Noble Road will have to play better tomorrow than they did in the September matchup if they wish to win again. Wallenpaupack outshot the Lady Comets in the previous game this season, and the Lady Comets were fortunate to come away unscathed. Everyone who was present at the first game remembers a couple of "post rattling" shots from the Lady Buckhorns.
Nevertheless, the Lady Comets can definitely win tommorow's game; they DEFINITELY can. There is no question about that. They possess everything they need to claim what would be, believe it or not, their sixth straight district championship. So, even though this game will be played on Halloween, there is no reason to be "scared." The Lady Buckhorns put their caps on "one antler at a time"--just like everyone else.
So, what ARE the keys to an Abington victory?
(1) MAXIMALLY EXPLICIT DEFENSE: the Lady Comets will have to maintain total concentration on the defensive side of the ball--especially in the midfield and in the back; they need to play with immaculate pressure and cover, and not be fooled by misdirection; the back line cannot get "spread out" or fall victim to ball watching; I understand that ball-watching may be a difficult temptation to resist in a game like this because the skillful Wallenpaupack players are so much fun to "watch"--nevertheless, the Lady Comets need to maximize their full-field awareness and keep track of weak-side runners, because you can bet that the Lady Buckhorns' most important offensive actvity is going to be the activity going on "behind your back."
(2) WIN THE SET PIECES: whether one is speaking about attacking or defending, the Lady Comets need to have a mature mentality about set pieces; on corner kicks, they have to mark players scrupulously in front of the goal; and they also have to be able to set up walls of the right size and position quickly on DFKs; similarly, they need to be organized on the offensive end of set pieces; the Lady Comets have enjoyed more than their fair share of corner kick chances this season and have done a good job of getting players forward into the box in these situations; but the team needs to get more off-the-ball movement on corner kicks . . . please note: when two quality teams play, the winner of the game is not usually the side that controls the run of play (in fact, in games featuring teams of similar abilitiy, the run of play is often pretty even); the winner of these games is often the team that runs the better restart plays . . . just sayin'.

(3) FLY WITH BOTH WINGS: if the Lady Comets cannot control the flanks in this game, it will be tough sledding; and Abington will need to employ more than hustle and athleticism if it is indeed going to dominate the outside corridors; the Lady Comets will also need intelligent combination play (including appropriate "give and go" passes) and timely execution of their overlaps; and when the team gets the ball endline, it cannot try to cross the ball in through the six yard box where Irene Dispenza (Wallenpaupack's skilled keeper) will simply swallow up the serve; instead, the Lady Comets need to hit crosses on a more backward diagonal to the trailing near and far post runners.
(4) PLAY AS A TEAM: I do not mean that the Lady Comets should "play as a team" in some trite or trivial sense; but I do think that both teams, for that matter, are going to have be able to switch the point of attack often and with both speed and facility; Abington needs to be able to switch it directly, indirectly, and around the back; the Lady Comets need to keep the ball on the deck and keep it moving, and they need to be especially aware of where their teammates are.
(5) LIMIT UNFORCED ERRORS: this is obvious--and in any sport, the analyst will say that a team cannot win in a big game if they keep turning the ball over; the Lady Comets need to be: (i) accurate with their passes, and (ii) deft with their first touch--if Abington has a good night in these two respects, a victory could be in the cards; against some of the teams the Lady Comets play, an intercepted pass is won back immediately--against Wallenpaupack, an interception could mean a big play going in the other direction.

These are five of the specific keys I humbly offer for your consideration. However, the team also has to play both hard and smart; they have to be ready to "break a sizable sweat in this one." The game will be intense and physical. Only those who despise the game of soccer would be willing to miss a matchup like the one we expect to enjoy on Thursday at 5:00 p.m. And as a bonus, the fans will get to see the same two schools square off again in the boys' championship match, which will directly follow the girls' encounter. All in all, this will be an evening worth paying for--and, do not worry, they probably will be charging you a hefty admission at the gate.
GAME TIME WEATHER: 62 degrees, light and intermitent showers