2015 SEASON: NEWS ARCHIVE: SWEET AND SOUR SCHEDULE CONTINUES: LADY COMETS SLAM WESTERN WAYNE 7-1
Monday, October 14
SWEET AND SOUR SCHEDULE CONTINUES: LADY COMETS SLAM WESTERN WAYNE 7-1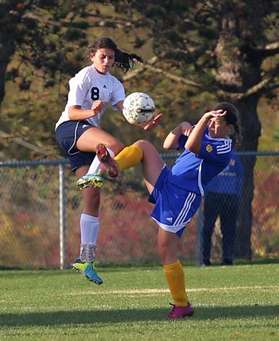 Ally Christman scored two goals in the first half today
It seems that the Lady Comets have to pay dearly for every competitive game on their itinerary. After a highly entertaining game at Williamsport on Saturday, today the local fans had to suffer through a thoroughly "Blue Monday" by watching yet another blow out game. Western Wayne, normally a solid program, is having a bit of a "down year" this season; the Wildcats generated even less resistance than expected--and they were, I am sure, not particularly pleased with the way they played. Nevertheless, Abington danced its way to a 7-1 triumph, after leading 6-0 at the intermission and pelting the opposition goalkeeper with 10 on-frame shots in the first half alone.
Have you noticed that this year's schedule resembles a multi-decker sandwich? For the last several games, the schedule has offered us alternating layers of flavor--first a slice of cheese, then a slice of onion, then a slice of cheese, then another slice of onion. First, we got the competitiveness of Wallenpaupack, then the easy ride over Forest City; next, we got the challenge of playing Prep on television, but then we had to endure a ramped-down snooze fest with Scranton, next was a quality back-and-forth match with Valley View, but then West Scranton became the "opponent," then, the terrific game at Williamsport--and, now, there was this "thing" that both teams tolerated today.
The Lady Comets cannot develop a consistency or viable rhythm if they get to play a competitive team only in every other game. There are, however, three clear advantages to playing against weaker opponents: (1) more of the Lady Comet bench gets to play, (2) more of the Lady Comet bench gets to play, and (3) more of the Lady Comet bench gets to play. However, as the team moves into post season, it has to be conscious of the fact that its front-line personnel need to spend some time together, not merely in warmups, but out on the field as well, and preferably against strong competition. Put simply, the Abington starters are not really getting prepared for the district championships by lounging on the sideline for over half of these games.
What a quandry! We have to be kind to opponents and keep the goal differential in hand, but we also have to get our first-string players more game experience. What are we to do?
The one-sided attack in today's game began early, at the 6:35 mark, when Ally Christman scored off of an assist from Isabelle Clauss in a combination play that was reminiscent of a similar connection in the Williamsport game. Shortly, thereafter, Clauss would step up and supply a second goal, giving the Lady Comets a 2-0 advantage before even half of the crowd had arrived.
Approximately 8 minutes later, Emma Henzes would convert an unassisted goal, extending her team-leading goal count to eleven. Less than 4 more minutes would transpire before Christman would score again, this time off of a well-played ball from team assist-leader Michaelina Holmes.
Holmes would push her season assist total to eight, when she headed a pass that set up Allyson Derry's third goal of the year. Less then 10 minutes later, Derry would weave her way through defenders in the box and collect her second goal of the game. In the second half, with 21:55 remaining, the Lady Comets would get their final goal from Tiana Yarns, before surrendering a late goal to Western Wayne's Zoey Rosensweet.
We should also point out that the Wildcats' turnovers and offensive miscalcuations were not all self-inflicted wounds. Perrine Wasser, Emily Bonsick, Mariah Hawley, Jasmin Patel, Rachel Stanton, and Adrianna Green played some solid defense, especially during the first two-thirds of the game, even though the Lady Comets' maintained the lion's share of possession.
The "cheese and onion" sandwich scenario will now continue this Thursday when the Lady Comets travel to Dallas to take on the 14-1 Lady Mountaineers. This game will not be a 7-0 blow out for the Lady Comets. Dallas is a most formidable opponent and is currently ranked # 12 in the state small-school coaches poll; the Lady Mountaineers will bring a ton of pride and tradition into the match.
The current seniors on the Lady Comets arrived one year too late to participate in the "old schedule" when Abington and Dallas played each other twice a year. Those were extraordinarily challenging games for the Lady Comets, and the challenge will certainly be there this year as well. Like this year's seniors, Coach Hunter has not faced Dallas from the sideline before. Out with old and in with the new?
NOTES: The Lady Comets employed the same lineup and formation today that Coach Hunter used to engineer a come-from-behind win at Williamsport; this lineup, which places more speed and numbers higher up in the formation, again came out like gangbusters and forged a 4-0 lead before 20 minutes had transpired. . .today was the first time this year that we have had to employ the PIAA "mercy" rule which requires that the clock not be stopped after goals once there is a seven-goal differential in the game. . . the team has a 4:15 game at Mountain View on Monday before getting ready for the district playoffs . . . speaking of the district playoffs, the Lady Comets should be the second seed behind Wallenpaupack.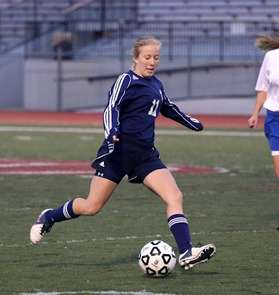 Perrine Wasser helped lead an unshakable defense against Western Wayne