2015 SEASON: NEWS ARCHIVE: THERE'S NO PLAYS LIKE HOLMES': LADY COMETS DISMISS WEST SCRANTON 6-0
Thursday, October 10
THERE'S NO PLAYS LIKE HOLMES': LADY COMETS DISMISS WEST SCRANTON 6-0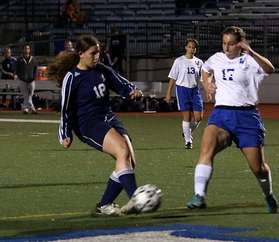 Nora Caputo drives ball past West Scranton defense to record her 1st career goal
Surely, the language police will be annoyed with the grammatical and stylistic liberties taken in the headline that accompanies this article, but when Michaelina Holmes gets comfortable in an environment, she performs with a style and determination that is all her own. When she is in the zone, no one makes plays exactly like she does.
Yesterday, during the Lady Comets' 6-0 drubbing of West Scranton, Holmes found her "happy place," but not in the familiar confines of CSE Field. She instead blossomed at Scranton Memorial Stadium, her home away from home, where she has scored all of her goals this year, and a site to which she may long to return in the forthcoming playoffs.
Turning in a monster offensive performance, Holmes put a hat trick into the book and added an assist for good measure. Yet she was not the only ready-to-run attacker on the pitch. Her partner forward, Ally Christman, also got into the act with two goals of her own, as the pair combined for the best single-game productivity we have seen out of an Abington front line since 2011.
The offensive spectacle would begin early in the first half when Holmes channeled herself into the gaps and stepped to a loose ball which she powered past the keeper with a close-range shot. A few minutes later, West Scranton was whistled for handling in the box and Holmes stepped up and deposited the ensuing penalty kick, stroking a virtually unstoppable shot. At the 24:07 mark, it was Christman's turn to take center stage with the goal, utilizing an assist from Holmes. As the first period came to a close, the scoreboard read 3-0, and Holmes had taken part in the scoring of every goal.
The second stanza produced more of the same. Just a couple of minutes in, Tiana Yarns sent a nice diagonal pass to Christman who again stepped up and finished the play. Then, at the 55:17 juncture, Holmes woud score yet again, this time by "taking it to the hole" with a concerted dribble drive; she punctuated her penetrating move by pushing the ball into the far side netting past a helpless goalkeeper.
The Abington offensive assault was topped off in the 78th minute, when junior Nora Caputo worked her way through the Invaders' back line and registered her first career goal with a sure-footed delivery.
On Tuesday, against Valley View, Blair Cacciamani was kept busy in goal and was forced to make some huge plays. Against West Scranton, she should have brought her homework to the field. The Invaders could only occasionally find their way to their attacking third and were able to manage just 1 shot all afternoon. The only other mark on the Invaders' scoresheet that held even a mild significance came late in the second half, when they were awarded their lone corner kick of the game.
West Scranton's goalkeeper, Camille Dantone, was making her debut in net. Dantone, who is the third starting keeper that the Invaders have used this year, played well in her initial outing, recording 11 saves. Although Dantone was able to keep the ball secure within her mitts, the Abington shot total did get out of "hand." Coach Hunter played 20 individuals in this game; so, once again, the Lady Comet starters got a fair amount of rest.
The Lady Comets, even in light of yesterday's victory, now have no reasonable chance of moving back into a tie with Prep for first place in the division. Prep pasted Valley View 7-0 yesterday up in Archbald. The only way now that Abington could get into a tie with the Classics would be for Prep to record a draw or worse in its last game. I will allow the reader to judge on her own the likelihood of that scenario, given that Prep's last league game is at home against West Scranton.
The Lady Comets will be having "breakfast on the bus" this Saturday, as they depart early for a non-league game over in Williamsport. The trip is lengthy, comparatively speaking, but the opponent will be ready. So far this year, the Lady Millionaires have a losing record (4-8-2). But they gave the Lady Comets all they could ask for in a 1-0 battle last season in the district semi-final. The game could be very interesting.
NOTES: Following Saturday's road game in Lycoming County, the Lady Comets finish off the league season with a final home game on Monday at 4:15 against Western Wayne; this will be your last chance to see the Lady Comets on their home turf this year; this will also be your last chance this season to avail yourself of the outstanding Abington Heights' concession stand . . . has anyone noticed that, when describing Lady Comet action on this website, I have employed the phrase "first career goal" quite often this season; in a bit of an unusual circumstance, no fewer than seven different Lady Comets have used this 2013 season to ring up their first varsity soccer goals. Nora Caputo, Allyson Derry, Rachel Stanton, Tiana Yarns, Adrianna Dubas, Emily Bonsick, and Olivia Julian have all been inaugurated into the varsity goal-scorers' club this season. It is nice to see so many of our players step up and get into the offensive action. Indeed, some teams rely on only a few players to score goals, but the Lady Comets have now received goals from THIRTEEN different individuals this fall.