2015 SEASON: NEWS ARCHIVE: SENIOR DAY BATTLE ENDS IN DRAW
Tuesday, October 8
SENIOR DAY BATTLE ENDS IN DRAW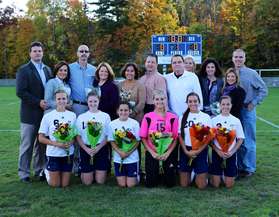 2013 Seniors And Their Parents
One could see that nearly all of their inhibitions were in check; one could see that they were pushing courageously for victory. One could see it in their eyes; one could sense it in their effort. From the scorer's table location, one could hear the labored breathing and see the sincere intensity in the determined facial expressions; and one could see the rivulets of perspiration which, even as the day grew chilly, were nevertheless streaming down flushed cheeks. The Lady Comets wanted to win it! They wanted to win it for the seniors, for the senior parents--they wanted to win it; but it did not happen.
The Valley View Cougars and the Lady Comets played to a 0-0 draw in a bruising endurance contest during which both sides made effective runs at the opposition's goal. But neither team could break through into the scoring column; neither side could crack the stalemate, and both sides walked off the field in frustration.
Abington started off finding most of its offense off of the foot of senior midfielder Adrianna Dubas who found open space on several occasions and fired two solid on-goal shots in the early going. Dubas provided the initial spark but Abbey Burke, Ally Christman, and Michaelina Holmes would also launch first-half shots that were on frame. On the day, the Lady Comets put seven shots on goal but they were all handled by Valley View's veteran goalkeeper Jessica Nguyen.
Nguyen, an all-conference star in net, has seen more than her share of shots over her 4-year career, but Abington's Blair Cacciamani is new at this business and still kept pace today with Nguyen's performance. Cacciamani logged four big saves, but her most impressive "goal prevention" work will not appear on the stat sheet. On two important occasions, Cacciamani raced forward off her line to dive on balls that were about to be driven into the net; if she had not produced these alert and hustling efforts, Abington would have probably lost today's game. In other words, two times Valley View forwards beat the Lady Comet defense and were moving in for a sure goal, and two times Cacciamani smothered the ball a split second before it was about to be struck into the net. Even experienced keepers have trouble judging when and how to come off the line in those situations.
In the second half, Isabelle Clauss moved up into the attack from her original fullback position, and used her unique athleticism to make some good runs at goal; also, the Lady Comets had a ton of corner kick opportunities but could not capitalize on any of them.
With this tie now added to the record, Abington is no longer in cohabitation with Prep for first place in the division. Prep needs only to "win out" to secure the crown. And, although Prep must itself face the tough Valley View side that battled the Lady Comets to a standoff today, the Classics should be motivated by this afternoon's Lady Comet result. There is, of course, always hope that if the Valley View Cougars were capable of playing level with us today, then they could very well tie Prep tomorrow. But you do not want to be in a situation of "hope" when you could have charted your own destiny. There is a very old saying in this league, which I just made up: "if you don't beat Prep, then you gotta beat Valley View."
NOTES: No need to leave your workplace as early tomorrow--game time will be 6:00 p.m. at Memorial Stadium for the Lady Comets' Wednesday evening clash with West Scranton . . . did you know that the Lady Comets have never beaten the Valley View Cougars at CSE field? They have not lost to Valley View since 2010, but they still have not posted a victory over the Cougars in Clarks Summit. In fact, Abington has scored just one goal in three home games against the Cougars. On the other hand, the Lady Comets are 4-1 at Valley View.
Congrats to our SUPER SENIORS: Abbey Burke, Blair Cacciamani, Adrianna Dubas, Isabelle Clauss, Olivia Julian, and Rachel Stanton. Thanks for the memories. You will be missed next season.
- Photos courtesy of Emma Black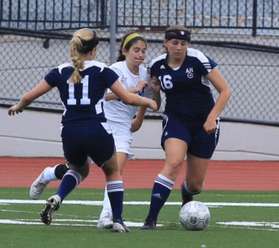 Allyson Derry moves past Valley View's Elizabeth Cicilioni