2015 SEASON: NEWS ARCHIVE: LADY COMETS EASE PAST SCRANTON 3-0
Wednesday, October 2
LADY COMETS EASE PAST SCRANTON 3-0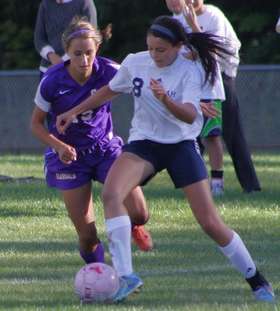 Ally Christman supplied the assists on all three goals today
A few minutes into this game, I checked the flag pole at Memorial Stadium to make sure the old "red, white, and blue" was still there, because after looking at the tight bunker defense Scranton brought to the pitch, I was wondering if they might be flying the white flag of surrender.
It was perhaps time to trot out the OMG acronym because this was going to be yet another game where 9-10 opposing players were going to try to hold hands in the box and see if the Lady Comets could "pin ball" their way into the goal. Such style of play does not usually promote an elegant game of soccer. And so it was.
The Lady Comets went on to forge a 3-0 win. They went on to control possession and the stat sheet. But they could not control the non-rhythmic and inorganic feel of the game.
The style of this contest did generate some unusual scenarios. Due to Scranton's extreme defensive sheltering, the Lady Comets were able to setup, for example, with an almost laughable field position advantage. The Abington outside backs were often stationed as far forward as 15 yards into Scranton territory. And, for all things that mattered, goalkeeper Blair Cacciamani could have probably pushed up to the half line. Indeed, the Lady Knights put so many defenders into the box that they were getting in each other's way.
The Lady Comets found one hole in the bunker early on in the match, when Ally Christman noticed a crack along the endline and sent a pass through to the weak-side bar where Emma "far post girl" Henzes was predictably situated; she drove home an easy shot from just a couple of yards out. Several minutes later, after Abington had struggled mightily to get off a decent shot from within the overcrowded penalty area, Henzes and Christman would combine again, with the former finishing another serve from the latter. The score would sit at 2-0 at halftime, and Abington would have to summon its patience for this one.
The second half saw the game perhaps "open up" a bit more, at least in the sense that there was a smidgen more end-to-end soccer played by both teams. This gave Abington some chances to get behind the Scranton defense.
Perhaps two of the best Abington chances were not converted. These two opportunities occured on through balls, where in each case first-year striker Allyson Derry was driving the ball one-on-one against the Scranton keeper Mollie Comstock, and in each instance Comstock made a sliding stop under the feet of Derry.
Abington's ultimate score came off the foot of Michaelina Holmes, who finally got the goal she has been deserving in what has been for her a frustrating tough luck season around the net. Her shot was drilled and the keeper could not cover it. And Holmes was not the only force at work here. Just to keep herself involved with all things, Christman once again served as the provider on the goal.
This was not gourmet soccer today; and both teams played significant portions of the game at a s l o w pace; decision-making was slow, off -the-ball runs (or should I say "jogs") were sometimes lethargic. But this is the danger present in playing a game against a team that does not really want to "get out there and play with you." Nevertheless, there were some lackluster moments in the play of both teams.
Coach Hunter played his bench extensively in this one, and all-conference star Izzy Clauss was pulled after just 20 minutes of play. Fellow captain Abbey Burke did not play at all due to concussion precautions.
The next game on the schedule is Monday at home against Valley View. This will be senior day. We will have more information on this celebration day later.
The Lady Comets got back on the winning track and shutout another opponent; they improve to 9-1-1 on the season. But, all in all, today's contest was not a game I would have paid money to see.
UPSET SPECIAL: Say it ain't so Ignatius. In a huge surprise, Wallenpauapck beat Scranton Prep 3-2 over in Hawley today. More on this shocker tomorrow (Thursday) here on this website. Just last year, Prep pulverized Wallenpaupack 7-0 in the cross-over league championship game. This afternoon, Prep once again showed its stuff by taking an early 1-0 lead. They actually showed some clear superiority in today's game by registering a major dominance in corner kicks 12-1 and by outshooting the Lady Buckhorns 16-7. But Wallenpaupack was able to put one more of its shots into the net than were the Classics. This just shows how difficult it is for even the best team in a soccer league to go undefeated--and make no mistake about it, despite this surprising loss, Prep has still shown enough to demonstrate that they are the best team in the league. However, this upset gives a person all the more reason to respect last year's Prep team, and our own 2011 Lady Comet team, for the undefeated seasons that those two sides posted. And congratulations to Wallenpaupack Coach Alicia Sodano who, over the past few seasons, has taken a mediocre program and slowly built into a high performance side that can now take down the "big girls."