2015 SEASON: NEWS ARCHIVE: FIVE-MINUTE HAT TRICK: PREP MAKES A STATEMENT WITH 4-0 WIN
Monday, September 30
FIVE-MINUTE HAT TRICK: PREP MAKES A STATEMENT WITH 4-0 WIN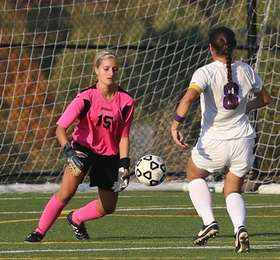 Blair Cacciamani recording one of her 11 saves against Prep
To score a hat trick in a game is a great accomplishment; to record one within a single half is downright remarkable. So, what do we say about someone who records a hat trick within the space of 5 minutes? Whatever is supposed to be said should be said to Prep's superstar Elana Falcone, who consumed just 4:56 of today's second half to punch three balls into the Abington net. Prior to Falcone's tirade, the Lady Comets were hanging tough against a multi-talented and aggressive Prep team.
Midway through the second half, the Scranton Prep Classics had their #1 rivals down just 1-0, although it is fair to say that Prep had been controlling most of the possession and were outshooting the Lady Comets by a significant margin. After the three goal bombardment, the Abington optimism essentially disappeared, although the Lady Comets did not give up and actually produced a couple of strong runs on goal in the later minutes. Those runs came up empty, but showed that lovable Abington resilience.
The scoring started in the first half when the fleet-footed lefty, Dominica Insalaco, raced down the flank and lifted a beautiful cross into the box; an unmarked Cara Griffiths ran straight through the gap in a flat Abington defense and headed the serve home, despite a valiant save attempt from Blair Cacciamani.
Although Cacciamani would indeed miss on Griffith's attempt, the senior keeper came up big over and over in this game, logging 11 saves, including a lightning-reflex kick save in the second half which prevented what certainly seemed to be a Classics' goal. The goals Prep did score were not due to any errors from Cacciamani; they were all good shots and were, if anything, due to defensive misorganization, for example, when Falcone was wide open on her goal off the serve from Prep speedster Kelly Pompey.
Nevertheless, from a defensive standpoint, Cacciamani and back line "field general" Izzy Clauss did have strong outings this afternoon, and their remarkable efforts kept a bad day from turning worse. There was intensity and effort in the Abington defense, but when Prep is on its game--like it was today--the Classics' vision and anticipation force you to play without miscues because they take advantage of every opening you give them. The Classics attacked the flanks very consistently and very effectively, and they did a great job of getting numbers forward into the box.
The Lady Comets have now absorbed their first loss of the season. However, there is no shame in losing to a truly outstanding team that was having an outstanding day. Abington could never find a rhythm in this game, and much of this was due to the determined play of the Classics, who stepped in front of some of Abington's best passes.
Finally, one should point out that there is some downright scary athleticism on this Prep team; as we remarked on this website, after watching the Classics in a pre-season tournament early this year, "Prep has speed up top, speed on the flanks, and speed overlapping out of the back." They played with good skill and patience, and are worthy of a salute.
Meanwhile, Abington needs to regroup and move on, and try to "run the table" with its remaining games; it needs to set its sights on the district championship and all of the other exciting opportunites ahead.
Earlier this season, we noted on this website, as well as in the 2013 team program notes, that Scranton Prep seemed to be the favorite in the race for the league title this year. After today's match, anyone who still thinks Prep is not the best team in the league is either not paying attention or knows absolutely nothing about soccer. There is no question that the Lady Comets are also good and play with a special Abington pride; but the Scranton Prep kids have gone above and beyond in showing themselves to be number one--at least, for this season.
Nothing that happened today has demonstrated that Abington is still not one of the two best programs in the entire league. Nothing that happened today will change the respect the Abington and Prep programs have for each other. Not too long ago, the Lady Comets were "top dogs" for a couple of years, and now it is the Classics' turn. Today, a tremendous team played a tremendous game and won. There is no question that Scranton Prep is "going places."
Photos courtesy of Emma Black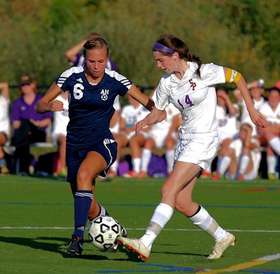 League all-stars Izzy Clauss and Kelly Pompey converge on ball