2015 SEASON: NEWS ARCHIVE: LADY COMETS TRIM FOREST CITY 4-0
Saturday, September 28
LADY COMETS TRIM FOREST CITY 4-0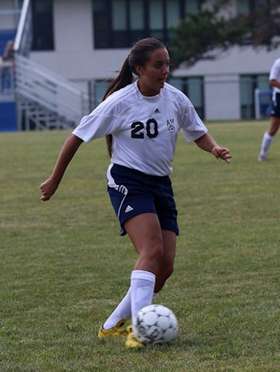 Adrianna Dubas hit a cannon-shot goal against Forest City
There was no looking ahead today to Monday's widely hyped contest with Scranton Prep, as the Lady Comets kept their focus and coasted to an easy victory over Forest City. Although the 4-0 final score suggests a one-sided affair, it does a poor job of indicating what a genuine mismatch this game truly was. The Lady Comets were "all over" the visitors' goal, especially during the first-half when the Abington starters were still in the game. If a little bad luck and a little too much impatience had not combined to deny the Lady Comets on several quality trips to the Forest City net, the crowd could have been looking at a 6-0 halftime score or worse.
Abington also won the game of "keep away," establishing a dominance of possession and field position from the opening whistle.There was a lot of nice ball movement by the Lady Comets, and there were some pyrotechnic displays of one-touch passing that simply tore holes in a surprised Forest City defense.
Forest City has some talented players, and they entered this game having just logged a 6-0 victory over Dunmore and an 8-0 win against Carbondale. By scheduling Abington, they were looking to set the bar a little higher, but they set it too high for themselves today.
Ally Christman scored the first Abington goal, receiving an assist from Michaelina Holmes. Holmes has now moved into the team lead with 5 assists. Christman has been playing well in the last few games, but she has been the victim of some tough luck around the net; it was only fair that the soccer gods smiled on her today. In fact, Christman so enjoyed getting back into the groove that ten minutes after she scored, she deposited a second goal to celebrate her first.
With 9:57 remaining in the first stanza, Abington would record its third goal, when Emily Bonsick headed an Abbey Burke corner kick into the net. It was the first career goal for the sophomore center back, and it was a crowd-pleaser.
Several Abington starters did not return to the pitch after intermission; most of the second half chores would be handled by Lady Comet reserves.
There was a gentle give and take in the action to start the second half. The field was a pasture of contentment. However, this bucolic calm, this easy tranquility, would be suddenly shattered by a thundering 22-yard goal from Adrianna Dubas. Like Bonsick, Dubas logged her first goal of her career with the effort.
Dubas has been reluctant to shoot recently, but she certainly demonstrated today that she can tattoo the ball when she wants to--what a way to score one's first goal!
Meanwhile, there was little work for Blair Cacciamani back at the ranch. Forest City hit only one shot that was genuinely on frame. Although the Foresters also whacked a couple of wild rainbow balls in the general vicinity of the goal, these were prayers more than they were shots.
The real challenge lies ahead on Monday. The varsity girls will be holding a special practice tomorrow at Hillside Park to get in a little work on an artificial surface, given that the Prep game will take place on Marywood University's turf field.
"HONEST REPORTING" MEMO OF THE DAY: Despite the many, many good things we saw from the Lady Comets today--and there were indeed some wonderful displays of attractive soccer--one cannot help but notice that many players are struggling right now with their first touch. This is not, by the way, a problem unique to the Lady Comets. However, one's first touch can be one's best friend or one's worst enemy. When one has one's first touch going, one is going to be able to slice and dice around the field; when one's first touch is poor, one is going to miss opportunities, slow down the game, or turn the ball over. Today's opponent was not really capable of taking full advantage of the Lady Comets' first-touch miscues, but stronger teams will exploit this weakness.
GAME NOTES: Speaking of stronger teams, Scranton Prep will be carrying a 7-0-1 record into Monday's game . . . Here is an interesting fact: did you know that, apart from the games they have lost to each other, that neither Abington nor Prep has lost a single game to any other Lackwanna County opponent over the last 2 and 1/2 years . . . Remember, that the game on Monday will be televised live on Fox 56, with the kickoff set for 4 p.m.--everyone will need to look good for the camera, which means not only attractive smiles and attractive hairstyles but attractive first touch on the ball . . . games like the one we will experience on Monday are what girls' high school soccer is all about . . . BE THERE!