2015 SEASON: NEWS ARCHIVE: ACCURATE SHOOTING, TOUGH DEFENSE LEADS TEAM TO VICTORY
Thursday, September 26
ACCURATE SHOOTING, TOUGH DEFENSE LEADS TEAM TO VICTORY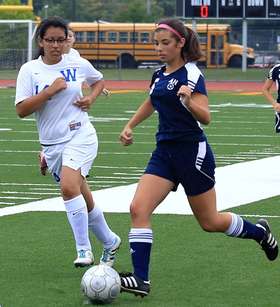 Mariah Hawley drills ball past Wallenpaupack's Briana Denniston
It wasn't easy. Yet, despite the day's challenges, a determined Lady Comet team picked up an important road win against a high-profile opponent. Abington emerged from a tense and enervating match with a 2-0 victory, utilizing some efficient shooting and a carload of hustling defense to overcome an immensely talented Wallenpaupack side. There was plenty of action in this battle of unbeatens, and the Lady Comets (7-0-1) were able to produce a few "firsts" in this triumph; they not only became the first team to beat the Lady Buckhorns in a league game this season, but also walked away as the first team to score on the Lady Buckhorns in seven games; the Lady Comets also became the first team all season to hold Wallenpaupack scoreless.
The last of these firsts--holding Wallenpaupack scoreless--is quite a feat. The girls from Hawley came into the match today with a 5 goals per game scoring average over their last six outings. But it was team defense that helped keep the Lady Buckhorns powerful attack at bay. Kudos to Izzy Clauss, Perrine Wasser, Mariah Hawley, Adrianna Green, Emily Bonsick, and Jasmine Patel, all of whom contributed stalwart minutes along the back line; the exceptional speed and athleticism of Clauss was especially effective, but there was plenty of hustle and toughness everywhere in the defensive third. And it is interesting to note that, with the exception of Wasser and Clauss, all of the above-mentioned Abington players are relatively inexperienced. In our preview article, we thought that two of the keys to winning this ballgame would be: (1) matching Wallenpaupack's intensity and (2) playing solid defense along the back line. The team delivered in both categories.
Alyssa Scoda, also only a sophomore, filled in for starting goalkeeper Blair Cacciamani and played with remarkable poise while recording three saves.
The Lady Buckhorns played spirited defense as well, holding the Lady Comets to 7 shots, a quantity well below the team average which right now hovers around 20. However, unlike performances in some recent games, the Lady Comets were extraordinarily efficient with the shot opportunities they did have. They squandered little and focused relentlessly, placing 72% of their shots on goal. It was the dauntless and unflappable Abbey Burke who led the way offensively, accounting for 5 of the team's 7 shots, 4 of the team's 5 on-goal shots, and one of the two goals--a goal which she hit in the waning minutes of the contest after collecting a radar-like pass from Michaelina Holmes. Burke's goal provided the late "cushion" needed for Abington to coast home in this game but served only as a candle on the cake of Burke's all-around performance, which also included some masterful ball manipulation and pinpoint distribution.
While Abington's second goal was scored near the end of the game, the first goal of the game occured early in the first half, when Emma Henzes continued her hot streak and rang up her 8th goal of the season--once again, Michaelina Holmes was credited with the assist. Holmes is now tied with Henzes for the team lead in assists.
One of the positive effects of winning today's game is that the Lady Comets are now in the driver's seat to gain the #1 seed in the district tournament. Barring any unforeseen upsets--and with both Wallenpaupack and Abington each having to face Scranton Prep one more time--most pundits would recognize Abington as the favorite to attain the top seeding. Speaking of Prep, the Lady Comets will meet up with them Monday afternoon at 4 p.m. in a televised game from Marywood University. It will be difficult to not look ahead to this game, but the girls do have a match on Saturday morning at CSE field against Forest City.
There are not many more chances to see your beloved Lady Comets at home this year. You ought to come out and see this team; they operate with a different style. It is probably fair to say that Abington is not fielding this year a glamorous scoring team like we have seen in the last few seasons--goal production is clearly down this fall--but we are privileged to watch a bunch of exceptionally tough and determined kids who are unusually proud to wear the Abington jersey and who have respect for the great tradition of the program. This year's squad features hard-nosed and clever players who are committed to "getting the job done." So, if you were not able to get out to today's game, come to Saturday's match and provide some warm homecoming cheer for your undefeated soldiers. They are fun to watch. Game time is 10:00 a.m. The weather is going to be fine. And I am willing to bet that there will be breakfast items available at the concession stand.
-- Photos courtesy of Emma Black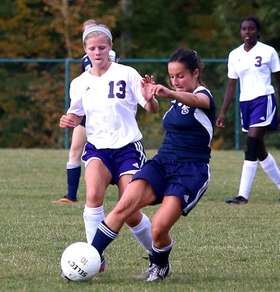 Liv Julian deftly directs ball away from Wallenpaupack's Skylar Wirth