2015 SEASON: NEWS ARCHIVE: HENZES HAT TRICK PROPELS LADY COMETS PAST NORTH POCONO 4-0
Saturday, September 21
HENZES HAT TRICK PROPELS LADY COMETS PAST NORTH POCONO 4-0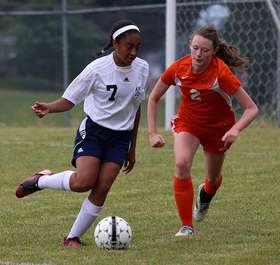 Freshman Allyson Derry logged an assist in her first varsity start today
It takes some serious fitness to play the flank midfield--it truly does! It is the only real endline-to-endline position on the field; that is, an outside midfielder is generally expected to track back into deep defensive coverage and is also expected to release forward and help lead the attack. Sophomore Emma Henzes has shown that she has the grit and endurance to play the flank midfield. And she plays it exceptionally well. She rotates back into good defensive position, but she is even more remarkable in her capacity to get forward on the weak-side wing and engineer great off-the-ball runs that are impeccably angled to the far post. Last year, these types of runs put her in a superior position to score goals; and it is the same type of run that is helping her record goals again this year.
Henzes punched in three second-half goals today; all within an 18-minute period. Two of these goals were direct by-products of her patented far post runs. First, with 24:13 remaining in the second period, she drove home a nice cross-frame shot, utilizing an Allyson Derry pass to the far post area. Less than two minutes later, she essentially repeated the exercise, only this time Tiana Yarns provided the assist.
These goals were welcome sights, since Abington had put only 2 of its 9 first-half shots on frame, an accuracy scenario which--though on a smaller scale--was nevertheless a bit reminiscent of the Honesdale first half. Fans did not, however, see an exact encore, as senior Liv Julian hit a goal from the top of the box with just 7:31 left in the first period. This was Julian's first career goal and was sorely needed and greatly appreciated. It got the team out of a frustrating offensive stretch. And the player who was there to help with an assist on this goal was someone by the name of Henzes.
In the interest of accurate reporting, we should say that Abington did not bring all of its horses to the rodeo today. Due to important previous commitments, starters Isabelle Clauss and Michaelina Holmes were not available for this game. These are two pretty big names in the lineup. Beyond this, two other starters--Abbey Burke and Blair Cacciamani--did not arrive until the second half, due to a rendevous with some ACT exams. Head Coach E.T. Hunter also was absent due to a previous commitment. All in all, the Lady Comets played the entire first half without the aid of 4 usual starters, including two senior captains and an aggressive striker.
The defense stood strong throughout much of the game. North Pocono, which has had some success scoring goals this season, was unable to seriously threaten the Abington goal; and Alyssa Scoda, starting in the net in place of Cacciamani, skillfully gathered in the only on-goal shot that the Ladies of Troy were able to launch during her stint in goal. Cacciamani faced a similarly weak attack and had to grab just two on-frame shots in the second half.
Late in the second half, as the North Pocono side was tiring, Henzes decided to add an exclamation point. She was standing with the ball in a wide position--standing, in fact, almost on the touchline--when she noticed the goalkeeper was out of position; she quickly blitzed a long flighted shot that flew directly into the far-side netting. A spectacular way to end a banner day, which featured four Abington goals, a surprising amount of sunshine, and some tasty broccoli pasta from the concession stand.
All in all, given the lack of personnel and windy conditions, the Lady Comets enjoyed a productive day in the office. They had to shake off another sluggish first half, but eventually pocketed a decisive victory. Beyond what we have already mentioned, there were other positive sights to see. Ally Christman did not score today but was a veritable work-a-holic on the pitch; and Mariah Hawley played some polished soccer along the back line.
Think you cannot get enough soccer? The Lady Comets may threaten you with soccer overload this week. The team will be right back in action on MONDAY at 4:15 at CSE field to resume the suspended game with West Scranton; then, on Tuesday, the girls host Delaware Valley at 4:15, before going on the road to battle a multi-talented Wallenpaupack team on Thursday. Can you handle three games in four days? We hope so, because there will be yet another game coming up on Saturday.
JUNIOR VARSITY - With just seconds left in the game, Ashley Mulherin drove home a 20-yard free kick to break a scoreless deadlock and give the junior varsity its third win of the year.
-- Photos courtesy of Emma Black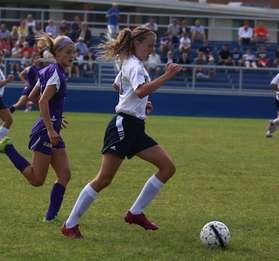 Tiana Yarns picked up an assist against North Pocono