2015 SEASON: NEWS ARCHIVE: ALUMNI REPORT: AHHS ALUMS PLAY IN CHAMPIONSHIP
Sunday, September 15
ALUMNI REPORT: AHHS ALUMS PLAY IN CHAMPIONSHIP
Three recent graduates of the Lady Comets' soccer program led Ozzy Rios's United FC team to the championship game of the Luzerne-Lackawanna Women's Soccer League. The championship game was played before a passionate crowd Sunday afternoon at Scranton's Weston Field.
Former Lady Comet captains Emma Black (2012), Katrina Helcoski (2013), and Meredith Salmon (2010) were standout all-conference stars during their years with AHHS. They reunited this summer to form the nucleus of a team that fell just short of the women's league championship, losing Sunday's title tilt by a 2-1 margin.
United FC finished the regular season in first place, sustaining only one loss all season.
Although United FC featured players from all parts of the Luzerne and Lackawanna county region, the team also had current Lady Comet Tiana Yarns on its roster and was co-coached by E.T. Hunter, giving the squad a distinctly Abington flavor.
In other alumni news, former Lady Comet star Julie Hubbard continues to distinguish herself with the highly-regarded U Conn Huskies soccer program. Hubbard scored a goal in Sunday's 2-0 win over Dartmouth. A former W-League player--and arguably the most technically-refined player to ever don a Lady Comet uniform--Hubbard has struggled with injuries throughout her high school and collegiate careers; consequently, even though she is now a graduate student, she holds the athletic status of "redshirt junior" and thus has this season and one more year of eligibilty remaining. Hubbard is a starting forward and one of the recognized leaders of the Huskies' team.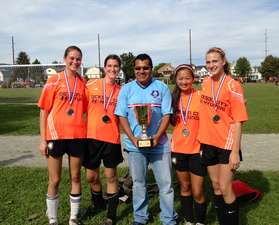 (l to r) Katrina Helcoski, Meredith Salmon, Ozzy Rios, Emma Black, Tiana Yarns