2015 SEASON: NEWS ARCHIVE: ANOTHER DAY, ANOTHER SHUTOUT: WEST SCRANTON FALLS 6-0
Thursday, September 12
ANOTHER DAY, ANOTHER SHUTOUT: WEST SCRANTON FALLS 6-0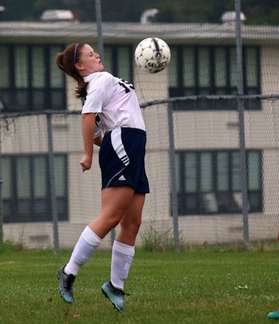 Rachel Stanton chests home goal against West Scranton. (Photo: E. Black)
West Scranton has never won a game against the Lady Comets. They have never even scored a goal against them! Today the Invaders did not even get off a shot. In fact, what the crowd witnessed was so painful that prudent legalists might well have called this afternoon's debacle "cruel and unusual punishment" and brought sanctions against the Lackawanna League. Quite frankly, the suburban girls punched the stuffing out of their city sisters, winning 6-0 in a game where the score could have easily been much worse.
Today's event was actually a "partial" contest in the sense that it was the resumption of a suspended game that began back on September 12. Just 17 minutes shy of the "official game" mark, lightning interrupted the September 12 match, and after a period of waiting, it was decided that the game could not be resumed. According to PIAA rule, the teams needed to meet again to continue the match from the point at which it was suspended. Therefore, the game resumed today with 17:13 left on the first-half clock.
Back on September 12th, before the festivities were suspended, Abington had quickly built a 3-0 lead. In fact, West Scranton had spent approximately 22 and 1/2 of the expended 23 minutes bottled up in its own end of the pitch.
The events of September 12 alone were enough to exhibit the Lady Comets' dominance in this "contest." Indeed, Emma Henzes had scored an unassisted goal just 1:43 into the game! Ten minutes later, Rachel Stanton used her upper body to redirect an Isabelle Clauss corner kick into the goal. After Stanton's effort raised the score to 2-0, ominous clouds of two sorts started to wrap themselves around the perimeter of the field: (1) meterological clouds filled with rain and (2) "clouds of doubt" for the Invaders.
A short while later, after receiving a nice diagonal back pass from Henzes, Clauss would send a shot into the net from 20 yards out. But that would be all of the scoring we would see on day one.
Once the match was resumed today, not much changed. Abington quickly added two more goals within the 17 minutes that remained before halftime. First off, Henzes would again be on target with a shot after she received a great assist from Michaelina Holmes. Then, with just 2:11 left before intermission, Tiana Yarns would score her second goal of the season, putting the Lady Comets up 5-0 at the game's midpoint.
The Lady Comets used much of the halftime break, not to discuss strategy, but to fit their first-line players with "ball girl" pinnies--in other words, these girls were not coming back into the game. Clauss was done. Burke was pulled. Christman was finished. Wasser was through. And before 9 minutes had elapsed in the second half, both Holmes and Green were taken off as well. The team had retired so many players at this point that it now had ball girls, assistant ball girls, and auxiliary girls on "back-up" ball girl duty. Abington eased up on the accelerator in the second half, but the Lady Comets did add one more goal. With just under thirteen minutes left in the game, Allison Kane, seeing action in only her second varsity contest, sent a ball through the defense to fellow freshman Allyson Derry who buried a shot that put an exclamation mark on the game.
West Scranton made only a few excursions into Abington territory, but they seemed so uncomfortable on these sojourns that they looked like they were discovering a new continent.
I had thought earlier in the week that a fair way to keep score in this game would be to chart Lady Comet goals against Invader shots; but gosh darn, as things turned out, even that would have resulted in a shutout. Indeed, today's affair was so one-sided that if we had changed the rules of scoring and required Abington to score two goals in order to get credit for one and at the same time awarded the Invaders a goal for simply getting the ball into their attacking third of the field, Abington would have still won this game! The Invaders are a struggling program, and we wish them the best. They have not won a game since October of 2011, and that was the only game they won that year. They have been shutout in their last 10 games in a row and have surrendered a surreal 50 goals during that 10-game stretch! Yet, as we have said before on this website, the Invaders take these hits with a remarkably pleasant spirit. They work hard and display such great sportsmanship that one hopes they find a good luck nickle on the way home from the field.
We promise we will have better games in the future. We promise! We promise! This may even begin tomorrow (Tuesday) when Delaware Valley comes to CSE. Delaware Valley will field a much stronger side, both offensively and defensively, than West Scranton. However, the Lady Comets should win this game if all goes according to form. As a means of comparison, Delaware Valley might be ranked somewhere on a par with a team like Valley View.
The real excitement surrounds Thurday's monster game with undefeated, tough-minded, and multi-talented Wallenpaupack. The Lady Buckhorns will provide our hometown girls with their toughest competition since Scranton Prep. They are very much like Prep in speed and tenacity, and the teams the Lady Comets have been playing lately have in no way offered them anything close to an adequate preparation for Wallenpaupack.
One must add to this the fact that the girls from Hawley are absolutely aching for this match, which will take place on Wallenpaupack turf. The Lady Buckhorns are loaded with athletic seniors who have stated publicly that their number one goal this season is to wrestle the district championship away from Abington.
As we were grabbing a couple of warm drinks at the concession stand after the game, I casually said to Coach Hunter, "I sure am ready for a competitve game." And his eyes shot wide as he offered the resounding reply: "me too!"
See everyone tomorrow for Delaware Valley--and, then, let us all reconvene for the "high drama" on Thursday.