2015 SEASON: NEWS ARCHIVE: MOVING THE PIECES AROUND: COMETS CONQUER COUGARS 2-0
Tuesday, September 10
MOVING THE PIECES AROUND: COMETS CONQUER COUGARS 2-0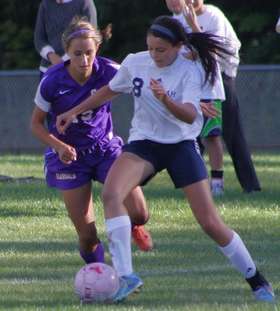 Ally Christman scored the initial goal against Valley View
The extraordinary versatility of Perrine Wasser and Isabelle Clauss came in handy today. As the season progresses, expect to see these standouts shifted about the pitch into different positions depending on the status of the game. Clauss and Wasser started together on the back line, but neither would stay there for the entire game. Clauss began the afternoon as a center back and did a good job as a "free safety," as she was able to stymie the Valley View attack with athletic tackles. But she would later move up to take over a center midfield position when she was needed to help bolster the attack.

Wasser also spent some time in the central midfield; and while she was up there, she fired a couple of shots for good measure. But, later, when Clauss was moved up, Wasser dropped back to assume her third different postion of the match, this time as a center back. With Clauss in the central midfield, Liv Julian was able to move outside to flank midfield where, by the way, she looked very strong taking the ball endline. And Wasser was able to move inside from the outside back position only because precocious freshman Jasmin Patel came off of the bench to deliver 50 plus minutes of solid play at wing defender. It was a chess match, as the cliche would have it, and the Abington coaches were moving the pieces around, adjusting to the situation and finding the right combination.
Abington scored twice in this game, but only one goal came from the run of play. That goal occured early in the second half, when Ally Christman got on the end of a quality through ball from Clauss. Christman finished her shot deftly and thus continued with the "goal-a-game" output that she has established so far this year. The second Lady Comet goal occured around the 68 minute mark when Valley View was whistled for handling inside the box and Clauss knocked home the ensuing penalty kick.
Despite the two goals, one could still describe this game as a patchwork of missed opportunites for Abington. The Lady Comets, for example, were awarded 14 corner kicks in this match, and were unable to finish on any of them, although there were a couple of close calls.
By the way, one should not overlook the important role played by senior captain Abbey Burke today. There is so much that she does that does not appear on the stat sheet that some people might underestimate her vital contributions. Burke exercises "quality control" for the team. She is a collector, a distributor, a facilitator, and an all-around calming influence in the midfield. I realize I spend a lot of time praising the Clauss-Wasser-Burke triumvirate in these pages, but journalistic honesty forces me to sing their praises. They contributed much to today's victory. And the fact that Wasser and Clauss played 80 minutes today--and Burke was off the field for a grand total of two minutes--says something about the importance of these players, especially when Burke's two miuntes on the sideline was unintentional and was actually the result of an inadvertant substitution that arose from a coach error.
Another player who the Lady Comets needed today was Blair Cacciamani. A still developing Abington defense became a little porous in the second half, and Cacciamani needed to come up with eight big saves today.And the team has needed this young woman before. In fact, let us be clear--and let me boldly assert right now--that without the efforts of Blair Cacciamani this season, the Lady Comets might be carrying a 1-2 or a 1-1-1 record right now. We have before us a .947 save percentage put up by a rookie goalkeeper who has faced 19 shots on goal already, many of which were seriously driven bullets. Some of Cacciamani's saves have been very athletic; she tipped one over the bar today in a manner reminiscent of Hope Solo. Are you kidding me? A .947 save percentage while fielding 19 on-frame shots from quality opposition? The young lady has some awesome natural instincts and has come up big for the team so far this year.
Next up is West Scranton at home on Thursday in what should be a pretty easy contest for the team, but now is not the time for anyone to ease up.