2015 SEASON: NEWS ARCHIVE: TENSION AND THRILLS: WHAT ELSE?
Tuesday, September 3
TENSION AND THRILLS: WHAT ELSE?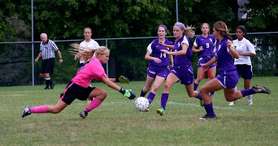 Blair Cacciamani dives on a shot by Scranton Prep's Dominica Insalaco
As is almost always the case in a Prep-Abington game, the excitement level was high and the standard of play was physical and intense. There were some solid collisions, and a few minor injuries; and there were even a few traces of ill-temper bubbling up now and then from what was a cauldron of spirited play. No cards were issued, although referees in the stands were calling for players to be booked. In the end, there were 14 fouls committed between the two sides, and a lot of dirt decorating the jerseys.
The game finished in a 1-1 draw, and the hotly contested action evoked screams and squeals from the very large and boistrious crowd. Yes, there is simply a different feel in the air when these two teams meet--or maybe it was just that a cold front passed through the area last night.
Whatever the case, there was a lot of back and forth in this match. However, Prep probably had more of the "forth" while the Lady Comets shouldered a greater share of the "back." Although both sides mounted significant incursions into enemy territory--and while both teams survived flurries of attack in front their goals--Prep won the overall battle of possession and certainly took command as far as launching shots was concerned: the Classics outshot Abington 22-8. This might have spelled doom, but the homestanding side benefitted from the alert work of their rookie goalkeeper.
The new kid in the Abington net was named Blair Cacciamani, and she certainly did "catch a many" shots headed for goal. This young lady logged nine big saves in her first-ever high school soccer game. That effort is worth sending a postcard home. Cacciamani fell on a few balls in the box as well, seemingly unphased by the thundering feet of the high-octane strikers who were racing onto her path. Prep certainly had to be frustrated. They were able on several ocassions to solve a young and rebuilding Abington defense. Yet on all but one of those ocassions they had their rifle shots rejected by an unknown soccer goalie.
From a statistical point of view, neither team is probably going to be happy with its shooting performance. The Lady Comets fired some decent shots, but posted a paltry .250 shot-on-goal percentage. The term "high" is a lovely word when it is used to describe one's grade point average---and the adjective "wide" generates a smile when used in a depiction of a jumbo jet--but neither of these words engender good feelings when applied to a soccer shot.
In a similar sense, Prep will look at the stat sheet and be crestfallen. They mangaged only a .045 overall shot percentage on the day--a fact I am sure they would hide if I did not publish it here.
While Caccianmani was a major difference in the game, another Abington rookie, freshman Jasmin Patel, came off the bench near the end of the first half and helped throw several monkey wrenches into the Classics' attack. A hard tackler who also runs with speed, Patel possesses a rare combination of attributes that make her a quintessential outside back. She played so well in this game, that she has surely made the case that she not only deserves to play for the varsity as a freshman, but that she might actually belong in the starting lineup.
And while we are speaking of outside fullbacks, are we about to see a break out season from young Adrianna Green? Are you kidding me? Does she know that Dominica Insalaco, the Prep winger that she was marking so magically, is a "hot shot" player? What a tough and determined young women you are, Adrianna.
All of the scoring in this match took place in the second half. It began when Prep's superstar Elana Falcone rocketed home a shot from distance--scoring, by the way, her fourth goal in her last three games. A few minutes later, Ally Christman would take the ball wide and answer Falcone's tally with a 25-yard corker of her own. But, then, it was as if all things fell silent for a while. A few more shots were fired, but the game seemed destined to end in a draw.
Prep is a strong team; perhaps even stronger than they looked today. They throw speed and finesse at you from every direction. Given the youth and inexperience on our Abington team, it is not surprising that Prep won the battle of the midfield today. But the issues the Lady Comets have in that sector of the pitch can be remedied. And there is an entire season to do it. That season continues this Thursday at home at 4:15 against Scranton, who were 3-0 victors over cross-town rival West Scranton in other leage action today. See you at the game.
JV GAME- In a match that was shortened by darkness, the Lady Comets' junior varisty lost 1-0 to the Scranton Prep junior varisty.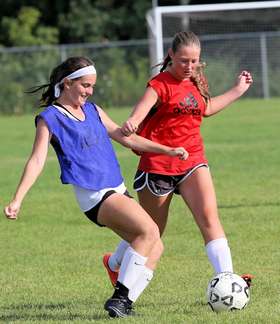 Jasmin Patel controls the ball on defense
Handout:
2015 BOX SCORES