2015 SEASON: NEWS ARCHIVE: HERE WE GO AGAIN: SCRANTON PREP VS. LADY COMETS PREVIEW
Sunday, September 1
HERE WE GO AGAIN: SCRANTON PREP VS. LADY COMETS PREVIEW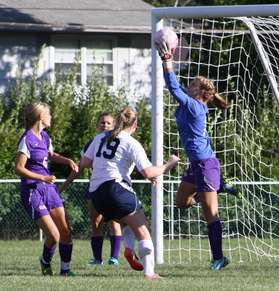 Life does not grind to a halt simply because Abington Heights and Scranton Prep girls are about to meet on the soccer field, but people have been known to shuffle business meetings, put the dog in the kennel, and re-arrange haircut appointments in order to attend the game. And, although a little "trash talking" usually associates itself with this event, we should note that such remarks are generally offered in a friendly spirit because, make no mistake about it--despite the rivalry--many of the players on these teams are long-term friends and have played soccer both with and against each other for years. In effect, when these two sides tangle, there is enough mutual respect on the field to fuel a Kiwanis convention.
Quite simply, over the past few seasons, Abington Heights and Scranton Prep have emerged as the best girls' soccer programs in Lackawanna County. And each team brings a particular pride to the pitch when it lines up for this always pivotal game.
What surprises most soccer newcomers is the fact that this rivalry is very new. For many years, the teams played in different conferences, even though the institutions were separated by nothing more than a modest expressway drive. The current "rivalry" has been in existence for a span of only six games and began when Abington moved from the Wyoming Valley Conference to the Lackawanna League in 2010. Currently, the Lady Comets hold a slight edge in the brief series, having recorded three victories to Prep's two--the teams have also played to a 0-0 tie.
However, in aggregate scoring, Prep holds the slight advantage, having put home 11 goals against the Lady Comets 9. The games between these powerhouses are almost always close--however, we are forced to use the words "almost always," because in last year's final meeting between the teams, the Classics absolutely bombarded the Lady Comets' goal, and the Abington girls left the pitch on the short end of a 5-1 score, suffering their most lopsided conference loss in years.
So far this season, the Lady Comets have looked good in a couple of scrimmages, but the old adage about looking effective only because you "have not played anybody yet" certainly applies to the Abington preseason. With all due respect to everyone involved, both Wyalusing and Mountain View would themselves admit that they were not capable of giving the Lady Comets the competitive battle needed to fully prepare for play against the big girls.

We can, on the other hand, say that Scranton Prep most definitely is "somebody." These illustrious daughters of Loyola will test the talent and mettle of anyone--as evidenced by the Classics' 2012 accomplishments, which included: a 17-1-1 overall record, an undefeated league championship, and a state quarterfinal appearance.
Prep is appropriately named because it certainly does "prep" for its games. The players do not try to avoid hard work in practice, because they realize that no matter how long their string of talent runs, they still need to drill and rehearse.
Yesterday, in the opening round of the Jamie Kotula Classic, Prep beat Wallenpaupack 3-2 in overtime. Although the score was close--and there was a fair amount of back and forth in this game--the Classics were the dominant team, and they were able to dominate despite the fact that Paupack brings a stable full of experienced athletes to the pitch. Indeed, Wallenpaupack is going to win a truckload of games this year, even though they did not prevail in yesterday's encounter.
To push the point further, the fact is that Wallenpaupack is a very solid team that is capable of generating a quality attack, and is returning 10 of its 11 starters from last year's district finalist team. So, Prep was therefore impressive in beating them, especially when one notes that Prep experimented a lot in the game and did not play its starters for large stretches during the second half. Are you starting to get the sense that the Classics are awfully good?
Last year's midfield wizard for Prep, Bianca Chairge, has finally moved on and is currently playing for St. Joseph's University. Tianna Falcone and Jacquie Graham have graduated as well. So, yes, the Classics have lost some key players from last year. But they have restocked the shelves! And, in the process, they have even acquired a player from the Abington pantry. Most importantly, they are playing with their trademark calm and determined demeanor; on the soccer field, they look as comfortable as bees on a daisy. They are essentially unflappable.
In the game against Wallenpaupack, Prep showed that it has: (1) speed up top, (2) speed on the flanks, and (3) speed overlapping out of the back. They play more physical defense then either Holy Redeemer or Wyalusing or Mountain View and, on offense, they could present some serious matchup problems for the Lady Comets.
All-regional star Elana Falcone (who scored two of the Prep goals against Paupack) is playing better than ever, and last year's freshman sensation Cara Griffiths plays almost effortlessly. Both are legitimate take-on artists! So, even coaches who do not like man-marking might seriously consider it when these players are on the pitch.
Prep might be a little bit weaker defensively this year than last; but they will still provide Abington attackers with much more resistence than the Lady Comets experienced in their preseason scrimmages.
In closing, we might do well to remind ourselves that Abington Heights High School is located on Noble Road. The girls' soccer team will test the appropriateness of this address when it gets a chance to show its true "nobility" on Tuesday.