2015 SEASON: NEWS ARCHIVE: MEMORIES, ROSES, AND TEARS: 2012 LADY COMETS' BANQUET
Saturday, November 17
MEMORIES, ROSES, AND TEARS: 2012 LADY COMETS' BANQUET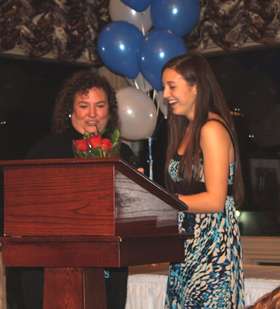 Kelli Eisenlohr receives roses from her daughter, Paige (Photo: E. Black)
The Lady Comets, their families, and friends gathered Thursday evening at Glen Oaks Country Club to celebrate the 2012 season and to honor individuals for their significant contributions to team success. Speeches were given, senior reflections were offered, and those present enjoyed an end-of-the-season video retropspective. The evening also offered the team a formal opportunity to welcome Coach Hunter's fiancee, Bridget Murphy, into the AHHS soccer family, as she attended another of what may be many soccer banquets in her future.
Among the evening's honorees were 15 letter-winners. Foremost on this list were five outstanding seniors who received commemorative clocks for earning their fourth varsity letter; Paige Eisenlohr, Melanie Coles, Alex Chapman, Katrina Helcoski, and Sarah Sopinski were each recognized for achieving this distinct honor.
Winning a third varsity letter were Abbey Burke, Isabelle Clauss, and Heidi Frantz.
Winning a second varsity letter were Michaelina Holmes, Anna Laughter, and Perrine Wasser.
First-time letter winners were: Olivia Julian, Ally Christman, Emma Henzes, and Lydia Lovecchio.
In addition, 14 other girls were individually recognized with participation certificates.
Coach Hunter announced that six players were voted to positions on the Coaches' Lackawanna League First-Division All-Star Team. First-team selections included: Abbey Burke, Alex Chapman, Isabelle Clauss, and Katrina Helcoski. Honorable mention was given to Melanie Coles and Sarah Sopinski.
This year's winner of the coveted School Board Award--given to a valued senior who best models leadership and who could be seen as the most meaningful "face" of the team both on and off the field--was Katrina Helcoski. This award, the only award voted on by the players themselves, is traditionally the final award presented at the banquet. In addition, the following awards were also presented:
Coaches Awards: Melanie Coles, Katrina Helcoski, Sarah Sopinski
Most Improved Player: Heidi Frantz
Most Valuable Player: Isabelle Clauss
"Dagger" Award (for consistent spirited play): Perrine Wasser
The varsity finshed the season with an impressive 14-2-2 record, while the junior varsity turned in a quality 6-3-1 record of its own. Coaches E.T. Hunter and Alana Bencivengo were cited for their excellent leadership this season. And, in their summary speeches, both coaches offered heartfelt appreciation to their players.
In addition, President Kelli Eisenlohr gave thanks to all of the parents and others who selflessly offered their assistance during the season. Although the list is too long to recount here, many individuals played critical roles, including Joe and Donna Holmes, long-time supporters of AHHS girls' soccer, managers of the concession stand, and masterminds behind "Big Joe's Chili." Other special recognition went to indoor-season coach Paul Helcoski, stalwart videographer Tim Burke, the indefatigable Cathy Lovecchio, the incomparable Wasser family, the summer concert volunteers, and the car wash participants.
Eisenlohr also paid special tribute to her fellow officers, Beth Clauss, who handled admirably the tangles of the treasurer's job, and the team's world-class vice-president Susan Burke, who will assume the FAHS-Girls presidency next season. It is important to note that, as Eisenlohr leaves the job of president, she will leave an everlasting mark on the program. No one cared for the girls more than she did, and her diligence and good-natured perserverence will be missed.
With the holiday of Thanksgving close at hand, I want to express my thanks to all who made my life more comfortable this soccer season, beginning with E.T.'s encouragment and support and ending with those who made food and coffee deliveries to the scorer's table. Great, great people!
However, we should all be grateful for the level of soccer we get to see. Yes, high school soccer is a less-than-perfect illustration of the beautiful game, but it is much more mature than the recreational, lawn-chair version of soccer played by kids banging the ball out of the back, while manic parents shout "send it" or "play it down the line." We are, for the most part, spared these ill-considered parental entreaties, but these "instructive" phrases absolutely permeate the misconstrued vocabulary tied to the casual version of our game. True soccer afficiondoes cringe as the participants in this lesser form of soccer mindlessly whack the ball into the net, while displaying a frightening lack of technique in both their shot and subsequent celebration dance. Thanks to our girls, we can watch some serious, possession-style, grown-up soccer. Kudos to you all.
NOTICE: Finally, everyone should note that for three of our spectacular seniors, the soccer season is not quite complete. Melanie Coles, Katrina Helcoski, and Sarah Sopinski have been selected to play in this afternoon's UNICO all-star game, which kicks off at 3:00 p.m. at the University of Scranton's Fiztpatrick Field.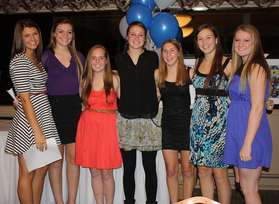 The team's seven super seniors gather at the banquet (photo by: E. Black)