2012 SEASON: MY SITE NEWS: SOCCER SHOWDOWN ENDS IN DRAW
Tuesday, September 11
SOCCER SHOWDOWN ENDS IN DRAW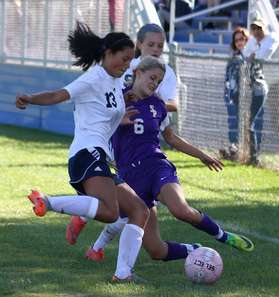 Lydia Lovecchio and Emma Henzes pin Prep's Dominica Insalaco (photo: E. Black)
After two uneventful games in goal, Melanie Coles was looking for some adventure. Well, the senior net-minder came up big today when Scranton Prep came knocking at her door.
This afternoon's intense battle of Lackawanna League favorites ended in a 0-0 stalemate. And goalkeeping was certainly part of the reason that the match ended the way that it did.
Coles is a terrific athlete. The problem for her is that the Abington field players are so good that they often do not need her. What speaks wonders about Coles, however, is that she is always ready when there is a sudden assault on her goal. It is not easy to make that adjustment. It takes extreme mental toughness to suddenly move (within the course of one game) from a world of calm into a penalty area under fire. Although Coles loves the girls who play in front of her--and, as a matter of fact, would probably buy Izzy Clauss an extra-large ice cream at Mannings' dairy--it is sometimes hard to play behind a good team because you do not get to sharpen your edge with the regular work you need to get ready for the monster games.
Nevertheless, Coles was certainly ready today! Among her seven saves on the afternoon, perhaps the biggest occured during overtime when she produced an extraordinary deflection of an Elana Falcone laser shot that was hit with such direction and tonnage that it seemed absolutely destined for the net. Coles met that rail-rattling shot at the goal mouth and parried it athletically over the bar. Indeed, both of the keepers--both Coles and her counterpart Gracie Jenkins--had outstanding days in goal. And they needed to have good outings because both offenses were creating goal-scoring opportunities--indeed, each side generated a formidable 18 shots.
Prep, however, must have felt doubly snake-bitten, not only because Coles was getting in the way, but also because the Classics sent three well-struck shots off of the woodwork.They also got whistled for 15 fouls, which is a pretty high number of miscues to overcome--especially when some of the fouls were questionable. So the Classics could fairly claim that they had a tough day at the office. But, then again. we all have to endure such days.
These were two good teams--both good enough to make the other look bad. With a wheelbarrow's load of top athletes on the pitch, the intensity was entertaining. Yet neither side could sustain a pattern of excellence. Abington had the run of play early in the game, but Prep came back in the second half and looked dominant at times. The fact is that either team could have won this game; but both teams missed key shots when they had good looks on goal. Probably the Lady Comets were the weaker team today as far as shooting accuracy was concerned. In fact, in the first two games of the season. the Lady Comets have really struggled to get their shots on frame. Although the team has only two games under its belt, Abington's shot on goal percentage currently stands at a less-than-desirable .457. If they want to make the most out of their attack, the girls will need to get that up at least somewhat higher, even if they cannot approach last year's excellent .559 mark.
So, today nothing was decided one way or the other. However, there will be another match this season between these two teams--these two titans of the Lackawanna League. It will be on Prep's turf the next time. It will likely be another low-scoring tug-of-war. But, in the meantime, both teams are likely to put a hurting on a string of opponents--yet we can only pray that somehow, some way, amid the blowouts, the goalkeepers will get some work.
NEXT GAME: Tomorrow, Sept 11, 4:30 @ CSE Field vs. Valley View (1-0)
JUNIOR VARSITY GAME: The junior Lady Comets beat Prep 3-1. Tiana Yarns, Autumn Shumaker, and Nora Caputo provided the Abington goals.
Box Score available by clicking on 2012 BOX SCORES below.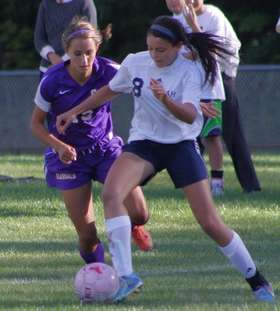 Ally Christman pushes ball past Prep's Rachel Insalaco (photo: E. Black)
Handout:
2012 BOX SCORES