2015 SEASON: NEWS ARCHIVE: LADY COMETS DOMINATE SCRIMMAGE--BUT WILL NEED MORE PREP FOR PREP
Monday, August 27
LADY COMETS DOMINATE SCRIMMAGE--BUT WILL NEED MORE PREP FOR PREP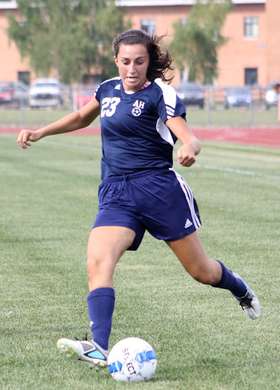 Michaelina Holmes sends ball toward the net ( photo: E. Black)
The 2012 Lady Comets encountered minimal friction while testing their wheels against a spirited but overmatched Mountain View team. The sides played two 40-minute scrimmages. AHHS took charge during the intitial interlude, putting in 3 goals against their opponent's single tally and registering a 17-2 shot advantage in the process. The Lady Comets also seized command in the second 40-minute interval, this time outscoring their opponent 3-0. The Mountain View girls played like valiant soldiers but were able to muster just 4 shots all afternoon. One of those shots did, however, find its way into the net, providing some encouragement and consolation for the crowd from Kingsley.
Although this pre-season match will be scored as a scrimmage and none of the game stats can be recorded officially in the season records, Alex Chapman let everyone know that she may be ready to pickup where she left off last season. She posted three goals on the afternoon. Chapman's partner forward, Paige Eisenlohr, also produced some fireworks, finishing the day with a goal and two assists. And highly-regarded freshman Ally Christman added a pair of goals in her first-ever high school competiiton, proving that she has the juice to play at a big-time level. More than just a threat around the net, Christman was impressive in all aspects of the game; she should help the Lady Comets replace some of the offensive firepower that graduation stole from last year's team.
Veterans Isabelle Clauss and Sarah Sopinski teamed wiith freshman Lydia Lovecchio to form an imposing back line. With the integration of a new full back, these three may need to get more organized --and develop sharper communication--if they are going to be successful next week against the super-charged offense of Prep. Nevertheless, the girls from Mountain View could not get anywhere against this talented trio.
Perrine Wasser was consistently impressive as a holding mid. She is assuming a lineup spot held for several seasons by Emily Sullivan, and she showed herself to be more than worthy of the assignment. Wasser played like a tiger in absolutely every phase of the game, Although she did not score, she managed several long-range shots, including a toe-tingling blast off the crossbar in the 28 minute of the second scrimmage. Midfielders Abbey Burke and Katrina Helcoski performed with poise and facility. But we have become used to this when watching this veteran pair. Burke is such a steadying influence that she hardly ever comes out of the game. This afternoon, she also provided two assists. Meanwhile, Helcoski attacked the flank with fury; and she picked up a nice assist of her own when she provided a perfectly-weighted lead pass that set up Eisenlohr's goal.
So, there is much of a positive nature that can be drawn from today's scrimmages, but there is also some room for work. Off-the-ball runs along the restraining line were poorly executed, leading to some unnecessary offside calls; crosses were hit too square, allowing the opposing keeper some easy opportunites to claim the ball inside the six; and communication, although frequent, needs to be more precise. Also, there are some new faces in the lineup, so it may take some time for an on-the-field chemistry to develop.
Based on today's performance, the Lady Comets defense will be the key in the Prep game. However, this defense will have to manifest itself, not merely along the back line, but in wider environs of the pitch. Last season, for example, when the Lady Comets were setting shutout records and the like, the team got defense out of everyone on the field, including the ball girls. A similar buy-in with respect to the "every-girl-plays-defense" approach will have to take root this season as well. With Prep having lost both its all-conference goalkeeper and another stellar player from its back line, there is a decent chance that the Lady Comets will be able to score against their rivals. However, be forewarned that our girls will not see another team this year that can attack with the same horsepower as Prep. Prep has players everywhere who can stun you! Thus, if the Abington ensemble can figure out how to control the Classics multi-faceted and positively brutal offense--far easier said than done--then the AHHS girls could come away from the match with victory garlands in their hair.
BOX SCORE (1st scrimmage): Holmes 1-0-0-0; Chapman 6-4-2-0; Eisenlohr 3-2-1-1; Helcoski 1-1-0-0; Burke 2-1-0-1; Wasser 2-0-0-0; Frantz 1-1-0-0; Christman 2-1-0-0
BOX SCORE (2nd scrimmage): Holmes 1-0-0-0; Chapman 2-2-1-0; Eisenlohr 3-2-1-1; Helcoski 0-0-0-1; Burke 2-2-0-1; Wasser 4-2-0-0; Christman 2-1-1-0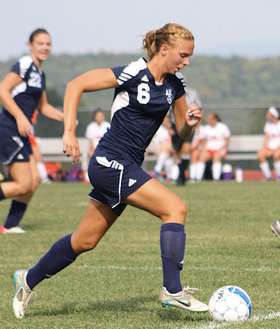 Sweeper Izzy Clauss ignites attack from the back (photo: E. Black)