2012 SEASON: MY SITE NEWS
Saturday, November 17
MEMORIES, ROSES, AND TEARS: 2012 LADY COMETS' BANQUET
Kelli Eisenlohr receives roses from her daughter, Paige (Photo: E. Black)
The Lady Comets, their families, and friends gathered Thursday evening at Glen Oaks Country Club to celebrate the 2012 season and to honor individuals for their significant contributions to team success. Speeches were given, senior reflections were offered, and those present enjoyed an end-of-the-season video retropspective. The evening also offered the team a formal opportunity to welcome Coach Hunter's fiancee, Bridget Murphy, into the AHHS soccer family, as she attended the another of what may be many soccer banquets in her future.
Among the evening's honorees were 15 letter-winners. Foremost on this list were five outstanding seniors who received commemorative clocks for earning their fourth varsity letter; Paige Eisenlohr, Melanie Coles, Alex Chapman, Katrina Helcoski, and Sarah Sopinski were each recognized for achieving this distinct honor.
Winning a third varsity letter were Abbey Burke, Isabelle Clauss, and Heidi Frantz.
Winning a second varsity letter were Michaelina Holmes, Anna Laughter, and Perrine Wasser.
First-time letter winners were: Olivia Julian, Ally Christman, Emma Henzes, and Lydia Lovecchio.
In addition, 14 other girls were individually recognized with participation certificates.
Coach Hunter announced that six players were voted to positions on the Coaches' Lackawanna League First-Division All-Star Team. First-team selections included: Abbey Burke, Alex Chapman, Isabelle Clauss, and Katrina Helcoski. Honorable mention was given to Melanie Coles and Sarah Sopinski.
This year's winner of the coveted School Board Award--given to a valued senior who best models leadership and who could be seen as the most meaningful "face" of the team both on and off the field--was Katrina Helcoski. This award, the only award voted on by the players themselves, is traditionally the final award presented at the banquet. In addition, the following awards were also presented:
Coaches Awards: Melanie Coles, Katrina Helcoski, Sarah Sopinski
Most Improved Player: Heidi Frantz
Most Valuable Player: Isabelle Clauss
"Dagger" Award (for consistent spirited play): Perrine Wasser
The varsity finshed the season with an impressive 14-2-2 record, while the junior varsity turned in a quality 6-3-1 record of its own. Coaches E.T. Hunter and Alana Bencivengo were cited for their excellent leadership this season. And, in their summary speeches, both coaches offered heartfelt appreciation to their players.
In addition, President Kelli Eisenlohr gave thanks to all of the parents and others who selflessly offered their assistance during the season. Although the list is too long to recount here, many individuals played critical roles, including Joe and Donna Holmes, long-time supporters of AHHS girls' soccer, managers of the concession stand, and masterminds behind "Big Joe's Chili." Other special recognition went to indoor-season coach Paul Helcoski, stalwart videographer Tim Burke, the indefatigable Cathy Lovecchio, the incomparable Wasser family, the summer concert volunteers, and the car wash participants. By the way, these latter folks did a great job on the chrome work of my tailgate.
Eisenlohr also paid special tribute to her fellow officers, Beth Clauss, who handled admirably the tangles of the treasurer's job, and the team's world-class vice-president Susan Burke, who will assume the FAHS-Girls presidency next season. It is important to note that, as Eisenlohr leaves the job of president, she will leave an everlasting mark on the program. No one cared for the girls more than she did, and her diligence and good-natured perserverence will be missed.
With the holiday of Thanksgving close at hand, I want to express my thanks to all who made my life more comfortable this soccer season, beginning with E.T.'s encouragment and support and ending with those who made food and coffee deliveries to the scorer's table. Great, great people!
However, we should all be grateful for the level of soccer we get to see. Yes, high school soccer is not the most substantial illustration of the beautiful game, but it is much more mature than the recreational, lawn-chair version of soccer played by kids "banging the ball out of the back," while manic parents shout "send it, send it" or "play it down the line" or scream out one of the other ill-considered phrases that now dot the vocabulary of the "casual" version of our beloved game. The true afficiondoes of our game cringe as the participants in this lesser form of "soccer" mindlessly whack the ball into the net, while displaying a frightening lack of technique in both their shot and subsequent celebration dance. Thanks to our girls, we can watch some serious, possession-style, grown-up soccer. Kudos to you all.
NOTICE: Finally, everyone should note that for three of our spectacular seniors, the soccer season is not quite complete. Melanie Coles, Katrina Helcoski, and Sarah Sopinski have been selected to play in this afternoon's UNICO all-star game, which kicks off at 3:00 p.m. at the University of Scranton's Fiztpatrick Field.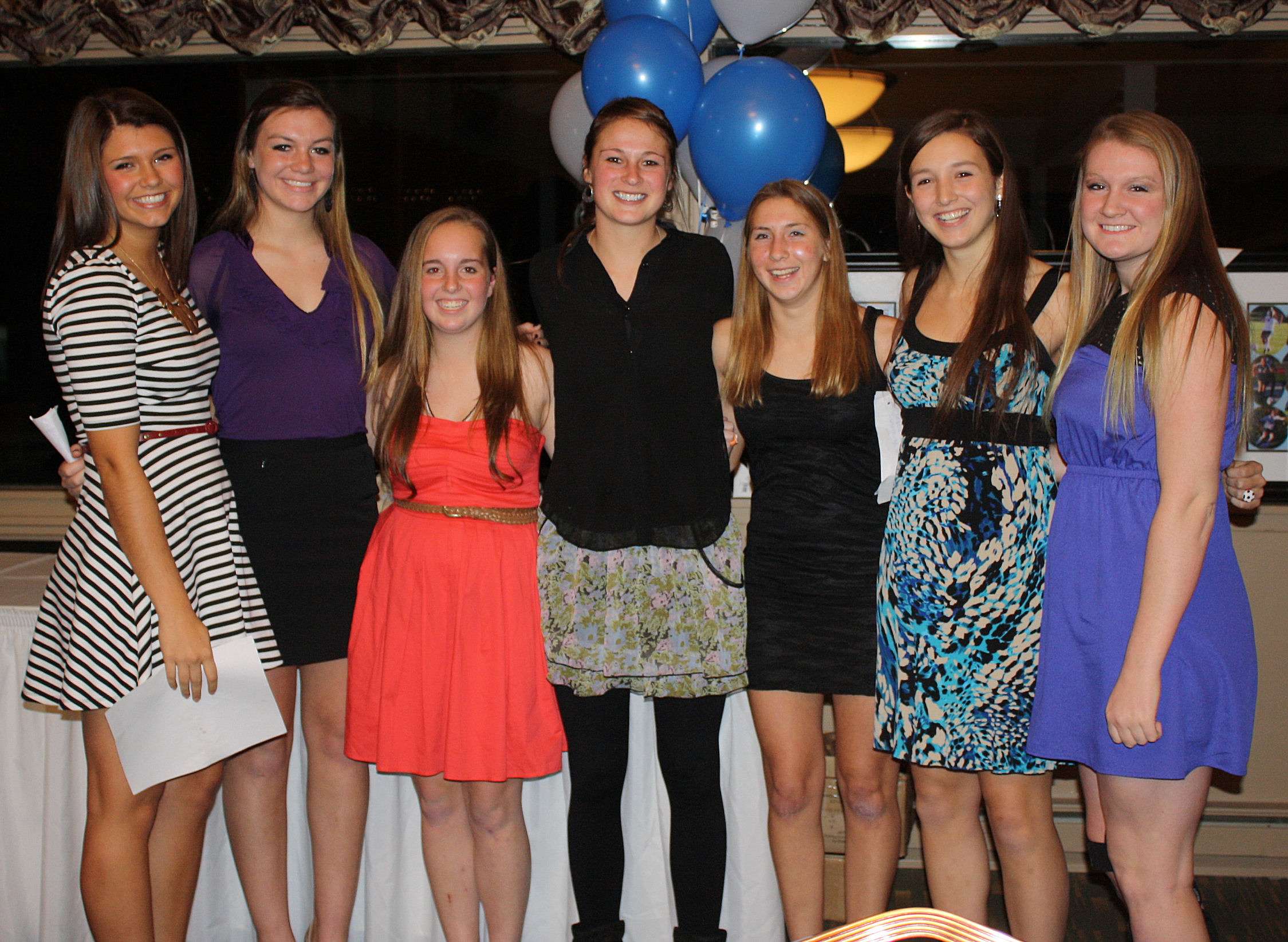 The team's seven super seniors gather at the banquet (photo by: E. Black)
Wednesday, November 7
TOUGH ENDING TO SPARKLING SEASON
Melanie Coles logged career performance against Lower Dauphin (photo: E. Black)
A disciplined and valiant effort was not enough to help the Lady Comets overcome a technically-precise and athletically-loaded Lower Dauphin side in yesterday's first round of the state soccer playoffs. The hometown girls represented the Lackawanna League well; they played with fire and determination. And some timely defensive play, a "never give up" attitude, and superlative goalkeeping kept Abington in the contest through the midway point of the second half. However, the assault by Lower Dauphin (20-3) was simply relentless, and the Falcons finally forged ahead to post a 5-2 victory in a game which, from a statistical point of view, they were already dominating.
As we pointed out in our preview article, the Falcons thrive off of set pieces and have manufactured a sizable quantity of goals off of corner kicks. And, just as advertised, all five goals scored by Lower Dauphin came either directly or indirectly from corner kicks. Clearly, surrendering 9 corner kicks had much to do with the Lady Comets' downfall.
When Lower Dauphin beat two-time defending state champion Cumberland Valley 3-0, all of their goals also came from well-executed corner kicks. However, we should emphasize that the Lady Comets did something that even the vaunted Cumberland Valley side failed to do in its game with the Falcons--the Lady Comets scored goals!
Utilizing a double-stopper formation, the Lady Comets were hoping to create counterattack chances, while placing five players-- Paige Eisenlohr, Lydia Lovecchio, Perrine Wasser, Heidi Frantz, and Sarah Sopinski--together on a compact back line. And this strategy did work on two occasions.
After spotting Lower Dauphin an early 1-0 lead, Abington's first counterattack goal came less than ten minutes into the game, when Izzy Clauss got in behind the defense and drilled an equalizer. After Lower Dauphin extended its lead to 2-1 with a late first-half goal, the Lady Comets bounced back in the early second-half to once again tie the score with another counterattack goal--this time Ally Christman scored, when she was able to knock the ball past Falcon's goalkeeper Nicole Boyd, who had come off of her line. Boyd was forced out of goal due to a dribble attack from Clauss that pulled the defense to her; Clauss was, then, able to deliver a ball forward that would eventually put Christman into a one-on-one scenario with the keeper.
At 60 minutes into the contest, the Lady Comets had been outshot significantly; but they were still holding onto a 2-2 tie. In fact, it was not until the 70 minute mark that Lower Dauphin would pull away to a two-goal lead and put the game away.
Much of the credit for keeping the game close for so long must go to Melanie Coles who registered an astounding 24 saves in this contest--many of her stops were quite remarkable. This save total was obviously a career high for Coles, but it is quite possibly an all-time record for Abington Heights girls' soccer. Our record keeping for saves is not very reliable. But we can say this: it has certainly been years since any Lady Comet keeper has turned in a performance of this magnitude. Regardless of what the final coaches' poll might say, Melanie Coles is flat out the best goalkeeper in the Lackawanna League, and she proved it in yesterday's game.
Lower Dauphin is an outstanding offensive team, and they put up 35 shots against us. But now is not the time to feel bad about losing to a truly gifted team. Now is the time to celebrate a fantastic 14-2-2 season. And such celebration will indeed occur one week from tomorrow at the team banquet. Do not miss this wonderful end-of-the season affair at which we will take time to honor one more time your fantastic Lady Comets.
SCRANTON PREP MEASURING STICK: The Lady Comets finshed second in the league this year, behind only Scranton Prep. The Classics, who are having their best year ever, provide an interesting measuring stick for Lady Comet excellence. Prep has now moved to 16-0-1 and into the quarterfinal of the State Tournament, after shutting out highly-touted Northwestern Lehigh by a score of 3-0. No one has beaten this team this year--and only ONE team has been able to tie them. Can anyone remember the name of that team?
.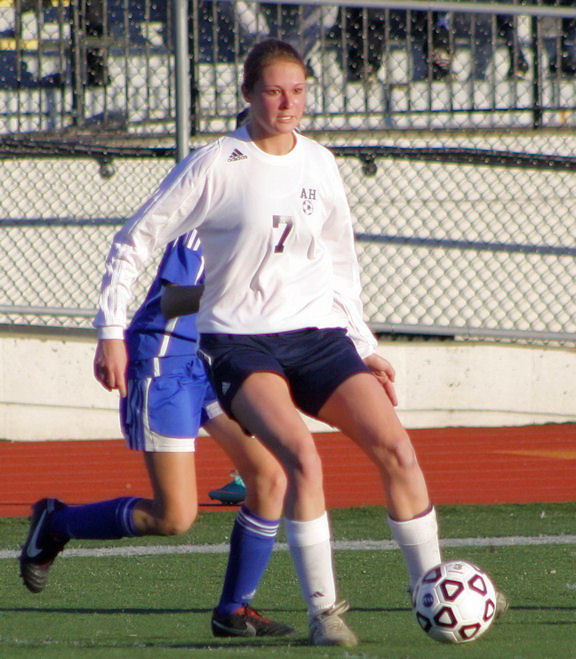 Senior Katrina Helcoski led team in total points this season (photo: E. Black)
Handout:
2012 BOX SCORES
Sunday, November 4
RAISING THE BAR: A TRIP TO THE NEXT LEVEL
Izzy Clauss attacks Wallenpaupack defense (photo: E. Black)
For those of us who have been wishing all season for more competitive opponents, we are about to receive an answer to our prayers.
At 3:00 p.m on Tuesday afternoon, Lower Dauphin comes to Memorial Stadium to take on the Lady Comets in the first round of the PIAA state championship tournament, Abington earned its fifth-straight berth in the state playoffs by dismissing Wallenpaupack 5-1, after spotting the Lady Buckhorns a 1-0 halftime lead. Lower Dauphin, however, impressed the universe by taking down state #1 Cumberland Valley 3-0 in the District Three semi-final, before going on to lose in the final 1-0 to a streaking Governor Mifflin team. For those who do not know--whisper, whisper--District Three is a hotbed of soccer and currently has three schools ranked in the AAA top 10.

Lower Dauphin is a school of 1200 students located just east of the state capital in Hummelstown. PA. Those with knowledge of Pennsylvania soccer know that any team--be it at the club or high school level--affiliated with the name "Dauphin" is going to be a highly-tuned and well-trained soccer outfit. Whether it is Lower, Upper, Central, or sideways Dauphin, these suburban Harrisburg teams can hurt you. For example, in beating Cumberland Valley, the Falcons took down a two-time defending state champion that had not lost in post season since 2010.
Beyond this, the Falcons have plenty more to brag about. They were spring state champions themselves in 2009, and--now, get this everyone--they have endured just one losing season in their entire 24-year history, that coming during a 9-10 campaign in 1995, before many of our current players were born. And they have accomplished this while playing in one of the more competitive regions of the state.

Among other things to heed, all three of Lower Dauphin's goals against Cumberland Valley came from corner kicks, a manner of scoring that the Falcons have been noted for all season. Therefore, the Lady Comets will need to defend scrupulously all set pieces they face. The Lady Comets need to force the Falcons to beat them from the run of play, because Lower Dauphin is very, very dangerous off of restarts. Better yet, the Lady Comets need to play a smart field position game, and not let Lower Dauphin play in front of the Abington goal all day.
The big guns for the Falcons are #3 junior forward Taryn Messik, who has 14 goals on the season; she is closely followed in productivity by #22 Kylen Smith, a senior midfielder with 13 goals.
The poise and experience of the Lady Comets will help them in this game, as they step out of NEPA soccer and "kick it up a notch." State tournament games carry a vibe of intensity unmatched in other soccer events. Be there to cheer the team on in its biggest game of the season!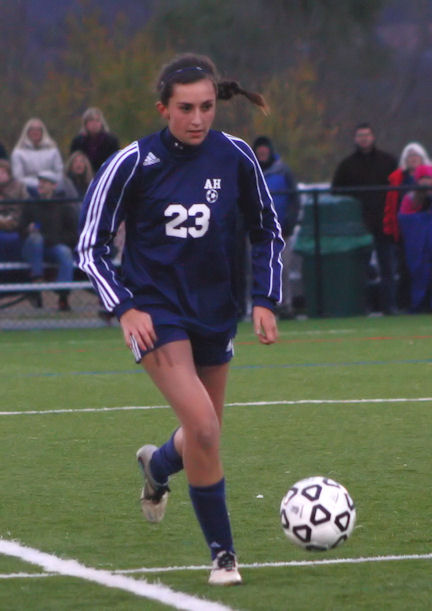 Michaelina Holmes in district final (photo: E. Black)
Sunday, November 4
"WE DID IT OURSELVES": LADY COMETS CLAIM ANOTHER DISTRICT TITLE
2012 DISTRICT CHAMPIONS (photo: E. Black)
Coach Hunter would be among the first to admit that his personality does not lend itself to "Knute Rockne" locker room speeches. He is a talented tactician and great student of the game, but he is not known for emotionally-charged "rah rah" diatribes that pump fire into the belly of individuals. He expects his players to find their own passion for the game.
It apparently was self motivation that carried the team again today. Down 1-0 at the intermission, the Lady Comets found the second-half fuel needed to power their way to a 5-1 victory that earned them their fifth straight District 2 AAA championship. But, when asked what the coach said at halftime to motivate them, the players replied: "Nothing motivational really. We did that ourselves."
With 18 minutes left on the first-half clock, the Lady Buckhorns opened the scoring with a well-placed shot that just barely eluded a quick-reacting Melanie Coles. After that, the two teams pounded the ball back and forth; Abington held a slight 5-3 shot advantage at the break.
Although the final score was one-sided, the majority of the Abington goals were scored very late. In fact, Wallenpaupack maintained its 1-goal lead for the first 15 minutes of the second half, and the Lady Comets did not pull ahead until the 64 minute mark.
The Lady Comets tied the game at the 54:55 mark, when Ally Christman pushed home a long rebound off the post. The next ten minutes were marked by a ramped-up Abington assault; indeed, the Lady Comets would register 21 second-half shots, led by a rampaging Izzy Clauss, who fired 7 second-stanza shots on her own.
In an unusal spurt of soccer activity, Abington would score four times in the last 16 minutes of this game. First, Emma Henzes, popped free off of the flank and got behind an outstanding long-range pass from Clauss. Henzes finished the opportunity with a nice shot from 8-yards out. This gave the Lady Comets a 2-1 lead.
About five minutes later, Henzes came right back with a short-range goal, knocking home an excellent cross from Katrina Helcoski. This was certainly a "thanks for the memories " goal--since it was so reminiscent of other goals earlier this season wherein these two players combined in a similar manner. Helcoski, by the way, now holds the distinct honor of leading the team in both goals scored (8) and in assists (9).
The bevy of goals continued, when less than a minute later, Christman dribbled into the box to fire home an unassisted goal, pushing the score up to 4-1. Finally, with just seconds remaining, Heidi Frantz applied the mustard to the hoagie with a beautiful header goal off of a perfect corner-kick delivery from Abbey Burke.
It is of paramount importance to note here that this Abington victory was not the product of goal scorers alone. Hidden heroes contributed substantially--if not decisively--to this win. Perrine Wasser, for example, was both brilliant and relentless in helping to shut down a gifted Lady Buckhorn offense. Wallenpaupack's heralded striker Hope Decker often returned up field with a scowl on her face after being turned outside by Wasser. Apart from the late splash of goals, perhaps the most unexpected statistic of this game was that the high-flying Wallenpaupack attack was able to hit only two on-frame shots all day. No one, not even the venerable swami of this website, would have predicted that. What the crowd saw today--more than anything else--was outstanding Abington defense.
The local newspapers may not make note of Wasser's play, but we will bet you a bag of Denver dimes that Coach Hunter noticed. However, Wasser did not do it on her own. She teamed with veteran Sarah Sopinski, Frantz, and freshman Lydia Lovecchio to slow down and redirect an explosive team that was coming off of an 8-1 victory. The four girls on the Abington back line were genuine all-stars today, shutting down a team that has a lot of tang in its tea. Thus, even if the barrage of late goals had not occured, the Lady Comet defense would have still won this game.
So, what accounted for the sudden flurry of late second-half goals? The difference, in many respects, boiled down to "poise." The experience of a Lady Comets' team, which has made a recent habit of playing in high-stakes, championship games, kept panic levels under control. Conversely, when Abington scored the go-ahead goal with 16 minutes remaining, one could see the less-experienced Lady Buckhrons lose their confidence and their intensity. At that point, the downturn of the Wallenpaupack spirit was absolutely palpable. Abington knew how to play when behind in a big game. The Lady Buckhorns need to develop that mentaility. No doubt they will under Coach Alicia Sodano, who for our money is the Lackwanna League Divsion Two "Coach of the Year."
Meanwhile, the Lady Comets move on to the state tournament for the sixth time in the last seven years. They will face a very tough team in Lower Dauphin, who earned its way into the District 3 final by knocking off Cumberland Valley (19-1-1). Cumberland Valley was the number-one-ranked team in the state at that time. Stayed tuned for more details about Tuesday's game.
Right now, everyone can bask in the sunshine of victory. Let all Lady Comet fans and friends join Miley Cyrus at her party in the USA.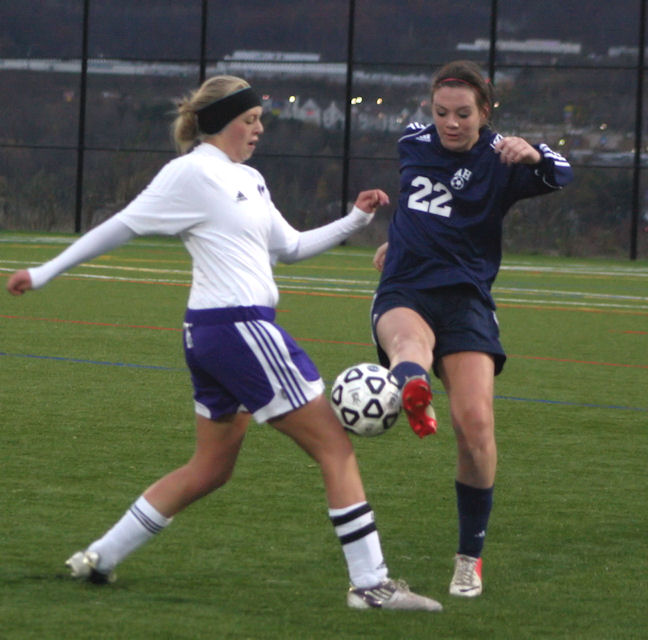 Heidi Frantz goes after ball against Wallenpaupack (photo: E. Black
Friday, November 2
WHAT"S NEXT? CHAMPIONSHIP MATCH TOMORROW AT MARYWOOD
Thursday, November 1
LADY COMETS HOLD OFF FEISTY WILLIAMSPORT ASSAULT TO POST 1-0 VICTORY
Thursday, October 18
LADY COMETS HUMBLE WEST SCRANTON: PLAYOFFS LIE AHEAD
Tuesday, October 16
EVERYONE ON THE SAME PAIGE: EISENLOHR, COLES SHINE IN VICTORY
Saturday, October 13
MILLIONAIRES CANNOT BUY A GOAL: LADY COMETS WIN 4-0
Friday, October 12
SENIOR DAY--INDEED
Wednesday, October 10
TODAY'S GAME POSTPONED; PREDICTIONS FROM THE SWAMI
Tuesday, October 9
COMETS CAGE COUGARS: WEST SCRANTON NEXT
Monday, October 1
ONE MOMENT OF GLORY; MANY MINUTES OF PAIN
Friday, September 28
GOALKEEPERS IN THE SPOTLIGHT AS LADY COMETS SLIP PAST WALLENPAUPACK
Sunday, September 30
LADY COMETS BAG WILDCATS 7-0
Wednesday, September 26
DELAWARE VALLEY NO MATCH FOR LADY COMETS
Saturday, September 22
LADIES OF TROY FALL VICTIM TO ABINGTON'S SPARTAN EFFORT
Friday, September 21
HORNETS FAIL TO STING: LADY COMETS BOUNCE HONESDALE 3-0
Thursday, September 13
HUNTER PLAYS FULL ROSTER AS LADY COMETS ROLL
Friday, November 4
FOUR STRAIGHT: LADY COMETS CLAIM ANOTHER DISTRICT TITLE
Tuesday, September 11
WHERE OH WHERE HAS MY SLOT SHOT GONE?
Tuesday, September 11
SOCCER SHOWDOWN ENDS IN DRAW
Thursday, February 21
Lady Comets Had Multiple Scoring Threats
Abington Heights had three players reach double figures in goals and two reach double ...
Wednesday, June 2
Hempfield Victory Ends Lady Comets' Stellar Season
Abington Heights' outstanding spring season ended tonight when, in the first round of the PIAA state tournament, ...
Friday, November 11
LADY COMETS 2011 BANQUET
Monday, November 28
LADY COMETS "STEAL THE SHOW" AT UNICO ALL-STAR GAME
Monday, August 27
LADY COMETS DOMINATE SCRIMMAGE--BUT WILL NEED MORE PREP FOR PREP
Thursday, September 6
LADY COMETS SAIL PAST SCRANTON; ROUGHER SEAS AHEAD
Monday, November 22
Fall 2010 Banquet Held
On November 21st, the Lady Comets gathered with family and guests at Glen Oaks Country Club to celebrate and ...
Tuesday, November 23
FALL 2010 BANQUET