2016 SEASON: NEWS ARCHIVE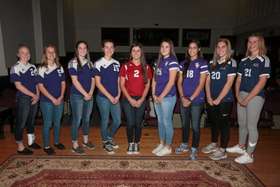 1st team all-stars include Hannah Kowalski and Meghan Noone(Times Tribune photo)
Monday, November 14
Lackawanna League All-Stars
Juniors Hannah Kowalski and Meghan Noone were each selected to the Lackawanna League first team. Senior Ashley Mulherin and juniors Abby Brown and Emily Clauss were each selected to the second team.
Saturday, November 17
MEMORIES, ROSES, AND TEARS: 2012 LADY COMETS' BANQUET
Sunday, October 16
LADY COMETS DROP THIRD IN A ROW TO WILLIAMSPORT MILLIONAIRES
Saturday, August 15
SOCCER LESSONS FROM THE DAO DE JING: PATIENCE IS STILL A VIRTUE
Friday, September 2
KOWALSKI HAT TRICK SEALS LADY COMET WIN
Wednesday, September 7
LADY COMETS BAG BUCKHORNS 2-1
Friday, September 9
FOUR GOALS, FOUR GIRLS: LADY COMETS "SHARE THE WEALTH" IN ONE-SIDED WIN OVER DELAWARE VALLEY
Abby Brown scored on a free kick during the second half. (Photo: E. Black)
How much scoring depth and versatility do the Lady Comets have? Perhaps a lot, if today's match was any indication. Abington racked up four beautiful goals this afternoon, and each came from the foot of a different player. It was as if the visiting Warriors from Delaware Valley had too many opponents to mark, too many runners to track, and whenever they took care of one personality, another AHHS player would emerge and make them pay. The girls from Pike county performed admirably for long stretches--and Reilly Henry continues to impress as one of the best players in the league. So, make no mistake about it; the Delaware Valley Warriors will acquit themselves well this fall--but today the Lady Comets were able to move the ball effectively, sort out the seams in the defensive formations, control the flank, and generally keep their opponent off balance.
Kelly Seechock opened the scoring just 4:28 into the game, when she slammed home a ball in the box. It was a well-struck shot; a certain goal from the outset. It may have also set a tone for the day, because less than five minutes later senior Ashley Mulherin would drive home a goal with a shot from well out on the flank; this long-distance monster was a genuine crowd-pleaser.
However, shortly before the end of the first half, the aforementioned Reilly Henry would score for Delaware Valley, working with teammate Alexis Sickler to get in behind the Abington defense. The score was now 2-1, and one could sense a renewed optimism on the Delaware Valley bench. Nevertheless--and as if to spoil that party--Allyson Derry scored an invigorating goal just two minutes before intermission, perhaps lending a sour taste to the Warriors halftime Gatorade.
Delaware Valley came out in the second half played like warriors indeed. But whatever faint hope DVHS may have held evapaorated quickly when junior standout Abby Brown drove home a free kick just before the fifty minute mark of the game. Brown's blast, which came from the top of the box, was true and authoritative. Suddenly it was 4-1 in the second half; and the Warriors, for all practical purposes, could start to pack up their gear.
Although there would be no more scoring for the rest of the game, AHHS actually dominated the final minutes of the match, whipping hard shots at Delaware Valley's keepers. Abington outshot Delaware Valley 13-4 in the second stanza; and one should note that the hometown girls weren't firing junk at the net either, as 9 of those 13 shots were on frame--some nice work by DVHS goalies Stefanie O'Grady and Juliann Winkler kept the score as close as it was. Both of those young ladies impressed between the pipes.
Marvelous Meghan Noone once again distinguished herself on defense, but she received plenty of help from Kaila Steenback and first-time starter Kelsey Jackson, who has been steadily improving since suffering an injury in her sophomore year. Abby Brown also stood tall in the central defense, which was steady for at least a good part of the day. Most of Delaware Valley's excursions into AHHS territory occured when the Lady Comets' defense got a little complacent and got caught too high and too flat. Abington cannot, of course, afford to let that happen against teams as good as Delaware Valley.
Perhaps the most exciting player of the day for Abington was a high-octane midfielder who did not score today. What Emily Clauss did do, however, was drive the ball, time and time again, into optimal attacking space. She fired two shots, but her flank runs and balls into the box were at times enthralling. She should be a very important force on the team as the season continues.
If the Lady Comets are tired tonight, then there will indeed be no rest for the weary, as they will be busing down to Swiftwater tomorrow take on a good Pocono Mountain East team in a tilt set for 4:00 p.m. The season-opening homestand went well for Abington; now the girls will get to see how good they look (and play) in their road uniforms.
SPREAD THE NEWS. Hey, hey, everybody. Looking for an OMG moment? How about this? The offside-prone Lady Comets have now played two straight games without hearing a single offside whistle. Perhaps a tide is turning. The girls showed that with attacking personalities like Emily Clauss, Allyson Derry, and Kelly Seechock, they can get in behind the opposition defense without hanging out on the wrong side of the restraining line.
DO WE EVER PLAY IT TO THE KEEPER? If this reporter might be allowed a tiny, teensy-weensy criticism or question, then I have to admit that I am perplexed by how little the Lady Comets make use of the keeper in what seem to me to be clear back pass situations. Several times today Abington defenders were chasing down balls and knocking them over the touchline, when it seemed obvious that the ball could have been played back to a wide-open Trish Caucci who was facing up the field and could have helped the team retain possession rather than having one of our defenders shove the ball out of bounds and give the opponent a chance to set up off a throw-in deep in our territory. I realize that sometimes when we are scrambling back on defense, we need to simply hit it out of bounds and regroup--but we were not that desperate in some of the scenarios I recall. Defenders need to think about playing the ball back the way they are facing, especially to Trish if she is free as a bird and it is possible to knock the ball in her direction rather than out of bounds. Please help me if there is something I do not understand here. And thanks for tolerating my one question of today. One question? Well, maybe I have a few more.
Saturday, September 10
ONE RUSH AND DONE: POCONO MOUNTAIN EAST USES A RAPID-FIRE HAT TRICK TO DOWN LADY COMETS 4-1
Lauren Simakaski drives through traffic. (Photo: E. Black)
They say that the horror of most earthquakes lasts for only a few seconds; the damage is quite nasty but over in a hurry. An earthquake usually offers one quick flourish of destructive force and then it is mercifully done.
In a game that was relatively close statistically, the Lady Comets encountered a soccer earthquake today, when, midway through the first half, Pocono Mountain East suddenly produced a string of three big goals, a trio of scores that arose in quick and almost stunning succession but which were deciding factors in Abington's first loss of the season.
Pocono Mountain East was the toughest opponent that the Lady Comets (3-1) had faced so far this season. However, the match was tied at 1-1 in the middle of the first half until there arose from out of nowhere a humbling flurry of punishment, a freakish bombardment that, just like an earthquake, dissipated quickly after its crystalization. Then, the rest of the game was played in a scoreless tranquility. Well, maybe not true tranquility--it was a fairly physical and frenetic affair--but outside of the three-goal downpour, the rest of the game was quite even stastistically, with the Lady Comets holding the edge in corner kicks, the two sides virtually even in shots, and the girls from Pocono holding a slight 9-7 edge in shots on goal. The principal difference was that three more of those on-frame shots found their way into the net for the home side.
That is sometimes the way it is with soccer; a quick spurt of attack and, then, eveything else plays out on a relatively even keel. The three big goals, all scored by junior striker Taylor Caridi, were essentially transition goals that caught the Abington backline off balance. Thus, after a hypnotic period of stalemate, suddenly it was a 4-1 game. A couple of these decisive goals came from bullet-like shots that Caridi smoked past keeperTrish Caucci--but the goals were certainly not Caucci's fault--the shots were uncontested and too good for most any keeper to stop.
Pocono Mountain East is a quality side, and it was going to be difficult to shut them down all day. But if an observer had watched only the early first half and the second half of this game, he or she would have found it diffcult to believe that one team won by as many as three goals.
It is worth mentioning that the setting for today's game was itself difficult. It was an excruciatingly hot day, and the players must have felt like they were running on a flat-top grill. These conditions would test both the physical and mental toughness of any team. For the Lady Comets, this test may have been more taxing because they had just played a match less than 24 hours earlier and, then, had to travel to this match as well. However, the AHHS stalwarts came out strong and recorded the first goal of the day, when Kelly Seechock scored from an Emily Clauss corner kick. It was not long thereafter that Pocono Mountain East's Tess Arguello scored an equalizer, an unassuming score in itself; but it was a shot that would turn out to be a preamble for the Caridi hat trick.
In the second half, Abington's backline made some adjustments and was able to keep opposition strikers from getting in behind. In the meantime, the Lady Comets launched several credible attacks of their own, and only some quick reaction saves from keeper Allison Boone kept AHHS off the board. One shot in particular by Hannah Kowalski was a real corker that must have left a dent in the keeper's chest.
The Lady Comets return to action on Monday for a 4:15 game up at Honesdale. Do most of you remember Honesdale? Yes, they were the team that last year embarassed the Lady Comets when the Hornets' trap coaxed the AHHS girls into a record-setting 20 offside violations. Abington won the game 3-0--but with TWENTY offside whistles? The team has been doing better in staying onside recently. Let us hope that a return trip to Honesdale does not start the cycle again. Despite this peculiarity, the Lady Comets will be looking to maintain their undefeated record in the league, and will be decided favorites against the home-standing Hornets.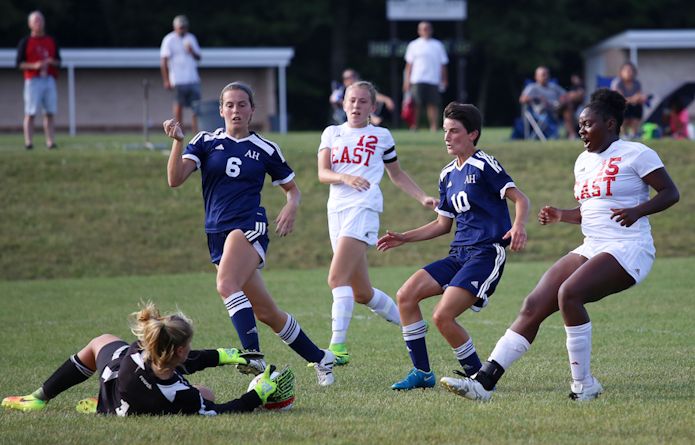 Emily Clauss, left, and Carina Salerno converge at Pocono goal.(Photo: E. Black)
Monday, September 12
DESPITE SOME BIG MISTAKES, LADY COMETS DOMINATE HONESDALE 8-3
Abington Heights ventured into the Honesdale Hornets' nest today, but it was only because of their own carelessness that the Lady Comets were occasionally stung. Three Abington errors--errors both tactical and technical in nature--led directly to three Honesdale goals. Such self-destructiveness might have been difficult to swallow except for the fact that the Lady Comets poured in 8 goals of their own.
Defensive mistakes happen on all teams and such mistakes can provide a means for learning. And let it be known that in regard to these mistakes there is absolutely no need to get into an individual blame game because there were more than just one or two girls involved in each malfunction. So, I will not dwell on details here other than to say, in the spirit of presenting a painfully truthful record, that Abington did essentially serve up the Hornets' three goals.
Although Honesdale played with great grit and hustle, there was not much that the Hornets could do to match the Lady Comets' superior athleticism. Time and time again, Abington forwards and midfielders sliced through the Honesdale defense, picking apart the opponent's formation with long passes and well-timed runs. If not for the tremendous work of Honesdale's hustling keeper Sadie Wood--who racked up 12 saves--Abington might have placed an outrageous number on the scoreboard.
Meanwhile, the homestanding girls were not getting a lot of opportunities--at least they were not generating on their own most of the chances they received. Perhaps we should put it this way: the stat sheet will include names of Honesdale girls who will be credited with assists on the Hornets' goals; and perhaps these girls should be so credited; but if the truth be told, the Lady Comets were the true "helpers" when it came to getting Honesdale on the board.
To their credit, the Hornets did come out of the gate with energy and played some solid soccer. There were, for example, some nice tackles from Honesdale; and their players were indeed alert enough to take advantage of Abington miscues. Plus, Honesdale showed resilience. After falling behind by two goals early, the homestanding insects buzzed back to score twice within the span of a minute and tie the game at 2-2 before the half. As the two sides gathered for halftime huddles, the Hornets appeared, at least for the moment, to have wrestled the momentum away from the Lady Comets.
However, after intermission, the Lady Comets re-established themselves, and reeled off six straight goals to take an 8-2 lead. With under two minutes left, the Hornets picked up a consolation goal to set the final score.
There were many girls involved in the Abington goal scoring barrage--and it would take too much space to review in detail each goal scored. However, taken in sequence, the Abington scoring looked like this: Carina Salerno punched home a rebound off a shot from Hannah Gilbert; Kelly Seechock pushed into the box for an unassisted score; Hannah Kowalski scored off a through ball from Megan Noone; Salerno then notched her second goal, again with an assist from Gilbert; then, Emily Mahoney would get into the act after being set up with a good ball from Leia Parry; with around 9 minutes left, freshman Morghan Stiles would record her first-ever varsity goal, using an Emily Clauss assist; but the Lady Comets were not through until Allyson Derry capped off the day with a brace of goals--one unassisted and another where Clauss was the provider.
One note of interest about a generally uninteresting game: the Lady Comets were charged with 5 offside violations today; that is a pretty substantial number; but, believe it or not, this is actually 15 fewer offside infractions than the team logged the last time Abington visited Honesdale.
PREP IS NEXT. The stands at CSE Field could be relatively full on Wednesday at 4:15 when the Lady Comets host Scranton Prep. This is not only because both sides see this as a huge match, but also because Prep travels well and might come close to filling their end of the bleachers. Attendance has been down a little this year. We shall see if this changes on Wednesday. Abington comes into this match at 3-0 in the conference and tied with Prep for the league lead. So, in this key contest, we will see which horse wants to get out to an early lead in the race to the title. Having already posted a win over contender Wallenpaupack, a win over a second contender could put the Lady Comets in good early position. However, Scranton Prep--which today used eight saves from A.J. Hendershot to prevail 3-2 in overtime against North Pocono--has controlled the recent history of competition and has beaten the Lady Comets in 7 of the last 8 matchups. Although the Daughters of Ignatius lost a truckload of talent from last year's team, they remain undefeated, and the NPF Power Rankings currently put Prep at #2 behind only Dallas. The Lady Comets are ranked #4.
Wednesday, September 14
EARLY SCORING SPURT LIFTS AHHS TO 4-1 WIN OVER PREP
Sunday, September 18
TALENTED CRESTWOOD PUSHES PAST LADY COMETS 5-1
Monday, September 19
WEST SCRANTON FINDS THE NET BUT STILL FALLS 9-1 TO LADY COMETS
Thursday, September 22
LADY COMETS DOMINANT AGAINST VALLEY VIEW
Friday, September 23
MOUNTAINEERS REACH PEAK FORM IN 4-0 WIN OVER LADY COMETS
Tuesday, September 27
HUGE CAST CONTRIBUTES TO 9-0 ROUT OF SCRANTON
Thursday, September 29
LADY COMETS SLIP PAST DELAWARE VALLEY 1-0
Monday, October 3
DIVISION SHOWDOWN
Tuesday, October 4
MISSED OPPORTUNITY--WALLENPAUPACK DEALS LADY COMETS THEIR FIRST LEAGUE LOSS
Thursday, October 6
LADY COMETS START SLOW IN 5-2 WIN OVER NORTH POCONO
Friday, October 7
BOOKEND PLAYS SECURE 1-0 WIN OVER COUGHLIN
Monday, October 10
WHY I RESPECT REFEREES SO MUCH