2014 SEASON: NEWS ARCHIVE
Sunday, November 16
TEAM BANQUET CAPS 2014 SEASON
The Lady Comets gathered at Glen Oaks Country Club last Wednesday to celebrate the achievements and remember the individual contributions that led to a successful 2014 season. Those in attendance enjoyed a meal together, heard remarks from the coaches and players, and viewed a retrospective video. The evening's events included thank you speeches and ruminations on the value of a crock pot.
Special recognition was given to players who won team or league awards:
FOURTH VARSITY LETTER: Michaelina Holmes, Perrine Wasser
THIRD VARSITY LETTER: Ally Christman, Emma Henzes
SECOND VARSITY LETTER: Emily Bonsick, Nora Caputo, Mariah Hawley, Tiana Yarns, Jasmin Patel, Adriana Green, and Allyson Derry
FIRST VARSITY LETTER: Johanna Show, Ashley Mulherin, Nicole Getz, Emily Clauss, Kelly Seechock, Hannah Kowalski, Carina Salerno, Emily Mahoney, Abby Brown, Paige Morgan, and Megan Noone
PARTICIPATION CERTFICATES: Alyssa Scoda, Bella Demo, Mackenzie Machell, Caila Pitts, Emily Marquardt, Lauren Simakaski, Kaila Steenback, Tricia Caucci, and Kelsey Jackson
1ST TEAM ALL-CONFERENCE: Emma Henzes, Emily Bonsick
2ND TEAM ALL-CONFERENCE: Ally Christman, Michaelina Holmes, Perrine Wasser, Tiana Yarns
SCHOOL BOARD AWARD (voted by peers as the ultimate "team player"): Mariah Hawley
COACHES AWARD: Jasmin Patel
FAHS President Donna Holmes expressed her appreciation to all of the parents and supporters who helped make the season a success. We must note that, with the 2014 season in the archive, Donna and her husband Joe completed 20 years of service to Abington Heights soccer; indeed, when reflecting on the myriad contributions of the Holmes family over the years, this writer is reminded of the above-mentioned image of the "crock pot," because the long-term commitment of Donna and Joe produced some succulent "slow cooking" that certainly enhanced AHHS soccer.
Saturday, August 23
QUESTIONS ABOUND: NEW FACES AND MIXED EMOTIONS PERMEATE PRESEASON SCRIMMAGES
Wednesday, August 27
SOME COMMENTS ABOUT SCORING A SOCCER GAME
Sunday, August 31
LADY COMETS SCORCH WEST SCRANTON 9-0
Wednesday, September 3
FEROCIOUS COUGARS BITE HARD BUT LADY COMETS PREVAIL 4-2
Sunday, September 7
A DISMAL DAY IN DALLAS: LADY COMETS FALL 3-1
Tuesday, September 9
TIME TO TANGLE ONCE MORE: PREP VS. LADY COMETS PREVIEW
Wednesday, September 10
KNIGHTS NEED MORE ARMOR AS LADY COMETS ROLL 7-0
Sunday, September 14
TOP TEN GIRLS HIGH SCHOOL SOCCER PROGRAMS IN NEPA
Tuesday, September 16
COMETS FLARE AND WESTERN WANES
Tuesday, September 23
BAD LUCK EXCHANGED FOR GOOD: LADY COMETS EDGE DELAWARE VALLEY
Wednesday, September 24
LADY COMETS WIN THE TROJAN WAR
Tuesday, September 30
NO HONEY FOR THE HORNETS: LADY COMETS STREAK PAST HONESDALE 10-1
Thursday, October 2
SENIORS HAVE THEIR DAY INDEED: UPPERCLASSMEN PACE TEAM TO 11-0 WIN
Tuesday, October 7
SHOW SHOWERED WITH SHOTS: LADY COMETS HOLD ON FOR 2-2 DRAW
Sunday, October 12
LADY COMETS SPLIT WEEKEND DOUBLE-HEADER
Tuesday, October 14
KNIGHTS DEAL WITH ARMOR MALFUNCTION: SCRANTON FALLS 7-0
Saturday, October 18
LATE GOAL SECURES PREP'S PERFECT RECORD: LADY COMETS FALL 2-1
Saturday, October 18
PROJECTED DISTRICT PLAYOFF SEEDINGS
Wednesday, October 22
LADY COMETS REACH QUARTERFINAL: SHUTOUT WIN KEEPS AHHS IN DISTRICT TITLE HUNT
Tuesday, October 28
LADY COMETS END SEASON WITH HIGH-ENERGY EFFORT
Friday, October 24
SECOND-HALF SPURT HELPS LADY COMETS SURVIVE BATTLE WITH BERWICK
Saturday, October 25
FINAL FOUR: SOME RUMINATIONS ON THE DISTRICT PLAYOFFS
Sunday, September 1
HERE WE GO AGAIN: SCRANTON PREP VS. LADY COMETS PREVIEW
Tuesday, September 3
TENSION AND THRILLS: WHAT ELSE?
Thursday, September 5
LADY COMETS FLASH PAST THE KNIGHTS
Tuesday, September 10
MOVING THE PIECES AROUND: COMETS CONQUER COUGARS 2-0
Thursday, September 12
ANOTHER DAY, ANOTHER SHUTOUT: WEST SCRANTON FALLS 6-0
Thursday, September 19
LADY COMETS SURVIVE INEFFICIENT FIRST HALF TO BEAT HONESDALE 3-1
Saturday, September 21
HENZES HAT TRICK PROPELS LADY COMETS PAST NORTH POCONO 4-0
Tuesday, September 24
THIS GIRL IS ON FIRE: HENZES HERO AGAIN
Thursday, September 26
ACCURATE SHOOTING, TOUGH DEFENSE LEADS TEAM TO VICTORY
Saturday, September 28
LADY COMETS TRIM FOREST CITY 4-0
Monday, September 30
FIVE-MINUTE HAT TRICK: PREP MAKES A STATEMENT WITH 4-0 WIN
Tuesday, October 1
COMMENTARY: WHAT PREP DID WELL
Wednesday, October 2
LADY COMETS EASE PAST SCRANTON 3-0
Tuesday, October 8
SENIOR DAY BATTLE ENDS IN DRAW
Thursday, October 10
THERE'S NO PLAYS LIKE HOLMES': LADY COMETS DISMISS WEST SCRANTON 6-0
Saturday, October 12
LATE PENALTY KICK LIFTS LADY COMETS TO 3-2 WIN
Monday, October 14
SWEET AND SOUR SCHEDULE CONTINUES: LADY COMETS SLAM WESTERN WAYNE 7-1
Friday, October 18
MOUNTAINEERS SCALE THE HEIGHTS: LADY COMETS FALL 3-1 AT DALLAS
Tuesday, October 22
RAIDING THE EAGLE NEST: LADY COMETS BEAT MOUNTAIN VIEW 3-0
Sunday, October 27
COUGARS NO MATCH FOR COMETS: SEMI-FINAL NEXT
Perrine Wasser on the run against Hazleton (photo: E. Black)
The Lady Comets used a windy afternoon to breeze past Hazleton 5-1 in game played Saturday at CSE Field. Although there were not a lot of fireworks right away, the game's outcome was never really in doubt. One could see, from the opening whistle, that a hustling Hazleton side was going to have trouble keeping pace with a more athletic Abington team. And despite a stellar effort from goalkeeper Hayley Wilkenson, the Lady Cougars could not hang close.
Wilkenson was busy indeed. The Lady Comets opened up the game with a positively surreal display of shooting accuracy, placing 13 of their 15 first-half shots on frame. After starting the season with a low shot-on-goal percentage--an SOG% which had dipped below 30% for a time--Abington has shown improvement in this area in recent games; and, when one adds in today's effort, the team has now reached the 50% mark for the season.
The Lady Comets scored all but one of their goals in the first stanza, with junior Michaelina Holmes participating in all four first-period tallies (2 goals, 2 assists) before she spent most of the second half riding the pine. Holmes leads the team in assists and is now tied with Emma Henzes for the team lead in total points at 26. Holmes's tremendous improvement this fall is evidenced by the fact that her 2013 goal output now matches the combined output of her 2011 and 2012 seasons.
Three players--Holmes, Abbey Burke, and Isabelle Clauss--would, in some combination or another, produce all of the first-half scoring in this game.
Abington got on the board approximately 15 minutes into the period, when Burke provided the assist for Holmes's first goal on the day. Less than 6 minutes later, Holmes would again put the ball away, this time using a nifty assist from Clauss. With 5:58 remaining in the first period, Holmes got the ball to the well-positioned Burke, who delivered a pretty shot home from inside the box. Finally, Clauss would get her chance to score with another assist from Holmes. Most of these goals were set up by excellent off-the-ball runs.
The only Hazleton score came midway through the second half when Abington was cited for a reckless tackle inside the box. Madison Polumbo got the ensuing penalty kick past Blair Cacciamani, and the score was 4-1. Less than three minutes later, Ally Christman responded with an unassisted Abington goal to cap the scoring.
There was some sound defensive play from Perrine Wasser, Emily Bonsick, Adrianna Green, Mariah Hawley, and Jasmin Patel in this game; but much of the time Hazleton could not get the ball out of its own defensive half.
More soccer to come! Next on the agenda is Wyoming Valley West, a team which should provide much stiffer competition than Hazleton. Valley West, who dismissed Scranton 4-0 in the other quarterfinal, is lead by scoring-machine Alyssa Shaver and a very tough goalkeeper by the name of Paige Heckman. They are a balanced, dangerous, athletic, and confident team.
The semi-final matchup with WVW will take place on Tuesday @ 3:30 on CSE field. The winner of the match will face the winner of the Williamsport-Wallenpaupack semi-final. The final is scheduled for Halloween.
Tuesday, October 29
BACK IN THE FINAL AGAIN: LADY COMETS ELIMINATE WVW 3-0
Emily Bonsick wins ball against WVW (photo: E. Black)
The faulty public address system silenced the usual pregame announcements, but it did not prevent the Lady Comets from making some noise on their way to a 3-0 victory over Wyoming Valley West. With the win, Abington will move into its EIGHTH STRAIGHT district championship game! The Lady Comets have won 6 of the last seven championships and the last five in a row, but this year they will be meeting a team in the championship game whose entire "reason for living" is to bring an end to the Abington streak of district dominance.
As predicted, Wallenpaupack will be the opponent in Thursday's championship. The Lady Buckhorns are the favorites in District 2, and they continued to make a statement with their play today when they hammered Williamsport 5-1 over in Hawley--as you may remember, the Lady Comets had to come from behind to down Williamsport 3-2 earlier this season.
The district championship match will be played at 5:00 p.m. in Scranton Memorial Stadium as part of an Abington Heights boys-girls doubleheader. We will post a "championship game preview" on this website tomorrow evening, but for the moment, consider the idea that it may be quite appropriate that the Abington-Wallenpaupack game will be played on Halloween, not only because of the devilish overtones, but also because of the ghosts of games past. There may indeed be tricks employed before one team enjoys the treat of holding the championship plaque.
In this afternoon's game at CSE Field, a plucky and talented Wyoming Valley West side kept the score close for over fifty minutes, before the Lady Comets finally broke through. Although the scoreboard indicated a scoreless tie at the half, careful observers got the sense that Abington was going to start to find the net very soon. The Lady Comets dominated play for most of the first half, and spent a ton of time camped out in their attacking third. What kept Wyoming Valley West alive in this game was some poor Abington decisions in regard to final passes, a few unforced Lady Comet turnovers, and some superlative play from the Spartans' gifted goalkeeper.
We had mentioned in our previous article that WVW would be bringing a very good keeper to town, and the mucho-athletic Paige Heckman lived up to her billing. She finished the day with 9 saves--many of which were magical (ask Ally Christman)--and she also performed flawlessly as a sweeper/keeper.
Nevertheless, with just under 25 miuntes remaining in the game, Abington finally broke through, scoring a goal that one could simply sense was going to happen. WVW had been cheating up with its back line and was at the same stretching a little too flat and wide. With the stealth of a prize panther, Isabelle Clauss moved up and across on the high restraining line, called for the pass--which was delivered expertly by Emma Henzes--and, then, "bang," Clauss was instaneously through the defense and racing forward into wide open pastures; after a one-on-one romp with a lonely keeper, the finish was "easy pickins" for Clauss, and the Lady Comets had finally put a goal up on the board. Shortly after this goal, Abington got back on the board again; this time Abbey Burke jumped on a rebound in the center of the box and cranked in a well-placed shot. 2-0!
Wyoming Valley West is a solid, hard-charging soccer team, but they were at this point forced to send copious numbers forward in an effort to generate goals. With 10 Spartan players pressed into the Abington half of the field, acres of real estate were left unattended at the opposite end of the pitch. This area was infinitely attackable, but it was difficult for the Lady Comets to clear the ball out of the congested areas around its own net--even though an almost-guaranteed Abington goal would be resting on the other end of any successful clearance. Finally, it was Burke who got a solid foot on the ball and with one 35 yard kick was able to take 10 Spartan defenders out of the play. Freshman striker Allyson Derry was waiting in the open field; she lifted a firm yet gentle kick over the head of the WVW keeper, who had pushed up forty yards in support of her team's all-or-nothing attack; Derry's shot was right on target and nestled gently into the back of the un-monitored goal. With just three and one half minutes left in the game, this tidy tally drained the spirit of even the most optimistic Spartan fans.
Wyoming Valley West offered much stronger opposition tham Hazleton, but the Spartans do NOT play at the level of Wallenpaupack. The Lady Buckhorns are experienced, clever, determined, and bring a lot of intangibles to the pitch.
The Lady Comets have looked good in the first two rounds of the district playoffs, but we must remember that they have also simply won two games in which they were the decided favorites. Next, the team will get a chance to see how well they do in a game where some pundits predict that they will end up on the short end of the score. Whatever you believe your Halloween plans are or were, there is not going to be anything more fun and spooky than Thursday's "game of the season,"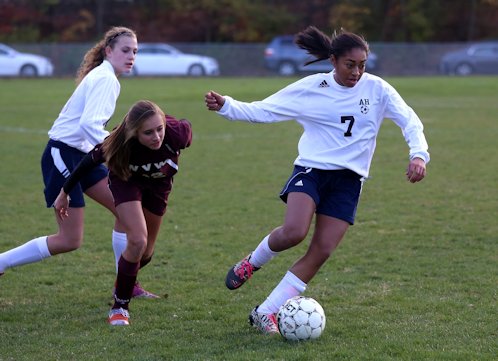 Allyson Derry (right) and Tiana Yarns attack WVW defense (photo by: E. Black)
Friday, November 1
WALLENPAUPACK ENDS "THE STREAK": LADY COMETS FALL 1-0
Liv Julian takes ball past Wallenpuapck's Nicki Mann (photo: E. Black)
After many years of disappointment, the Wallenpaupack Lady Buckhorns could finally dance in jubilation. And dance they did! In a season where they picked up long-sought-after victories over, first, Scranton Prep and, now, the Lady Comets, the hard-working women from Hawley chalked up still another "first." In a wet and wild battle on the soggy Memorial Stadium turf, a determined Wallenpaupack side claimed its first-ever district soccer championship, and there was no doubt that it was an honor they deserved.
With all of the hype about the big-name scorers on the Wallenpaupack team, it is interesting to note that the game-winning goal--indeed, the game's only goal--did not come off the foot of either Nicki or Bridget Mann; neither was it produced by Hope Decker or Skylar Wirth; it did not come from a shot by Taylor Ruziecki or Raeann Erhardt, or even from a blast by Tori Ciszak. Instead, with 24:18 remaining in the first period, the big goal would be provided by the suddenly-famous Gretchen Hiller, who hit a long, but not too fearsome, shot. The wet ball was slippery enough to get through the outstretched hands of Blair Cacciamani, and just like that, Wallenpaupack jumped into a 1-0 lead. From records available, it appears that the goal was Hiller's first of the season.
If the Lady Buckhorns can be called the district champions, the Lady Comets can be called the masters of adversity. The uphill climb of a district championship game was steeper than it should have been for the Lady Comets. Abington had to play this game without the services of star striker Michaelina Holmes--who was the team co-leader in points and who had been on a scoring spree lately. Holmes suffered a broken collar bone in the Wyoming Valley West game.
With Holmes on the bench, the Lady Comets had to make some significant lineup adjustments; and that may have taken the team out of its rhythm a little bit. But the bad became even worse, when just before halftime, another injury forced starter Emily Bonsick out of the game. At this point the Lady Comets had to dig deeper into their bench and play several girls who had never before played in a big district championship game.
Yet teams of character do not complain about their misfortune or about what might have been. Despite, the extra obstacles, Abington played with an inspirational resilience and pushed the ball into Wallenpuapack territory on several occasions, actually winning the evening's corner kick battle 8-4.
Both Perrine Wasser and Abbey Burke put terrific shots on frame--and either of these shots, under different circumstances, would have produced the equalizing goal--but, when the Lady Buckhorn's Irene Dispenza made stellar saves on each of those shots, one got the sense that no one was going to take victory away from Wallenpaupack tonight. In fact, Dispenza would later say that she was filled with a resolve to not let anything into the net--she was dedicated to keeping eveything--from the ball to a flying gum wrapper--out of the goal; and, to her ever-lasting credit, she dug deep into her soccer will and lived up to her self-imposed commitment.
As the game moved on, Coach Hunter moved Isabelle Clauss up in the formation, but Coach Sodano would counter by having one of her top athletes shadow Clauss all over the field. Although Isabelle has been man-marked before, this was the first time she had even been Mann-marked.
The Lady Buckhorns earned the district hardware because they would not be denied.. But they won also because their senior-led team played focused, determined, intelligent soccer, because they learned their lessons from their loss in last year's championship final, because their coach is a caring team-leader who had a good game plan, and perhaps most importantly because all of the "intangibles" pointed to a Wallenpaupack victory.
So, after five straight years as district champions, the Lady Comets have--at least, for the moment--surrendered the crown; but that should not put a damper on an outstanding season which saw the Clark Summit warriors win 14 games, shutout 11 opponents, and claim runner-up status in both the league and the district. These are accomplishments most other teams would envy.
Wallenpaupack will bask in the glory of this win, especially since they will be losing many of this year's leading talents, including top-scorer Nicki Mann, along with Decker, Ciszak, Erhardt and team captain Rusiecki. However, the team will see the return of district-championship hero Gretchen Hiller; she will indeed be back, even though her big-time goal would have been a more-than-accpetable way to end her career.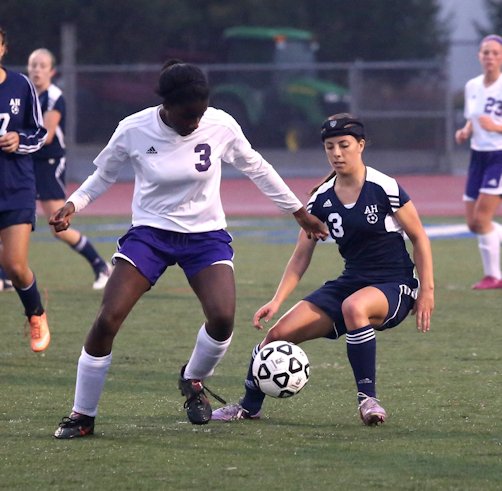 Abbey Burke and Paupack's Jahmia Bridges contest for ball (photo: E. Black)
Saturday, November 17
MEMORIES, ROSES, AND TEARS: 2012 LADY COMETS' BANQUET