2014 SEASON: Welcome
Wednesday, August 27
SOME COMMENTS ABOUT SCORING A SOCCER GAME
There is some complexity to scoring a soccer game. So, as we enter a new season, I thought I might offer some comments that could help people at least know where I am coming from when I set about to score a high school girls' soccer contest.
Before I get to my comments per se, let me point out that, for the PIAA, the official record of a game is always the one that has been logged by the HOME team's designated scorer; usually the home and away scorekeepers try to work together and cross-check the game's statistics; but when discrepancies cannot be resolved, the home team's document prevails. Personally, I have a good working relationship with some of the scorekeepers from other teams; but for many teams, the scorekeepers can change from week to week.
****
There are few hard and fast "rules" governing the way in which one should score a soccer game; but there certainly are, for the serious scorekeeper, widely accepted standards of practice. I will thus be referring to these standards when, in my comments below, I speak about "recognized scoring prinicples."
Questions of Fact vs. Questions of Judgment. Let me begin by simply stating that scorekeeping involves two types of questions. First of all, scorekeepers are confronted with certain questions of fact: such as which player struck the ball, which player received it, which player took the corner kick or free kick, was a foul called, what was the precise time on the scoreboard clock when a goal was scored, etc. Scorekeepers will often consult with other people around them when it comes to questions of fact; they do this because they want to make sure they have entered the right information into the book and have credited actions to the proper players. Indeed, sometimes factual errors are changed a day or two after the game.
However, in addition to questions of fact, scorers also deal with questions of judgment. A question of judgment is not a matter of opinion, although some subjectvity can enter into the picture. Properly understood, a scoring judgment occurs when a knowlegeable scorer judges that a particular action meets the objective criteria embodied in a recognized scoring principle. For example, a particular pass is judged to be an "assist" because it exemplifies all of the required "assist" criteria as delineated in a recognized scoring principle. Thus, if a scorekeeper has no understanding of appropriate scoring principles, then he or she cannot meaningfully judge a soccer game. Unlike the case with questions of fact, scorekeepers do not usually consult with bystanders about judgments.
Sometimes people quarrel over a scoring decision because of differing personal perceptions. In other words, even when everyone is applying the proper and relevant scoring principle, there can still be, once in a while, a subjective variance in perspective. This subjective difference is inevitable--and since one person's subjectivity cannot in and of itself be said to be better than another person's, we agree that the appointed scorer's perception shall stand without consultation. However, the important thing to note here is this: many times at the high school level a poor scoring decision is made because the scorer applied the wrong scoring principle--and that should not be tolerated.
The best way to illustrate this difference between (1) subjectivity in application of the proper scoring principle and (2) an error that comes from the employing the wrong principle entirely, might be for me to discuss what, in my experience, are the two most overly-awarded scoring stats in the high school game: assists and goalkeeper saves.
ASSISTS - People like to award a lot of assists because, out of a misplaced sense of kindness, they are trying to decorate a child's stat sheet. You see, we all know that, most of the time, one can record something as a "goal" only when the child really did somehow propel the ball into the net. However, for those of us looking to be "nice" to a player, there are all manner of dubious actions and manipulations that could be irresponsibly labeled as an "assist." This may be why many scorekeepers like to lie--I mean be "generous"--when it comes to assigning assists. However, if we do not maintain a pretty strict standard for what constitutes an assist, suddenly we can claim that any action that is part of a chain of events that leads to a goal is really an assist. With little kids under the age of 12, I think that it is fine to give them fictional assists along with a lollipop after the game; this does little or no harm. However, once we get to the high school level, true soccer players want--or they should want--to be credited only for real assists.
I once read a youth scoring guide that said that "an assist is given to any player who made the final pass to a player scoring a goal." Now, while I am sure that those in youth soccer could employ that principle consistently. it does not embrace the meaning or the spirit of an assist as defined in most scoring manuals.
The "assist" principle that I and my assistant Will Misiura use is this: "an assist is credited when the ball played leads directly to a goal scored by one's teammate." In the words, even if you were indeed the player who delivered the pass to a teammate who then went on to score, you will probably NOT be credited with an assist if after receiving your pass (a) your teammate had to juke a defender to get to the goal; (b) your teammate had to work to clear space to free herself for the shot, or (c) your teammate had to dribble the ball significantly (i.e., more than a handful of touches) in order to get in range or position for the shot. On the other hand, we will always credit a genuine assist for any of the following: (a) a cross, a lead pass, or a back pass in the final third that leads directly to a teammate's goal; (b) most "through balls" that lead directly to a goal; (c) a long ball out of the back that leads directly and quickly to a teammate's goal (as long as there is no extended dribbling from the receiver); (d) a corner kick that is directed into into the goal by a teammate; (e) a shot off the frame that is returned directly by a teammate into the goal, (f) a shot dropped or deflected by the keeper that is returned directly by a teammate into the goal.
The ultimate meanings of the terms "extended" and "signficantly" as they are used above will be determined by the scorekeeper--the same is true for the meaning of the term "directly" as it is used above, although we can say that directly does not necessarily mean immediately.
GOALKEEPER SAVES - I once worked with a young scorekeeper for the opposing team who recorded a "save" every time the keeper gathered up the ball with her hands. A goalkeeper could touch a ball a humdred times in close proximity to her goal and still not produce a save. A save cannot occur unless: (1) the ball the keeper deflects or collects was a genuine shot (and not a pass, or a loose ball, or a randomly struck ball); and (2) the shot in question would have entered the goal if not for the goalkeeper's--or sometimes a field player's--intervention. One common error by scorekeepers is crediting a keeper with a save when she jumps up and pulls down a cross; this is a good defensive play, but it is not a save unless the cross was clearly bending into the goal. The keeper often deflects balls that are going to bounce off of the frame (and sometimes gets credited improperly with a save for such heroics), but if the shot is not on target--no save. If the shot a keeper collects was headed toward goal but clearly lacked the momentum to reach the goal--no save should be credited. A keeper might rush off of her line and dive under the feet of a striker to smother a ball; this is again a good play but may not be a save unless the striker was attempting a shot and not merely dribbling at goal.
SHOTS VS. SHOTS-ON-GOAL - Some people do not understand that the desingations shot and shot-on-goal do not refer to the same thing. A shot-on-goal is a shot that is "on target" and either enters the goal or is saved. A shot is any ball, which in the scorekeeper's judgement, was intentionally directed at the goal by an attacking player, including all such balls which enter the goal, which are saved, or which go high or wide of the frame. This latter category of "shot" can be somewhat subjective, but we try to keep the standard strict,
So, these are a "few" points about scoring--many more points could be made--but this essay is getting to be pretty long, and I am getting to be pretty tired. So, let us bring this circus to a close--enough is enough--my cache of metaphors has been depleted and you have probably read more than you care to by now.
Saturday, August 23
QUESTIONS ABOUND: NEW FACES AND MIXED EMOTIONS PERMEATE PRESEASON SCRIMMAGES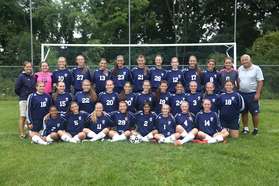 2014 LADY COMETS (Photo: E. Black)
Following this afternoon's set of preseason scrimmages, the one thing that is perfectly clear is that there are many things that are unclear. Although the four "horsewomen"--Perrine Wasser, Michaelina Holmes, Ally Christman, and Emma Henzes--will surely be among the starters on opening day, the flavor of today's scrimmages suggests that considerable questions remain about who will be surrounding this quartet for the opening-day whistle. Junior goalkeeper Johanna Show is the likely choice to cover the net, and there are some experienced letterwinners who could step in and start, but the picture has been complicated by the influx of a truly outstanding freshman class, a class which may well contain--and I am not kidding--as many as 4, 5, or even 6 players with enough potential to crack the starting lineup! Now it is highly unlikely that there will be six freshman starters, but there could be moments during a game when you could see that many freshman on the field at the same time. That is how deep this first-year class seems to be!
In today's action, the Lady Comets had the opportunity to test themselves against both Lakeland and Holy Redeemer. In the opening encounter--against a very credible Holy Redeemer side--Coach Jacobs used 18 of his 30 players, moving and adjusting his personnel in the process. The Lady Comets came out in an aggressive 3-4-3 and tried to establish a high line with width up top. There were also times during the day when the Lady Comets flipped into a 4-4-2, depending on the particular athletes gracing the field.
Those of you who know me, may also know how much this writer personally adores a three-front system--and the Lady Comets' 2011 conference championship team employed that formation with thunderous success. However, after watching today from high in a catbird's seat, I think in all honesty that there may be some question as to whether or not this year's squad has the experience requisite for playing with three in the back--although in at least a couple of games this season it will make absolutely no difference whether the Lady Comets play three, two, one, or even zero in the back, as the opposition will be so weak that it will rarely get the ball through the Abington midfield. This is sad to say, but such is the nature of the schedule. So, perhaps in those games the Lady Comets could find some opportunities to develop the experience, and work on the intricate communication skills, needed for playing a three-back formation. On the other hand, teams like Dallas and Scranton Prep will lacerate a three-back system if it is not well-organized. So, maybe it would be safer to play a 4-4-2? Not so fast! A three-front is worth exploring, simply because if you have strong athletes up top you can put tremendous defensive pressure on the opponent's backline, often forcing turnovers and misdirected clearances. So, in the end, this is another question for this team: 3-4-3 or 4-4-2?
There will be 11 freshman on this year's Abington squad and several looked good today. So, perhaps I should discuss a few of the players who Dick Vitale might classify as "diaper dandies." For example, it would have been difficult not to notice Hannah Kowalski, who was certainly one of the first-year fledglings who stood out today: this exuberant newcomer is very athletic and gets to where she needs to be when she needs to be there. Meanwhile, fellow freshman Emily Mahoney weighs in at about 70 pounds with three pairs of socks on--and you would probably not take her seriously at all until you see this dynamo in action. This kid is pretty darn prudent in her distribution choices; she is also strikingly technical on the ball; and in her defensive posture she "pursues" like a pestering gnat. Other first-year candidates who caught this writer's eye were: the sprightly striker Kelly Seechock, and Emily "Emmers" Clauss, who juked a couple of bewildered opponents with her athletic moves.
Besides Wasser, Holmes, Christman, and Henzes, other returning letterwinners who saw significant action today included Mariah Hawley, Tianna Yarns, and Emily Bonsick; and each of these young women could figure in the varsity rotation, either as a starter or key reserve. Along side these people, sophomores Jasmin Patel, Nicole Getz, and Ashley Mulherin all looked pretty good, and each seemed to perform with the type of vivacity that can earn players some serious varsity minutes.
As a unit--or should I say as several different units--the team displayed some skills, and many of the Lady Comets showed that they can put some juice into their shots; both Holmes and Christman delivered "corker" goals, with the Holmes tally coming from more than 20 yards out. Henzes, Mahoney, Seechock, and sophomore Allyson Derry were among other players who put threatening shots on goal.
In addition to all of this, I personally like the way that Coach Jacobs is always looking to get numbers forward. His "let's come out and play some futbol" attitude is very nice to see! And, given that it is still early in the season, one could say that Coach Jacobs is getting some decent off-the-ball runs out of his attackers, particularly along the flank.
However, there were downsides on the day. For example, the Lady Comets would often stitch together some solid combination play and move the ball through the midfield only to lose patience in the final third and launch some low percentage shots. In this same respect, the team could do a better job of framing the goal to make themselves more ready to react to rebounds. And the pace of play was sometimes too slow, but that is in part a function of the early season. Finally, I have not visited too many practices, but I will wager that the team has not yet had much of an opportunity to work on corner kick plays.
So, the question remains: who will be playing where for how long and in what formation? We will see, sports fans, we will see. Coach Jacobs will get another chance to evaluate his charges in a scrimmage this Thursday up at Mountain View (game time is 4:15). They have a nice grass field up there that the Lady Comets usually enjoy.
COMING ATTRACTIONS: Since I am again the official scorer for this season, I thought it might be helpful to post a brief "Primer on Soccer Statistics" which would reveal "my heart of hearts" in regard to the principles I will be observing when scoring the games this season. I hope to have this little piece up on the site in the next day or two. After all, siince some of you will probably be reading my statistics this year, I felt that it was only fair that I share with you some guidelines I use. Hopefully, this will give you at least a vague sense of "where I am coming from" and maybe also provide a guide to standards that soccer statistics manuals endorse; and, if I am lucky, it might even partially explain to you why "that jerk did not give my daughter an assist on that play." Go, Lady Comets!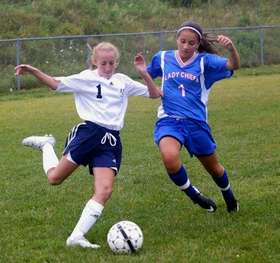 Emily Mahoney (above) is one of several talented freshmen (Photo: E. Black)