2017 SEASON: Welcome
Thursday, November 2
SUPERLATIVE SEASON ENDS IN DISAPPOINTMENT--DALLAS PREVAILS IN TITLE GAME
Abby Brown, like many, played with prodigious heart today (Photo: E. Black)
The spirited and incomparable Lady Comets bowed out this afternoon after treating their fans to a stellar season replete with unusual achievement and steeped in historic success. Although a passionate and well-prepared Dallas team posted a 3-0 win today at CSE Field, no single end-of-the-year loss can stain the stupendous body of work turned in by the hometown girls during their sparkling 2017 campaign, a standout season in which they suffered nary a loss until today.
The margin of this afternoon's victory misrepresents a match that was, in most respects, quite close statistically. The teams were even in number of shots, and the Lady Comets put far more balls on frame, winning the shots-on-goal battle 10 to 6.
The undeniable difference was Dallas's senior goalkeeper Rachel Nelligan. Nelligan not only racked up ten saves--several of which were "big time" denials--she also dominated the box with great anticipatory runs, timely clearances, and terrific reads. Whenever she needed to be somewhere, she got there. Indeed, she scampered about the penalty area like a gazelle on steroids; and this vigorous effort was surely motivated by her memory of the six goals Abington got past her when these two teams last met. Nelligan responded by posting the first and only clean sheet that any goalie has recorded this year against an Abington team that entered today's contest averaging a gaudy 4.3 goals per game. Such a performance is not a complete surprise; and some of you may recall that, in my normally "prescient" manner, I expressed concern about Nelligan in the power rankings analysis I posted on this site about two weeks ago.
Although the Lady Comets were shutout, they were not, by any stretch, shutdown. As mentioned above, the stalwarts from Noble Road kept Nelligan and her compatriots busy all day. AHHS got up and down the pitch with vivacity! Hannah Kowalski fired a couple of cannon shots which might have found the net on another day. Riley Mulherin made the Dallas backline nervous with some great runs at goal and delivered a strong shot late in the first half which Nelligan deflected off the post before a Dallas defender cleared the rejction off the line.
Despite the Lady Comets' persistent attack, it seemed that Dallas "went to school" on their last encounter with the Lady Comets, and today they simply choked off much of what has been Abington's preferred method of attack. After getting beat last time by a lot of lofted chips and long balls, Dallas did a great job today in dropping back under service. I must admit that, as a former coach, I admired what seemed to be purposive tactical adjustments.
Nevertheless, and even as we praise the Dallas defense, it should be noted that, on the other end of the pitch, the goals that the Mountaineers scored were not exactly "corkers." To be honest, each of these resulted, in some degree, from a measure of luck. The kids from Back Mountain posted their initial goal with 13:04 remaining in the first half. The tally was registered from a penalty kick that was awarded when the Lady Comets were tagged for handling in the box. The second and third Dallas goals, both of which occured early in the second stanza, were manufactured close in from balls played into the six yard box off of restarts, balls that Abington could not quite handle; each of these were goals were balls coaxed in from the doorstep, not rifle shots blown past the keeper from 15 yards out. If the ball falls in a little differently, then those goals might not have been goals at all. But such is the game of soccer, and one must admit that these so-called "softer" goals could not have been scored if the Mountaineers had not maneuvered the ball so near to the net. Today's blood and sweat victory was earned by Dallas; and, once again, the district trophy will be toted back to Luzerne County.
Scintilating Seniors.Today was the final high school soccer game for nine notable seniors who, after guiding their team through a brilliant season, fell just one step short of their longtime goal. They would have deserved to reach their goal had they achieved it; they were super worthy. However, these seniors were not only outstanding soccer players; they were quintessential leaders who performed with unmitigated valor. They may not have won the district championship, but they won the hearts of their friends and fans--and have done so in a way that few other teams have. They also won their second-straight Lackwanna League title this fall and became the first team since 2011 to navigate an entire regular season without a loss--even the Mountaineers of Dallas did not accomplish this latter. The nine noble seniors on this team played legendary soccer in every sense of the word; and this 2017 team has secured its place among the other legendary teams in AHHS history. When the pundits and archivists marvel at the greatness of that 2002 team or that 2011 side--guess what, seniors--you and the rest of your teammates will now be recalled in the same manner. So, Meghan Noone, Abby Brown, Emily Clauss, Carina Salerno, Emily Mahoney, Paige Morgan, Kelly Seechock, Hannah Kowalski, and Lauren Simakaski allow yourself to take pride in your tremendous careers--you are now the icons that the next generation of soccer dynamos will celebrate.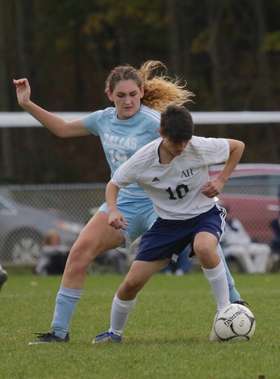 Carina Salerno sheilds ball from Dallas's Olivia Kimmerle (Photo: E. Black)
Tuesday, October 31
PENALTY KICKS LIFT AHHS--DEFENSE HAUNTS THE GOAL IN HALLOWEEN WIN
Marvelous Meghan Noone was a force today (Photo: E. Black)
On a day known more for ghouls than goals, not many of the latter materialized in a mesmerizing matchup of scary good defenses. After battling to a 1-1 draw in what was a most bewitching drama, the Lady Comets punched their ticket to the district championship game by prevailing 3-1 in the penalty-kick tie-breaker.
This monster of a game began at 3:30 but extended into the early Halloweening hours. This should not, however, be much of a concern to the team--the Lady Comets will have no need for trick-or-treating tonight as the game itself was replete with "sweet" moments for the hometown girls. Especially on the defensive end, Abington came up big against a valiant and vigorous Crestwood side that featured some thoroughbred soccer players that were thundering relentlessly about the pitch.
Abington Heights opened up the scoring early, when at the 9:05 mark of the match, Emily Mahoney played a long well-textured serve in from the flank to a totally-ready Hannah Kowalski who was true with her 14-yard finish. These two forwards--Mahoney and Kowalski--have now combined on five goals this year.
The game itself was often hypnotic--it was also intense and physical from the outset. Some rather brutal collisions occured in all sectors of the field. One yellow card was given. It was eerily appropriate, given the day of the year, that each team would get whistled for an unlucky thirteen fouls.
Nevertheless, the entertainment value of the game was sky high, and CSE Field was flooded with impatient emotions. The players from both benches grew hoarse from constantly imploring and encouraging their sisters on the field, and Coach Mannick logged more miles pacing the sidelines today than in the last three matches combined. Mannick would later say that the contest was probably the closest and most intense game he had ever endured.
Nevertheless, back and forth the two teams went--and from side-to-side as well--but let it be said that there were not a lot of inactive personalities gracing the grasses today. AHHS carried a precarious 1-0 lead into the intermission--and "precarious" is certainly a fair word to use here because the teams had been playing pretty much stride for stride. For example, the shots at halftime were comparable, with the Lady Comets holding a slight 6-4 edge; offside calls were even at 1 apiece; fouls were 6-4; and saves 2-1. The question was: which team, if either, would assert itself in the second half?
With just 13;23 left to go in the game, Crestwood hit an equalizer; the goal came from the foot of Vanessa Atie, who played one heck-of-a-darn game. On the soccer field, Atie is a veritable wildcat at large; and this nifty athlete has expressed her prowess in previous battles with the Lady Comets. She posted her goal today after gathering in a great ball from Taylor Tomalinas, another player who seemed to be in perpetual motion. Many fans might recall that Atie produced the lone Crestwood goal when she and her teammates visited Clarks Summit earlier this season--and she hit a monster goal against the Lady Comets in last year's district championship game.
Although Atie made her presence known, missing from today's match was Crestwood star Melissa Herrera, and her absence was surely felt. But the members of the Abington back line--particularly, Meghan Noone, Abby Brown, and Paige Morgan--played monumental defense when they had to, and they looked ready to take on any soccer starlet who was looking for a little one-on-one exercise--indeed, Noone was a quintessential "stopper" today.
Even the best defensive effort will feel some heat from an attack as potent as that purveyed by Crestwood, and the Lady Comets did experience threatening attacks; but the kids from Luzerne County were generally contained when they got into the offensive third and produced only 5 on-frame shots all day.
The two goalkeepers in this game were positively special. Cortney Dushanko, a crafty veteran, was sparkling during the run of play, coming up with 7 huge saves that frustrated AHHS attackers. Meanwhile, Abbey Steenback--who recorded 4 rejections--would save her best stuff for the penalty kick round.
Able to avoid the Halloween demons for the 110 minutes of regulation and overtime play, Crestwood was finally spooked in the penalty shoot out. A super-focused Steenback rejected two well-struck penalty-kicks in the round, executing an absolutely stunning kick-save on one of the denials. These saves were the difference. Meanwhile, Kowalski, Brown, and Morgan delivered the three penalty kicks for Abington.
The successful Lady Comets will now receive the prestigious honor of hosting the venerable Mountaineers of Dallas in the championship game on Thursday. Kickoff is at 3:30. For the uninitiated, let me explain that high school girls' soccer simply does not get any better than what is now on tap for Thursday. This game will be like a Yankees-Red Sox playoff game, and Dallas will be looking for revenge after losing 6-2 to the Lady Comets earlier this year. And do not bet your child's college fund on the Lady Comets scoring six goals again against the prideful soccer elite of Dallas.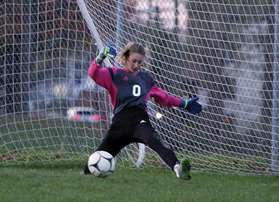 Abbey Steenback was super-human in goal (Photo: E. Black)
Thursday, October 26
SENIORS SIZZLE--LADY COMETS USE BIG SECOND HALF TO DISMISS SCRANTON PREP 5-1
Kelly Seechock in the midst of her three-goal day (Photo: E. Black)
The Lady Comets would pack a quintet of goals into a fast-paced second half to win going away in today's District Two quarterfinal playoff game. Although the scoreline might imply Abington dominance, the early part of the contest featured a lot of back and forth--and it should be pointed out that the 5-1 victory was actually a come-from-behind effort.
Just eight minutes into the match, Prep's Angelina Falcone smacked a DFK into the goal to give the Classics a quick 1-0 lead. This goal immediately raised the temperature on the Classics bench, which was not a bad thing on this blustery day. Given the early fireworks, the crowd's first thought might have been that this was going to be a high-scoring affair. However, this initial tally was simply "the storm before the quiet," as another 36 minutes would pass before the ball would again find the back of the net.
Perhaps it was fitting that all of the goals and assists credited to AHHS today flew off the wise old feet of seniors. The seniors recognize that any loss means, not only the end of their soccer careers, but the terminus of long-simmering dreams. These girls have shared both high school and club soccer success, but today the seniors--particularly Kelly Seechock and Hannah Kowalski--emerged from the fray like scions of an uber-soccer world. Both girls racked-up formidable statstics (Seechock logging a hat trick; Kowalski collecting two goals and a helper), but the ethos of each girl's play sparkled with an "I want this " disposition, as each player moved, not only the ball, but earth and sky on their frequently determined sojourns to goal.
Trailing 1-0 at the intermission, the Lady Comets summoned their deep-lying energy in the second period and, within five minutes of the second-half kick, the hometown girls had moved ahead in the score. And it was the above-mentioned tandem of Seechock and Kowalski that scored the equalizing goal at the 44 minute mark, with Seechock getting the finishing honors, while the crafty Kowalski served as the provider on the play.
A grand total of 52 seconds later, Kowalski would score a goal from an Abby Brown assist. But this score was nothing more than a modest prelude to Kowalski's encore goal which lit up the board with 27 minutes remaining. This unassisted gem was produced by a mixture of guile, sweat, and adrenaline, as the senior co-captain powered her way through a plucky and well-positioned defense to secure the finish.
Now, later on, as if the game was a tag-team wrestling match, it would be Seechock's turn again, when she bodied in a sweet elevated serve from senior cohort Meghan Noone. Shortly thereafter, Seechock would turn on the jets for her final tally, pushing the ball up along the flank and cutting in to angle one past the keeper.
In essence, the AHHS goals were all scored from precision assists and high-energy play. They each reflected a measure of unmitigated will. One thing, for sure, is that the Abington goals were not the result of shoddy goalkeeping from the opposition. Indeed, a most engrossing subplot of this game was the virtually balletic goalkeeping of Prep's AJ Hendershot, who closed out her distinguished high school career with a four-star performance in net. Not only was she superb in her ball-handling and distribution, but she played with a poise and intelligence reminiscient of an NWSL goalie.
AHHS also benefitted from inspired play from Emily Clauss who was a difference-maker on the flank. And the Marchetta sisters are looking better in each and every game--indeed, Anna Marchetta stepped in to execute a reverberating pinpoint tackle today that made my knees shake. And if one wishes to ask where were Carina Salerno and Emily Mahoney today--the answer is everywhere ! Both of those players impressed with their off-the-ball runs and their up-and-down the field hustle. What a package that pair makes. And all of the dramatis personae mentioned so far benefit from the "I got you covered" defense of Paige Morgan, who was quick to the ball today--something she had to be because the prideful Prep contingent was working hard, very hard, especially in the first half.
The Lady Comets will now host Crestwood-- a 3-0 winner over Wallenpaupack today--in a game at CSE Field on Tuesday. This could be one wild and special game, with Crestwood looking to avenge their 3-1 loss to the Lady Comets earlier this season, and with AHHS looking for redemption in the wake of last fall's district championship loss to Crestwood.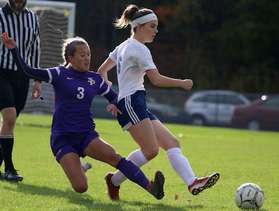 Emily Clauss controls play against Prep (Photo: E. Black)
Tuesday, October 17
SWEET PERFECTION--LADY COMETS POST UNDEFEATED CAMPAIGN WITH 5-0 WIN OVER PREP
Hannah Kowalski turns the corner against Prep (Photo: E. Black)
Before a season-record crowd--and amid the serendipitous magic of Senior Day--the Lady Comets found their recently absent offense and posted an emphatic 5-0 win over Scranton Prep to put a cap on a perfect regular season. Building an 18-0 record is no easy enterprise, even for the very best of teams. Prior to today, the Abington Heights girls had logged undefeated seasons only three times in the entire 25-year history of their program, last accomplishing the feat in 2011. Scoring at 4.5 goals per game pace while holding opponents to a miniscule 0.5 goals per contest, the 2017 Lady Comets knotted together one impressive season. From start to finish, they showed themselves to be, not only the Lackwanna League pacesetters, but also the most likely choice as frontrunners in NEPA girls soccer. The extraordinary success of this season puts a festive garland in the Lady Comets' hair and a king-sized target on their back. Who now does not want to "put a hurtin'" on the almighty girls from Noble Road ?
AHHS got off to an early start in this one, when a hyped-up Kelly Seechock hustled after a ball in the box and conjured a pinpoint cross-frame finish to put the homestanding girls on top 1-0. After a little back and forth--although it was mostly forth for the Lady Comets and back for the Classics--the Prep defense committed a foul in a bad field location and Leia Parry connected on a 22-yard DFK to extend the lead to 2-0. Shortly thereafter, Seechock would use an assist from Abby Brown to effect her second goal of the half, and Abington would head to the halftime huddle with a seemingly comfortable 3-0 lead.
However, against a proud and distinguished team like Prep, a 3-0 lead at the midpoint is probably not especially comfortable. It was as if the Lady Comets recognized this fact and came out with the pedal pressing the metal in the second stanza. With 28:20 remaining in the game, Riley Mulherin would clip a ball off the foot of a Prep player, push the stolen ball wide, and then rush to the goal where her solid shot was stopped by an even more solid effort by Prep's celebrated keeper AJ Hendershot--fortunately for Abington, Hendershot's parry deflected back to Mulherin who then smacked the rebound home. It was now 4-0 and the parents were setting out the post-game celebration snacks.
Late in the contest, AHHS would add one more candle to the cake, when Hannah Kowalski used an assist from Brown to set the score at 5-0. And such is the story--the Lady Comets were in this way able to record their 10 shutout of the year, although Abbey Steenback had to make a couple of terrific plays to stave off the Classics' attack. And with the high-powered competition sitting on the playoff horizon, Abington's precocious netminder will likely need to produce some more nifty saves before the fall is through.
Today was Senior Day and the seniors came to play. Brown, Paige Morgan, and Meghan Noone were relentless. Emily "Emers" Clauss was the quintessence of energetic will. Carina Salerno was all over the pitch, moving the ball effectively on attack as well as applying pressure defense. Kowalski roared past Prep defenders; and Seechock logged a hustling brace of goals; at the same time, Emily Mahoney mastered the flank while Lauren Simakaski was a constant presence in front of goal. It was in so many respects a "senior day"-- and at least one senior had someting to do--directly or indirectly-- with every Abington goal save one.
The undefeated 2011 team went on to win the district championship; and the current edition of the Lady Comets will be entering this year's post season as a good bet, in the minds of many, to match the achievement of their 2011 sisters. Check out the upcoming issue of The Abington Suburban (available this Thursday) and read a feature article highlighting some of the soccer and personal connections between the 2011 girls and this year's equally stellar squad. In the meantime, kudos to the hometown darlings of the 2017 team, who have achieved what many simply dream about. Hush, hush . . . we all know that the Lady Comets have more dreams about the current season.
NOTES: Congratulations to Abington's outstanding seniors who have cobbled together an impressive 64-17-1 record so far over their four-year career. One can say that these players were legitimately a part of all of those 64 wins because most of them were starters or crucial bench players from the beginning of their freshman years. We look forward to more soccer from these talented ladies--an encore performance awaits us all in the playoffs. In the meantime, kudos to Emily Clauss, Hannah Kowalski, Emily Mahoney, Carina Salerno, Meghan Noone, Abby Brown, Paige Morgan, and Lauren Simakaski--thank you for all you brought to the pitch!
At the start of the game, the starting players for Prep were introduced but the Abington starters were not. This was due to: (a) an unanticipated and sudden malfunction in the PA system, or (b) a pinheaded announcer losing his script and forgetting the players' names. If you answered "a" to this question, you are correct--and I most certainly thank those who answered "a" for their confidence.
Anna Marchetta steps in against Prep's Catherine Collins (Photo: E. Black)
Thursday, October 19
POST SEASON POWER RANKINGS AND ANALYSIS
We are less than one week away from the start of the District 2 AAA showdown. And, I am happy to say that for the first time in a very long time, I am able to place the Abington Heights Lady Comets at the top of my annual post-season Power Rankings. Although the Lady Comets are always one of the principal contenders for district honors, I could not in good conscience place them at number one last year, nor the year before, nor the year before that. But I can do so this year without any serious hesitation.
What I offer below are not seedings--but calculated "power rankings" that intend to gauge a team's actual post-season strength. Seedings are determined by PIAA standings, and the Lady Comets as we all know have locked down the # 1 seed.
Below is what I believe to be the top ten AAA sides heading into District Tournament play--with the 1-10 rankings based on: depth and diversity of talent, performance in high-profile games, overall experience, coaching advantages, strength of schedule, and late-season trends in the various teams' standards of play.
1. ABINGTON HEIGHTS
2. DALLAS
3. CRESTWOOD
4. WALLENPAUPACK
5. COUGHLIN
6. WYOMING VALLEY WEST
7. VALLEY VIEW
8. NORTH POCONO
9. SCRANTON PREP
10. PITTSTON AREA
ANALYSIS. Abington Heights has more than merely the best record. AHHS is from a personnel standpoint simply the best team in the field; sometimes claims like this can be debated, but probably not this year. However, having the best depth of talent does not by itself guarantee success, and several of the teams I have slotted just below Abington suit up their own cavalcade of stars. The Lady Comets do, however, have an extraordinary team chemistry and a long memory as far as last year's district final is concerned. AHHS will also carry the pyschological advantage of being the #1 seed. Plus, no one has beaten Abington yet--no one--and several of the top teams on the above list have tried.
Follow this logic: Dallas has Rachel Nelligan--Rachel Nelligan is one very good goalkeeper--goalkeeping becomes very important in postseason play--therefore, watch out for Dallas; and, let me say this again, watch out for Dallas!. Nelligan is, of course, just one of several outstanding keepers in this tournament, a tournament which features a "who's who" of netminders, including AJ Hendershot, Cortney Dushanko, Olivia Gregory, and Abington's own rising star, Abbey Steenback. But Nelligan has a boatload of big game experience and maintains as, as does Steenback, a fine-tuned communication with her back line. Dallas has a remarkable tradition as well, so look for the Mountaineers to go deep into the bracket if not all the way to the winner's podium.
Crestwood has shown itself to be a force and has lost only to AHHS and Dallas, while tying the latter team in a recent rematch. These kids from Mountaintop share the name "Comets" with AHHS, but that's not all the two team's hold in common. Both groups of Comets play tough defense and both can also rev up the attack on a moment's notice with their quickstrike alacrity.
Some pundits might put Coughlin in fourth place. However, after considerable reflection, this reporter continues to like Wallenpaupack, even though some might say that the Lady Buckhorns have been a bit "up and down" this year-- and, indeed, they have been! Nevertheless, when the ladies from the lake are on their game, they can beat any good team soundly. They are also led by one of the best and most experienced coaches in the Lackawanna League; I think these kids are entering the tournament looking for not only respect but a return visit to the championship game. Despite these intangibles, it is going to be tough for them. They would have to get past an elite-level opponent to reach the final.
Coughlin is a better team than many think. They could provide all sorts of trouble in the tournament. AHHS is lucky that the Crusaders ended up in the other half of the bracket. Couglin, as you may remember, was the only team to hold the Lady Comets to one goal at CSE Field this year.
Valley View Cougars get some of my love simply because they have flexed their muscles in late-season outings against quality teams, including close 1-0 losses to both Wallenpaupack and Abington.
Meanwhile, the normally formidable Scranton Prep Classics have dropped their last four games--and I am pretty sure cell phones had not been invented the last time the Classics lost four in a row; the concerning thing, the head-scratching thing, is that in the four losses the Classics have logged a -15 goal differential. They might be able to right the ship, but they are certainly not "on a roll" heading into the postseason.
GAME NOTES:
The Lady Comets are on a course that would lead them to Crestwood in the semi-finals, unless Wallenpaupack knocks off Crestwood in the quarterfinals--and that could easily happen. AHHS opens up post-season action on the 26th at 3:30 p.m. whey they host the winner of the Scranton Prep/Valley View game; this rematch between the Cougars and Classics could be a humdinger--and I have not used that last term in more than a decade. Also, please note that this author did not, un the aarticle above, spell Cortney Dushanko's first name incorrectly.
Sunday, October 15
ANOTHER CLOSE ONE--WILLIAMSPORT TAKES LADY COMETS TO WIRE BEFORE LOSING IN OVERTIME
The long and winding bus ride out to Williamsport is always a challenge to endure; even when the bus misses no turns, it seems like the trip takes something out of the Lady Comets. As has been the case many time before, Abington once again struggled to express itself in a close game at Balls Mills complex, but ultimately got out of town with a 1-0 overtime win.
The victory, which moves the Lady Comets to 17-0 on the season, came during a tough, physical match in which both sides created dangerous chances. Yet the grueling match would come to a sudden end with an Abington "golden goal" during an overtime period that was played almost exclusively in the Williamsport half. After a corner kick, senior Emily Mahoney played the ball into a dangerous place from which Hannah Kowalski fired a shot; Kowalski's effort was denied but the ball came free and rolled behind the keeper where Kowalski was able to put the ball into the net.
The Lady Comets outshot the Millioniares 12-7; but both sides had good opportunities to score. Abbey Steenback collected 4 saves, while her Williamsport counterpart, Jessica Robinson, recorded 6 rejections.
It is never easy to play against Williamsport--and the Millionaires were one of several teams that we knew would give the Lady Comets trouble--so a close contest out there was not a surprise. But one might ask: what has become of the Abington offense? Throughout the early and middle season, AHHS was a goal-scoring machine, but in recent matches the offensive deluge has receeded into a humble drizzle. While the team continues to do well defensively, there seems to be a bit of slowdown in attack. After a highly productive September, the Lady Comets have struggled in October, at least as far as offense is concerned. The hometown girls have been held to one goal in each of their last three games and are averaging a solid, but significantly marked down, goals per game average. Following a torrid 5.5 average in the previous month, the Lady Comets have so far registered a very solid, but less dazzling average of 2.1 in October--and much of the 2.1 average can be attributed to the six goal effort at North Pocono. No team had held the Lady Comets to fewer than three goals until October; now, four of the last five opponents have done this. Certainly, even the best of teams suffer scoring droughts--this is the way of soccer. The bottom line is that the team is still finding ways to win.
Thursday, October 12
ONE CANNOT DENY IT--LADY COMETS ADD TO THEIR UNBROKEN CHAIN OF WINS
Senior leadership will be needed down the stretch (Photo: E. Black)
A team's sporting success consistently provokes the best effort from its opponents. The Lady Comets string of unbeaten/untied games grew to 16 last night when AHHS posted a narrow 1-0 win over the Valley View Cougars; however. the sweet fruit of victory was not easily procured.
Despite the fact that cougars are solitary beasts, the Archald variety of such cats displayed more than a little togetherness on the pitch last evening; they in fact played like a pride of hungry lions just released from a cage, turning in a performance that on several occasions peaked near the pinnacle of the hustle meter.
Abington would score in the first four minutes but would then scuffle and scrap with a passionate pack of feisty felines for the rest of a rather frustrating contest. To be honest, Valley View did not produce many shots that truly threatened the Abington goal, but the Cougars did come close to producing an equalizer when they sizzled one off the post in the second half.
Apart from what the team nicknames might suggest, it was the Comets, and not the Cougars, who enjoyed the lion's share of the possession. AHHS dominated the stat sheet, won more corner kicks, fired more shots, and spent substantial time deep in Valley View territory. Part of the reason that the Lady Comets could not add to their goal total was the fact that the Cougars did a good job of clogging the box when they had to--and the Valley View keeper, Olivia Muchal, recorded an impressive 14 saves, which allowed Valley View to hang close.
Yet these amped-up moments of Valley View defense were only partly--and let us emphasize partly--responsible for the paucity of Abington goals. If the truth be told--and it is usually best that veracity be observed--the Lady Comets must share some of the blame for their modest offensive performance. This reporter felt that there might have been five areas of notable concern: (1) The Lady Comets did not seem to display a lot of creativity in attack, and at times they almost fell into a rut of playing "boom ball"; in other words, instead of trying this and then trying that, there were some long stretches of the match where the team seemed to be trying this, this, this, this; (2) it seemed that the Abington kids too often attacked in straight lines, and did not look often enough to the weak side or look to switch the point of attack when they might have done so productively; (3) our hometown girls might have showed a little impatience when they possessed the ball in the final third, blasting too many off-course crosses into the box-- use some sensitivity, sensitivity, sensitivity; (4) speaking of sensitive ball-striking, how about trying some "touch passes" on two-hole through balls? Finally, (5) the Lady Comets just might have treated the crowd to a few too many 25-yard shots that were in effect nothing more than "easy pickins" for a keeper of Muchal's stature.
On a much more positive note, the lone Abington goal was, in fact, a beautifully executed piece. Hannah Kowalski moved into quality shot position, and appeared ready to shoot, but then dished off perfectly to a wide open Kelly Seechock who would score her 9th goal of the season. Yet, despite the excitement generated by a quasi masterpiece goal, this early tally would in many respects belie the performance that defined the rest of the match. It was as if this early score (followed by the drought) amounted to the soccer gods saying: "let us take a look at what these Lady Comets can do, and then let's spend the next 65 minutes watching them not do it." Granted, the Lady Comets were a little unlucky--and the effort was for the most part not an issue--but decision-making might have been a concern.
Two more games remain on the regular schedule, and the girls from Noble Road are not at this point looking to kiss any winning skein goodbye. But both opponents on the horizon--that is, Williamsport on the road this Saturday, and Scranton Prep at CSE next Tuesday--provide unique challenges for an Abington team that needs to keep its focus. Again, as noted at the outset of this article, a team's consistent success generally provokes the best effort from its opponents. So, as far as Williamsport (who beat AHHS 4-1 last year) and the Scranton Prep Classics are concerned, they will, like the clawing Cougars, arrive ready to rumble.
Saturday, October 7
What is down the road for the Lady Comets?
Among the many annoying acronyms we are asked to tolerate in the contemporary world, the TGIF code is certainly one of the most popular and celebrated communication shortcuts, even where chain resturants are concerned. However, with all things considered--and there is much that has to be considered when speaking of the Coughlin game--the Lady Comets had a lot more to be thankful for yesterday than the fact that it was Friday.
After a long period of frenetic and almost desparate play, senior Hannah Kowalski and freshman Riley Mulherin finally combined to produce a goal with just 2:20 remaining in the game. It was enough to secure a 1-0 win over a capable Coughlin Crusaders side that had held resolutely to a tug-of-war rope for nearly 70 minutes before they were finally pulled over the line by a more talented Lady Comets' team.
The plain fact is that the Lady Comets are having a terrific season. They are capable of exciting play; they can command field position; dominate possession; and can play a level of shutdown defense that would frustrate even a team of kids on bicyles. They are as of now the favorties to win the district championship. However, if they wish to secure that dream, they may need to break a couple of recently evident bad habits.
Due to their athletic prowess, the homestanding girls produce huge shot advantages in their games; and they did so again yesterday, registering 13 shots in the first half alone. However, the obvious question is this: is a 13-shot first half good in and of itself? Mere attempts to hit the net are not recorded on the scoreboard at CSE Field. Only grandma, sportswriters, and Will Misuira are tracking shots.
When no goals result from 13 shots, does that high number reflect excellence? It does in a sense. But might it not sometimes reflect poor shot selection or simple impatience? Clearly, it would be better to record just 6 shots in a half and be leading 2-0. The Lady Comets put 8 of 13 first-half shots ON GOAL--however, Abington was not simply the victim of good goalkeeping; some overly anxious AHHS shots were sent "up the elevator shaft," and one of these skyrockets appeared as if it was going to drop onto a lonely deer that was roaming the woods behind the net.
Again, a lot of the shots were shots that should have been taken, but that does not mean that some of them were not rushed, or sent near post when they should have been hit far post.
The team has a bit of a break in the schedule before its next game on Thursday. Perhaps this hiatus is arriving at a good time. It is not that the Lady Comets are physicially tired--they are certainly a fit team--but they might be a little mentally fatigued. The team may need a little time to simply pause and "contemplate" the road ahead.
Abington has been so busy winning that it has not had time to "think about" winning. It is safe to say that the pundits, the parents, and the populace as a whole, now expect that the Lady Comets will emerge victorious in every game. And carrying the weight of such expectation into matches against good opponents wears on the character of even the best and most resilient atheletes. The hometown girls face not so much questions about tactics or endurance as questions about developing persistent focus and centripetal will. This being said, for any of those who might be intersted, I will be posting later today. or maybe late tonight, my annual and self-indulgent "wish list" concerning the team as the girls head toward the playoffs. With regard to this forthcoming editorial analysis, I hope it might stimulate some discussion or debate; but feel free to either check it out or chuck it out.
Thursday, October 5
FLURRY AND DONE--MIDGAME SCORING BLITZ SEALS 6-2 WIN
Carina Salerno was one of six different AHHS goal-scorers today (Photo: E Black)
North Pocono brought a brave legion of players into this afternoon's contest against the District Two standings' leader. Nevertheless, during one 26-minute stretch--bridging the game's two halves--the Lady Comets put five balls into the net to secure a result that was never really in doubt. With six total goals--each of which were scored by a different player--Abington was able to coast to a definitive 6-2 win.This afternoon's win, coupled with Valley View's 2-1 upset victory over Scranton Prep, brings an end to one element of late-season suspense and gives your Lady Comets the 2017 Lackawanna League title today, right now, and forever--even with two more division games to go!
In what will now be, in some respects, an anti-climatic end to the Lackawanna League schedule, the Lady Comets will still be looking to fry a few more servings of salmon. After all, with the district championship lurking on the horizon--and with the possibility of an undefeated season still resting in the hammock--the hometown girls have more than enough to play for in their upcoming games. However, collecting their second straight league crown is an uncommon and laudable accomplishment and should be celebrated indeed.
Abington Heights 6, North Pocono 2.
Normally when a team records a gaudy .789 shots-on-goal percentage in a game, it is because that team did not take more than six to eight shots. The inscrutable fact about today's game was that AHHS posted that percentage by placing THIRTY of 38 shots on goal. The down side, of course, is that the Lady Comets probably should have put more than just six of these 30 straight-and-true shots in the net. Sometimes it is difficult to concentrate in a game where you are dominating the action; sometimes a better preparation touch should be used on the finish. However, the sheer quantity of quality opportunities had to be a bit staggering, even for the most optimistic spectators.
Once again, Abington got started very early, by scoring a goal just one minute into match. Emily Mahoney was the magician with the ball, providing a perfect assist on a Kelly Seechock goal. However, just five minutes further on, North Pocono would score from a penalty kick to knot the game at 1-1. This equalizer prompted the North Pocono coach to shout enthusiastically: "okay, anything can happen in this game."
After that, it took Abington a little time to find the scoring column again, although they were moving the ball well and creating some nice attackng space for themselves. With 11:07 remaining in the first half, Emily Clauss would deliver an elegant corner kick to Meghan Noone who would record her second goal of the season. Pleased by the success of this stationary-kick effort, the girls from Noble Road would use replication to extend the lead 7 minutes later. They not only used the corner kick again, but employed a kick-taker of the same first name, when Emily Mahoney drove a corner restart into the box for Abby Brown to finish. The final goal of the half was scored with just under two minutes on the clock, when Carina Salerno drove in an unassisted shot.
Riley Mulherin would provide an unassisted goal twelve minutes into the second half, and then Lauren Simakaski would score off of an astute assist from Noone. North Pocono picked up a late consolation goal from Lacey Rinaldi that set the final score at 6-2.
NOTES: Tomorrow, the Lady Comets host Coughlin in a game that could have an important bearing on district championship seedings. Kickoff is set for 4:15. Be there!
Tuesday, October 3
BUCKED TO THE BRINK--LADY COMETS SURVIVE MAJESTIC WALLENPAUPACK DEFENSE
Lauren Simakaski battles Paupack's Amber Lutz (Photo: E. Black)
Although there are those who love to watch goal-scoring festivals, there is something about defensive showdowns that stirs the soul of the true soccer afficionado. After falling behind early for the second straight game, the Lady Comets were able to emerge from an intense, physical, frenetic, and perpetual battle with a narrow 2-1 victory. It was the kind of come-from-behind triumph that is characteristic of championship-calibre teams, but the guests from Wayne County kept Abington on its toes all day long.
Winning by large margins has become commonplace for AHHS this year, and sometimes--in order to avoid a lapse into a precarious complacency--winning teams need a tough test. The visitors from the big lake certainly made some waves today; they gave the Lady Comets everything they could ask for and frustrated Abington's early attempts to penetrate the box by employing a hustling defense that often beat the homestanding girls to the spot.
Before this one was over, Abington had to throw a few extra coals into the furnace to keep pace with a fired-up Wallenpaupack side that, in the first half, claimed more than its fair share of 50/50 balls.
It is common knowledge among local soccer pundits that Abington is one "heck-of-a-darn" offensive machine, but early on in this match the ever-ready stalwarts from Hawley were making it look like the Lady Comets would never score. To be perfectly frank, some of the AHHS passes in the opening stanza were about as sharp as the eraser end of a pencil. The precision and execution improved greatly in the second period, but during the early going the Lady Comets were--quite uncharacteristically, one must say--giving the ball away, even during those few and isolated moments when they were not under the in-your-face pressure that the Lady Buckhorns had been able to sustain for excrutiatingly long stretches of time.
Since she was injured and did not get to play in the first matchup between these teams on September 12, it was probably only fitting that the Buckhorns' star Rachael Tirjan would record the opening goal of the game. Just under fifteen minutes into the game--after a lot of back and forth action--Tirjan slipped past the Abington back line and put the ball away off of a breakaway opportunity. The score would remain at 1-0 for the balance of the half, although the Lady Comets had at this point a slightly better looking stat page than did their opponent.
Coach Mannick used his natural eloquence to inject a little more energy into his charges at halftime, and it eventually paid dividends. The Lady Comets exercised more control over the flow in the second period, and outshot Wallenpauack 8-1 in the ultimate stanza. It was, however, a rough and tumble half of soccer--characterized by some hard fouls from both sides. However, these often emphatic fouls were less the product of malice than the offspring of robust desire--two teams were on a passionate quest to win!
The first Abington goal was recorded just under eight minutes into the half, when Hannah Kowalski slammed home a beautiful cross from Emily Mahoney. This equalizer seemed to turn the game on its head a bit, and a mere twelve minutes later, sophomore Anna Marchetta would score her second goal in as many games, to set what would become the final 2-1 score. Marchetta's unassisted shot was well-placed and well-struck, and there was not much that Paupack's Olivia Gregory could have done to reject it.
The rest of the half was hotly contested, and there was never for a minute a sense that Abington "had the game wrapped up," something that fans have sensed in nearly every other Lady Comet game this year. In fact, Wallenpaupack held AHHS to its lowest goal output of the season. The visitors are also now the only team to finish a game within 1 goal of the Lady Comets.
Congratulations to both teams! Congratulations to Abington for stepping up when it had to; congratulations to Wallenpaupack for playing some first-class defense; and congratulations to both teams for giving the fans an entertaining and competitive game.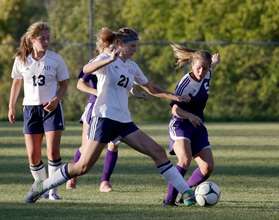 Meghan Noone patrols the back against Buckhorns (Photo: E. Black)
Saturday, September 30
SECOND WIND--POST-INTERMISSION SPURT PROPELS LADY COMETS
Anna Marchetta challening for head ball against Cardinals (Photo: E. Black)
It was, to say the very least, a blustery day in the Abingtons, and the suddenly augmented zephyrs that graced CSE Field on Saturday pushed the hapless soccer ball around in a relentless and almost authoritative manner. Working against a stiff and recalcitrant breeze, the Lady Comets went a disappointing 0 for 8 in first-half shots.
However, following the mid-game interval--and with their attacking direction thus turned around--the Lady Comets were able to use the second period's more favorable gales to blow by Pocono Mountain East 5-1.
All goals today would be scored in the direction the gusts were wafting, which meant that it would be in the second half that Abington's attack would benefit from the tempest that was stirring the pitch. Never the ones to take such opportunity lightly, the Lady Comets expressed their appreciation by scoring all five of their goals in the second stanza.
During the first half, the Lady Comets had been dominating play and were leading at the intermission in every statistical category--except, that is, for one rather consequential category: goals-scored. So, as they gathered for halftime conversation, the homestanding girls found themselves trailing in a match for the first time this season. Although the visitors had managed just one goal on two first-half shots, that meager production was enough to produce a precarious but notable 1-0 lead.
In addition to playing into the face of the wind, the other roadblock to the Lady Comets' first-half scoring was the brilliant goal-area "patrol work" turned in by Pocono Mountain East's Allison Bone, who registered one of the best goalkeeping displays that CSE Field has seen in recent seasons. Bone is the latest in series of quality netminders that have challenged the Lady Comets this year. Joining keepers Rachel Nelligan and A.J. Hendershot on the list of strong gate-tenders that have recently caused Abington trouble, Bone played with both focus and passion. Before suffering a hip injury late in the game, Bone swallowed up ten on-frame shots, many of which were quite menacing.
The Lady Comets began their five-goal second-half assault quite early in the period. Just over a minute into the action, Anna Marchetta would score using a Kelly Seechock assist. No more than six minutes later, the Abington stalwarts were at it again; this time "Downtown" Abby Brown would deliver another of her patented goals from distance.
At the 48:23 mark, Hannah Kowalski rifled a low, nasty penalty kick, only to be denied by a great save effort from Bone; the keeper deflection would however spin back off the post and into the six-yard box where Kowalski finished the interlude with a sliding shot into the back of the net.
The precocious Riley Mulherin would figure in the final two goals--each time as an assister. First, she provided the setup for a Kowalski goal and, then, delivered the mail to Seechock who would punch in the game's ultimate marker with just under five minutes remaining. One half! Five goals! Three assists! A decent 40 minutes of work.
In light of today's two impressive victories--one win over the visiting Cardinals and another over the obnoxious weather--the inevitable question assumes a greater than ever prominence: Will the Lady Comets be able to hold their poise and finish out the regular season undefeated? The answer, my friends, is blowin' in the wind.
NOTES: Next up on the agenda is Tuesday's home tilt against Wallenpaupack. The Lady Buckhorns will be seeking revenge in this rematch of teams that first battled on September 12th out in Hawley. Abington won the game 3-0, but the Buckhorns were without the services of their star player Rachel Tirjan, who usually gets pretty pysched up to play the Lady Comets . . . the busy week continues with a road game on Thursday at North Pocono before another home game on Friday against Coughlin. Hope everyone is ready to settle in for a stretch run.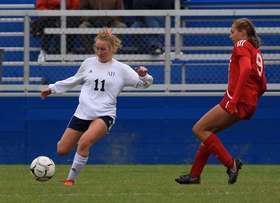 Emily Mahoney takes on the Cardinals' Lilla Kaczmarzyk (Photo: E. Black)
Thursday, September 28
DOWN IN THE VALLEY--LADY COMETS SECURE 3-0 ROAD WIN
George Washington famously crossed the Delaware, but on Wednesday afternoon's soccer excursion to Milford the Lady Comets stopped just short of that mighty river's banks--indeed, the only thing that the Abington girls got across was the point that they are a talented and determined team. Despite being an hour away from the semi-green grass of CSE Field, it was business as usual for AHHS during its 3-0 win over the Delaware Valley Warriors.
The win would mark the Lady Comets' second shutout this year against the ladies from Milford, and Delaware Valley had plenty on the line in this match.
Although they did manage a couple of breakaway assaults on goal, the homestanding girls did not create as many quality shot opportunities as AHHS. Riley Mulherin had two goals and Hannah Kowalski added one, in a game that the Lady Comets controlled, especially during the second half. Kelly Seechock added an assist on the night; and Abby Steenback recorded three saves, although there was probably only one Delaware Valley shot that was especially threatening.
As this uniquely capable AHHS team moves into the second half of the season, the Lady Comets' performance to date prompts the unspoken question: can the girls run the table and go undefeated through the rest of the regular schedule? With many challenges waiting on the road ahead, coaches and players will sidestep such questions and resort to the hopelessly uninteresting "we'll take 'em one game at a time" cliche. However, pundits, publicists, and poets, are not bound by the insufferable limits of "coach speak" and can engage freely in the infinite joy of speculation. If the possibility of an unbeaten season is not at this point the elephant in the room, then it is certainly the pony in the garage--the Lady Comets standard of play has been so impressive that it provokes the imagination of even the most cautious prognosticators.
It is not an easy thing to traverse a high school soccer season and never taste defeat. The last AHHS girls' soccer team to turn that trick was E. T. Hunter's 2011 side, which powered its way through a tough schedule, setting several team records that still stand to this day. It is interesting to point out that that team shared some characteristics with the 2017 Lady Comets: (1) a uniquely formidable lineup that features veteran athletes of exceptional talent; (2) a three-front formation; and (3) speed when applying the high press. These commonalities may be coincidental or they may point to something special.
There is certainly enough to fret about for the nervous Nellies looking for concerns; there are return matches with Wallenpauapck and Scranton Prep to get past--clearly, Coughlin and Williamsport will not be "easy outs" --and this anxiety will first rear its head at 11:00 a.m. on Saturday when a talented Pocono Mountain East side visits CSE Field for a "brunch with the Lady Comets" event. The weather will be cooler; but the Lady Comets are still riding a hot streak.
Monday, September 25
SISTER ACT--TWO SETS OF SIBLINGS HELP LADY COMETS RECORD SHUTOUT WIN
Senior Hannah Kowalski logged two goals and an assist today (Photo: E. Black): E
The heat rose from the field as if it were emanating from a charcoal grill, but Lady Comets fans who endured this unseasonal sauna got to see, for their troubles, six different Abington girls register goals in a 7-0 rout of Scranton at CSE Field. Fans were also treated to some "all-in-the family soccer" when, not only Lauren and Elyse Simakaski, but also Kelly and Katie Seechock graced the Lady Comets' starting lineup. And each of these young women would play an integral role in this perspiration-themed match.
It was Simakaski, the elder--that is, the hard-charging senior Lauren--who actually opened the scoring by punching home a goal at the 1:19 mark of the match. Hannah Kowalski was the provider on the play. However, less than one minute later, first-year player Katie Seechock would do what we have for years watched her older sister Kelly do--that is, score a riveting goal. The younger Seechock registered her first-ever varsity marker when she zipped a well-struck penalty kick past Scranton keeper Trinity Gammaitoni at the 2:18 mark.
Meanwhile, first-year fullback Elyse Simakaski would complement her elder sibling' s offensive production by playing some shut-down defense along the backline. And senior Kelly Seechock would quickly get into the action as well by playing the setup ball for an Emily Clauss goal at the 21:43 mark. All of this meant that someone from either the Seechock or the Simakaski family had something to do with each of the first three goals.
From this point forward, the sweat-soaked Lady Comets would continue to build the lead. Kowalski would use an assist from Emily Mahoney to tack on another goal before halftime, generating a 4-0 score for everyone to contemplate during a sultry and thirsty break.
Following a welcome intermission in the shade, Abington would consume no more than ten minutes of the second stanza before the team's collective effort would deposit three more balls into the net--these goals, by the way, fed off of each other so rapidly that they seemed to be telescopic in appearance. Leia Parry worked the ball through the Scranton defense on her own to score the first of these. Next, Kowalski would finish off of a savvy pass from Anna Marchetta. Finally, Riley Mulherin would use a Lauren Simakaski assist to record the Lady Comets' seventh and ultimate goal on the afternoon.
The visitors from the city managed just one lonely shot on the day. This sparse number was mostly a function of Abington's ball-possession attack, which kept the soccer rock well away from the AHHS goal. However, this paucity of Scranton shots also reflects the defensive prowess of Abby Brown, Meghan Noone, Jenna Patel, Grace Phillips, Tori Wells, Carina Salerno, Tayla Grimaldi, and the seemingly omnipresent Paige Morgan, who turned in another terrific game.
All in all, as the match wore on, the Lady Comets really turned up the heat-- yet one wonders why, because everyone was sweltering on the pitch already.
NOTES: After completing what has been a five-game homestand, the Lady Comets hit the interstate on Wednesday, busing their way out to Milford for a 6:00 p.m contest with Delaware Valley. This will be a rematch for the teams; the Lady Comets picked up a 4-0 win over the Warriors earlier this year at CSE Field. One should remember that last year the Lady Comets struggled on the turf at Del Val, and were lucky to come away with a 1-0 win in a close game . . . the gates to CSE Field will re-open again on Saturday when the Lady Comets host Pocono Mountain East, a genuinely tough customer that dumped Abington by a 4-1 margin last year. Perhaps, a little revenge will be a factor here. . . Then, another game on domestic soil (just to make everyone happy), as the hometown girls will entertain Wallenpaupack on Tuesday October 3rd at 4:15. Mark these three games on your calendar--they could all be challenging tests for your undefeated Lady Comets.
BOX SCORE FOR TODAY'S SCRANTON GAME AND UPDATED STATS WILL BE POSTED LATER TONIGHT
Thursday, September 21
NOTHING LASTS FOREVER--LADY COMETS PUT EMPHATIC END TO DALLAS WIN STREAK
Riley Mulherin logged a hat trick against Dallas. (Photo: E. Black)
The current Abington seniors were only 8 or 9 years old when the Lady Comets last beat the Dallas Mountaineers; but today those seniors led the way in a "statement win." The 2017 Lady Comets grounded the lofty Mountaineers with a made-to-order 6-2 victory. The level of play was fast and intense, and much more competitive than the scoreline suggests. In fact, the game's statistics were virtually even; the difference in the score was due to two phenomena: (1) clutch goalkeeping from Abbey Steenback; and (2) the Lady Comets' ability to finish a larger share of their scoring opportunities than did their opponent. Both teams were able to penetrate; both teams were able to set up quality shots and put the ball at the feet of powerful players. However, Abington's attempts were sure and steady--and well-placed, even in the face of some truly extraordinary work from Rachel Nelligan, who is one of NEPA's finest and most-experienced goalkeepers. No team gets six balls past Nelligan in a single game! But AHHS was able to turn that trick today--and this despite the fact that the talented Nelligan was able make some superlative plays on other dangerous balls.
Dallas was sending plenty of its own well-struck balls on-frame; indeed, the hill-climbers' shots on goal were essentially equal in number to those produced by Abington. However, Steenback would short-circuit eight of the Mountaineers' 10 on-target shots. These shots were not lollipops either; most of them were propelled by some of NEPA's finest shooters, and Steenback was able to respond to the challenge, snuffing one shot from point blank range. If even a couple of those eight shots find the back of the net, then the race is on and the game's momentum changes. Perhaps Steenback has an instinct for rising up against Wyoming Valley Conference teams, because she also produced game-changing saves in the Crestwood match. These schools might want to figure out a way to get her banned from crossing the Luzerne County line.
For the first 15 minutes of this game, Dallas dominated play. They set the Lady Comets back on their heels and fired four quality shots during the early going. Abington likes to get out on attack, and for the first portion of this game, they were unable to employ that modus operandi. They were instead backed up defending front of their own goal. And they did not look comfortable sitting in that unfamiliar situation!
However, right around this time, Riley Mulherin was inserted into the game and suddenly the Mountaineers had a crafty jack rabbit to keep track of on the flank. Shortly after her appearance on the pitch, she would connect with Emily Mahoney to produce the game's initial goal, when the senior delivered a well-textured cross to the freshman.
After this goal, the Lady Comets' demeanor seemed to change. It was as if they suddenly decided that they could play on an even or better basis with Dallas--it was as if they recognized that no matter how many times the Mountaineers got past them in recent seasons--this year everything could be different. And just four minutes later they underscored this feeling, when Maddie Lucas registered her first varsity goal off of an assist from Hannah Kowalski.
Dallas would temporaily interrupt the party with a goal of its own, when sophomore sensation Alison Francis scored off of a Samantha Mazula assist. Yet this may have done nothing more than make Abington a bit angry, because Mahoney and Mulherin would quickly team up again to produce a retaliatory goal, and then, almost immediately after that goal, Kowalski would will her way through and around the Dallas defense to deposit an unassisted tally. Abington would thus carry a 4-1 into halftime.
At this point, the visitors from Back Mountain found themselves in what was for them an unsual predicament; they were down by three goals at intermission. But Dallas is an exceptional team--an ever-dangerous team--and wise spectators had to believe that the Mountaineers were not through. And, as if on cue, Dallas would score the first goal of the second half, bringing a little life and light into their world. However, a mere four minutes later, Abby Brown would bend in a corner kick to stretch the lead back to three. There was some momentary controversy surrounding this goal, but it was resolved quickly and correctly.
With just over twenty minutes left to play, one might think that a 5-2 lead pretty much guarantees a win--and one would not be wrong to think this way, except against Dallas. The quickstrike capability of the Mountaineers causes even the most sanguine to note that "it ain't over til it's over." But even Yogi Berra would have agreed that the match was settled when Mulherin added a sixth goal at the 5:33 mark using a Lauren Simakaski pass.
With the hat trick effort, Mulherin now moves out to 14 goals on the year--and we have barely reached the halfway point of the regular season. Kowalski's goal and assist helped sustain her status as team points leader.
It is crystal clear that Abington seniors are the heart and soul of the Lady Comets' team--and they are going to be the ones that lead this team to further success--no doubt about that. However, today a pair of freshmen really contributed in a decisive manner, with both Steenback and Mulherin displaying a maturity that stretches well beyond their years. With a combination of sagacious veterans and early-blooming freshmen, the Lady Comets have much to look forward to in the second half of this season. And, yes, with this win, the Lady Comets sit at the top of the NEPA power rankings. Raise a glass to their midseason success, and indulge another toast of good wishes for the remainder of what could be a very rewarding year.
Box score and updated statistics now available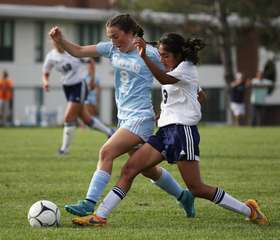 Jena Patel fights for a 50/50 ball against Dallas. (Photo: E. Black)
Wednesday, September 20
KEEPING FOCUS--LADY COMETS TAME COUGARS 7-1
Kelly Seechock powers through two Cougars (Photo: E. Black)
Some old Carly Simon lyrics addressed plaintively the anxious phenomenon of "anticipation" and how "it is keepin' me waitin'." Such words could easily describe the mood of a team that has been bathed in excitement about an upcoming game against a top NEPA soccer rival. However, to their credit, the Lady Comets, in today's game, were able to keep such futuristic emotions in check and paid attention to the task at hand. AHHS showed no signs of looking ahead to tomorrow's touted matchup with Dallas, as they worked together systematically to post a 7-1 win over Valley View.
It was a good thing, too, that the Lady Comets were able to keep their eyes on today's business. The feisty Cougars showed in their 2-1 victory over Wallenpaupack that they can scratch and claw with the best players in the league. The visitors exhibited a lot of spunk in the early going, and at one point, early in the second half trailed by only a single goal. As the game wore on, Abington was able to wear down the warriors from Archbald; but the Lady Comets had to expend some serious energy to do so.
The afternoon started off with Abington claiming a quick lead; in fact, if you had arrived just six minutes late, you would have missed the first two goals of the match. Both of those goals were provided by Kelly Seechock, the first of which came from a penalty kick. Not long thereafter, Seechock would finish off a rebound from a Carina Salerno shot. With this early 2-0 score up in lights, it seemed like the Lady Comets were about to go on a rampage. However, the seas turned calm rather quickly, and there was no more scoring for the remainder of the half.
When the second stanza started, Valley View's Alissa Koniszewski got in behind the Abington defense and posted an nearly immediate goal--suddenly we were sitting on a 2-1 score. For the Lady Comets, it was time to regain focus. And they answered the call just three minutes later, when Hannah Kowalski tore through a pack of Cougars and deposited an impressive shot into the net. Less than six minutes later, Kowalski would deliver again, this time via a header that emerged from an immaculate Riley Mulherin corner kick.
The girls from Noble Road were now clearly off and running; one could sense they had found their equlibrium and that there would soon be more goals to celebrate. And a scant three minutes later, the Lady Comets would indeed oblige when Kowalski and Mulherin reversed the roles they played during the execution of the previous goal, as the freshman hit the shot with the senior serving as the provider. Mulherin and Kowalski would each add another goal with Seechock effecting the assists on both occasions.
Notable among the statistics today was the fact that the Lady Comets, once again, came away on the long side of fouls committed, being whistled 11 times. The offside situation, on the other hand, has improved--indeed, the Lady Comets have been guilty of just two such infractions in the last three games.
Every man, woman, and child in Northeastern Pennsylvania will be at CSE Field tomorrow when the Lady Comets kickoff at 4:15 against the legendary Mountaineers of Dallas. Well, maybe not every man, woman, and child will be there, but one can confidently expect many persons of all three sorts will be attendance for what will be the biggest soccer showdown so far this season. All prognosticators agree that it is extremely difficult to project the results. "We can never know about the days to come; but we think about them anyway."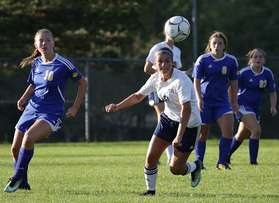 Morghan Stiles eyes ball against Valley View (Photo: E. Black)
Tuesday, September 19
INVADERS' INVASION FOILED--LADY COMETS HANDLE WEST SCRANTON
Grace Phillips was part of a strong AHHS defense (Photo: E. Black)
For those looking for an afternoon of suspense, the Lady Comets' 10-0 win over the West Scranton Invaders would have not quite satisfied your desires. The always cordial and spirited girls from the city carried a much larger roster of players than the Lady Comets carried. However, that would be the only numerical advantage that the west-siders would be able to claim over the course of the day.
The Lady Comets scored early in this one--they would also score often. Barely 2 minutes into the match, Emily Mahoney would open the show, using an assist from Hannah Kowalski. Just five minutes later, Kelly Seechock penetrated the defense to make it a 2-0 score. Riley Mulherin would add an unassisted goal, before Lauren Simakaski would employ a Maddie Lucas assist to record Abington's fourth goal at the midway mark of the first stanza.
At the 35 minute mark, West Scranton was whistled for handling in the box, allowing Paige Morgan to tack on another goal when she finished the ensuing penalty kick. Next, Leia Parry would log her first goal of the season, knocking home a beautiful cross from Kate Chickillo.
It was finally halftime: Abington had played 26 kids already and had recorded 6 goals from six different goal-scorers with three more players getting into the act via the assist. A multitide of personalities shared the offensive spotlight. In total, AHHS received goals from NINE different players and was able to get the entire roster in for a substantial part of the game! And needless to say, the defense stymied the opponent and in fact did not allow a shot. This effort was spearheaded by many of the starting back line players, but also included substantial work from Grace Phillips,Tayla Grimaldi, Allie Nealon, Jena Scarfo, Elyse Simakaski, and Tori Wells.
The second half would look much like the first. Kowalski got things going when she found the net off of a nice delivery from Emily Clauss. The next AHHS marker could be labeled a "center back" special when Meghan Noone would score by combining with her backline partner Abby Brown--let it be said, however, that in today's game Noone and Brown were offered some opportunities to play higher in the formation than what is normal for them. Simakaski would be responsible for goal number 9 before Anna Marchetta capped off the proceedings, using a sensitive entry pass piloted by Elle Seyer.
After recording some pivotal saves against Crestwood on Saturday, first-year goalkeeper Abby Steenback had no one knock on her door today--and was forced only once or twice to become involved with the game action, action that occured for the most part deep into the West Scranton half of the field.
NOTES: Valley View will be next on the schedule. They will visit on Wednesday--probably riding on a psychological high after the Cougars defeated Wallenpaupack 2-1 yesterday. Then, on Thursday, mighty Dallas brings its distinguished entourage to town for another 4:15 kickoff. This latter should be a special game indeed.
Saturday, September 16
COMMANDING THE BOX--GOALKEEPER EXCELLENCE PRESERVES LADY COMET WIN
Olivia Marchetta gains separation against Crestwood. (Photo: E. Black)
We mentioned in our inevitable pre-game hype that Crestwood's Melissa Herrera is a fully certified soccer magician--and that, my friends, she certainly is--however, in today's 3-1 Abington victory most of the prestidigitation occurred in front of the Lady Comet goal, where, in the face of a relentless assault, first-year netminder Abbey Steenback conjured some huge saves. Taking charge of her domain, Steenback consistently stymied her opponent's frequent sojourns into the box.
Despite the talent they placed on the field, the offensively competent visitors from Mountaintop were able to manage only one late-game goal. But let us again emphasize that Crestwood's relative lack of productivity was not a function of poor attack; it was the plain and simple result of some superlative Abington goalkeeping. Crestwood actually outshot the Lady Comets--and they also put more shots on frame than did the hometown girls--and the Luzerne County girls put a lot of pressure on the Abington back line. The principal difference was that an ever-ready Steenback displayed some terrific agility in dealing with Crestwood's well-struck shots.
Defense was indeed important throughout this game, and we should note that Steenback was not the only hero in this regard--AHHS benefitted from the always anticipated genius of Paige Morgan, Meghan Noone, Jenna Patel, and Abby Brown; and the midfield and the forwards also turned in standout performances on the defensive side of the ball. The hometown Comets were certainly not outworked by their namesake opponents. Homestanding meteriorites such as Emily Clauss, Carina Salerno, Leia Parry, and the Marchetta sisters were in full cometic motion and worked their proverbial tails off shutting down passing lanes and collecting 50/50 balls.
The first goal of the game was produced by first-year sensation Riley Mulherin who again made the most of her opportunties at wing forward. A combination of speed and concentration led to Mulherin's team-leading eighth goal of the year--she was assisted on the play by an alert pass from Morghan Stiles. Later in the half, Hannah Kowalski would get in behind the Crestwood defense and penetrate the box, where she was taken down unceremoniously just before she could shoot. Kowalski would connect on the ensuing penalty kick and the Lady Comets strode out to a 2-0 lead.
Again, much like the Prep game, this match was more closely contested than the scoreline implied. Yet the Lady Comets have been a very efficient team when it comes to converting chances. The final chance that they saw fit to convert arose in the game's 67th minute when Kowalski absolutely crunched home a cross-frame shot, using an assist from Kelly Seechock. This was the senior's seventh goal which places her first on the team in total points and just a small step behind Mulherin in total goals this season.
This afternoon's win had to be especially satisfying for the Lady Comets after Crestwood had blasted them twice last season by identical 5-1 scores. And, as always, there were many, many players who contributed substantially in today's team win; but this time--in the unfailing eyes of the omniscient soccer gods--the game ball simply has to be awarded to the keeper.
NOTES: There are many high quality opponents on the Lady Comets' 2017 itinerary, but the Crestwood Comets were one of the two biggest opponents on the schedule--the other "biggie" will visit CSE Field this Thursday. We recognize that there are other games that Abington has to play before then--and the Lady Comets can never afford to get ahead of themselves--but I, for one, will tell you without hesistation that there is more than a country gambler's chance that the Lady Comets will be taking an undefeated record into the match with Dallas. Therefore, that game could determine who will sit--at least, temporarily--in the penthouse of NEPA girls soccer. The only question remaining is: which of these two teams, Dallas or AHHS, is better suited to reach high places? When one considers this question, no definite answer appears. The celestial orbit of a Comet can certainly master the sky; but who better than a Mountaineer to become queen of the hill?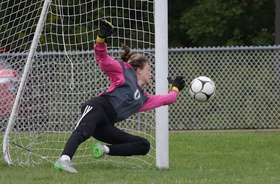 Abbey Steenback getting the job done against Comets. (Photo: E. Black)
Wednesday, September 13
BUSINESS TRIP TO THE CITY--LADY COMETS POST 3-0 WIN AT SCRANTON PREP
Senior Lauren Simakaski finds space against Prep (Photo: E. Black)
It is no secret that the Lady Comets have often returned from Scranton Prep in a dismal mood. The plain fact is that the Classics' home turf has been a tough place for Abington to play in recent years. And, despite the somewhat misleading scoreline, it was a tough place to play again today. In a contest that was much closer than the 3-0 score implies, two of the area's premier programs battled each other with a quintessential ferocity. Ferocious shots, ferocious tackling, ferocious runs--these were all common sights on the pitch this afternoon. And all of this was accompanied by some superlative goalkeeping on both ends of the field.
The stat sheet revealed the competitiveness of today's game better than the scoreboard did. Here is the skinny: (1) shots only slightly favored Abington; (2) saves were even; (3) corner kicks were even; (4) neither team dominated possession. All in all, the match was spirited and physical--something fans have witnessed before when these two sides line up across from each other. Beyond this, the crowd was sizable and exuberant. And the overcast sky underscored the grey sobriety of the event. In other words, all of the usual characteristics of a Lady Comets/Classics matchup were palpable and plain.
Once again we witnessed the senior maturity of players like Hannah Kowalski, Emily Clauss, Kelly Seechock, Carina Salerno, Emily Mahoney, and Riley Mulherin. Certainly this latter player carries a poise to the pitch that most ninth-graders have yet to imagine--and, just 14 minutes into the contest, the freshman standout would jump start the afternoon's scoring with a beautiful breakaway goal--her team-leading seventh of the young season. After this wave of attack, the waters calmed down. There was a little back and forth after Mulherin's tally, but neither side really took charge of the match, although Clauss, Abby Brown, Paige Morgan, Meghan Noone, and Emily Mahoney--among several others--unleashed some tenacious play in what could be termed both a fuzzy and physical first stanza.
The second half would open up with a goal by Seechock, taken off a long ball through by Kowalski. Then, Kowalski herself would cap the scoring using an assist from Anna Marchetta. First-year goalkeeper Abbey Steenback was challenged a bit more in this game compared to others, and she responded with a very solid effort, collecting her third clean sheet of the season and demonstrating that she has what it takes to stop shots in big games. Speaking of talented netminders, any self-respecting reporter would have to congratulate Prep's A.J. Hendershot who showed again today why she currently ranks at the top of the class of Lackawanna League goalies. She pulled crosses and corner kicks out of the air in an almost ballet-like fashion.
The bottom line is this: Three straight days of games! Three straight wins--two of which were especially huge! No one can say that the Lady Comets did not put in a solid first-half of a work week, even the scorekeepers are pining for a brief hiatus. Rest will be necessary as the seas are likely to get even rougher than they have been when highly-regarded Crestwood rolls into Clarks Summit on Saturday. Your hometown girls will be carrying an undefeated record into this contest against a similarly undefeated opponent.
Yesterday, the Lady Comets had the fortune to play against a Tirjan-less Wallenpaupack--the same will probably not be true when it comes to facing Crestwood's star. And although Rachel Tirjan is arguably the best player in the Lackawanna League, wait until you get a load of Melissa Herrera. This young lady is an absolute magician who really does perform "sleight-of-foot" tricks. For those of you new to high school soccer, Herrera and her cohorts took the measure of the Lady Comets TWICE last season--each time by decisive 5-1 scores. Find a way to make it to this 1:00 p.m. game, because there will be some dazzling dribbling on tap, and maybe some exemplary no-look passes will find their way into this match. And,from Abington's perspective, revenge will also be looming. Tickets are on sale now!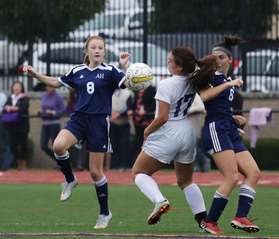 Tori Wells and Emily Clauss surround Prep's Julianna Penetar (Photo: E. Black)
Tuesday, September 12
FIRST HURDLE CLEARED--LADY COMETS GET PAST INJURY-PLAGUED BUCKHORNS 3-0
Outside back Jenna Patel flusters Buckhorns (Photo: E. Black)
Last week, the weather conditions forced postponement of what became today's game. However, today's match should have been rescheduled as well--and for a better reason: Wallenpaupack's Rachel Tirjan was not going to be able to play! To the dismay of all NEPA soccer fans,Tirjan suffered an eye injury on Monday that will keep off the field for about a week. The absence of the Buckhorn's poster girl had a definite impact on the game; but, for the visiting spectators, the experience was akin to travelling to the Louvre Museum in Paris, France on a day when the Mona Lisa was closed for viewing.
Despite the absence of their superstar, Wallenpaupack played bravely and with cunning. The sprightly Buckhorns' are certainly more than a one-person show. Nevertheless, without the juice from Tirjan's battery, Wallenpaupack struggled to get forward against a super-charged Abington defense that did a decent job of putting pressure on the ball. In fact, the Lady Comets defense was in the spolight all day. For example, Jena Patel once again showed herself to be one of the most determined "ball hawks" this side of Poughkeepsie. A polite and rather quiet personality on the sideline, Patel is fully transfigured on the pitch and becomes, in Coach Errol Mannick's words, "a freakin' assassin."
Patel's spirited play coupled with that of the veteran trio of Noone, Morgan, and Brown (sounds like a law firm), kept a talented Wallenpaupack offense out of the Abington box, holding the Buckhorns to a mere handful of shots and allowing nothing that was placed on frame.
The most spectacular goal of the day--which occured early in the second half--flew off the foot of "Downtown" Abby Brown, who drove home a shot from close to 40 yards out. This enterprise was truly immaculate as Brown's shot found the far-side upper ninety. However, this superb shot was actually an encore, since Brown was mostly responsible for the first Abington goal as well, when back near the end of the first half, she whipped a perfectly-textured corner kick into the box and off the ready forehead of Morghan Stiles. The final goal of the match would occur at the 56:12 mark. Hannah Kowalski would partner with Riley Mulherin, with the former finishing the latter's cross inside the six yard box.
Although the Buckhorns were not at full strength today, the Lady Comets' victory will cause the pundits to proclaim Abington as momentary queens of the hill--and, after all, the Lady Comets do have the early win-loss edge. Wearing the mantle of "team to beat" is, however, a difficult burden in a world of Wallenpaupacks and Scranton Preps. Speaking of Jesuit schools in the city, Prep is up next for the Lady Comets--tomorrow! Abington cannot afford a letdown at Loyola Field against an always capable and fully-motivated Prep side. Any advantage gained in the standings from today's victory can be quickly erased with a loss in tomorrow's game. Kickoff is 4:15 on the turf. And watch out for the air horn!
NOTES: I must surely be an incurable Lady Comet fan to be typing this on the evening of my birthday--a birthday which I am proud to say that I share with my often-times idol Emmers Clauss . . . Prep will be ready tomorrow; they will, they will . . . the Classics feature some young talent, an experienced coach, and the league's best goalkeeper in A. J. Hendershot. . . and the Lady Comets have enjoyed mixed results on Prep's field. Be there to cheer on your first-place soccer titans.
BOX SCORE AND UPDATED STATISTICS AVAILABLE FROM MENU ON THE LEFT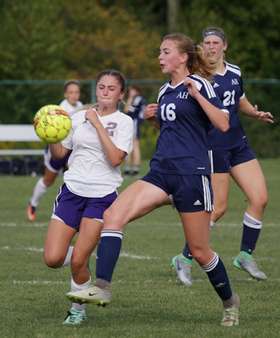 Abby Brown in the midst of her stellar day (Photo: E. Black)
Monday, September 4
EARLY SEASON SHOWDOWN--POWERHOUSE PROGRAMS TO COLLIDE AT THE LAKE
It was not that long ago that the Lady Comets used to regularly barbecue the Wallenpaupack Buckhorns--and the scorelines from the matches suggested that the Abington girls liked their venison well done. Things have changed. Big time!
These days, the extremely tough customers wearing Wallenpauapck uniforms are no longer meat for their opponents' grills; in fact, they have been doing a little frying of their own for several seasons now.
Rewind to 2010 and 2011, and you will find the Lady Comets posting 7-1, 7-2, and 7-0 scores against the Lady Buckhorns. In 2012, Wallenpaupack reached the district semi-final, only to be thumped by Abington once again--this time by a 5-1 score. However, one could see that Coach Alicia Sodano was building something; she had gathered a collection of quality athletes; all they needed to do was learn the fine points of the game. Well, Sodano turned out to be a terrific teacher!
In 2013, Wallenpaupack started racking up wins, and played the Lady Comets close in a 2-0 regular season game. They generated a daunting momentum and, then, suddenly-- on a rain-riddled pitch--they won their first district championship, posting a 1-0 victory over guess who! That win would put an end to the Lady Comets' streak of five consecutive district titles. Since then, the two sides have played competitve matches in each of their four ensuing contests, with AHHS winning three and the Lady Buckhorns winning once.
The most recent matchup between these teams occured in last year's Lackawanna League Championship match--an epic battle that stretched two determined teams to their respective limits. The Lady Comets prevailed in a penalty kick shootout to gain the privilege of carrying home a title plaque that both teams deserved to win.
So, what are you doing around 4:15 this Wednesday? If you were planning to have a hoagie by the pool, you might want to rethink your plans, fill up the gas tank, and motor out to Hawley where the above-mentioned titans will be tangling with one another once again. After walloping relatively weak opponents in each of their most recent games, the two sides are getting ready to play some "big girl" soccer. The Lady Buckhorns won the Kotula Classic Championship on Sunday by posting an attention-getting 9-1 victory; the Lady Comets, meanwhile, also had an easy day at the office, gliding to a 7-1 triumph over Tunkhannock.
The ladies from the lake are led by all-everything star Rachel Tirjan--who, by the way, posted 4 goals and 2 assists in the Kotula Championship. Against the Lady Comets, she will be defended by members of her U-19 travel soccer team--friendly partners will thus turn into instant foes. However, for Meghan Noone, Abby Brown, and Paige Morgan, the sprightly Tirjan will be a known commodity--of course, such familiarity works the other way around as well. We will see who, if anyone, will be able to exploit it.
Wallenpaupack has many other weapons. Olivia Gregory returns at goalkeeper where she has turned in more than her fair share of tidy performances; entering the season, she ranks along with Scranton Prep's A.J. Hendershot at top of the list of Lackawanna League netminders.
The Lady Comets will also have to deal with the versatile Courtney Mooney and with what by all reliable opinion is a pretty good freshman; of course, with players like Riley Mulherin in tow, AHHS will be able to counter with some pretty decent first-year talent of its own.
Both sides are senior-laden--and Abington will likely be starting eight. Last year, the Lady Comets and the Lady Buckhorns were clearly the top two teams in any division of the Lackawanna League; and, as of the moment, it looks like we will revisit that scenario this fall, although there will be other talented sides out there with the potential to knock off either of these teams.
The season is young; but this could still be a pivotal encounter. The winner of this match grabs an early season edge in the race for the conference crown. And, after losing in last year's hard-fought league title match, you can bet your prize Chevy that the Lady Buckhorns are going to be ready for this one.
Monday, September 11
ALL HANDS ON DECK--23 LADY COMETS PLAY IN 7-1 WIN
Senior Meghan Noone was a force against the Hornets (Photo: E. Black)
The omnipresent Hannah Kowalski provided both the initial and the ulitmate goal--as well as two assists in between--in another Abington onslaught at CSE field. This time, the Hornets from Honesdale were the victims of an athletic offense that runs on high octane fuel. Honesdale had tremendous difficulty advancing the ball into their attacking third--indeed, much of the game was played in the Hornets' half of the field, where the visitors showed a lot of pluck in fending off a hungry Abington attack. Nevertheless, the Lady Comets racked up their fair share of goals; and the 7-1 final score might have become even more one-sided had it not been for the brave efforts of Sadie Wood, who tended the Hornets' goal with uncommon vigilance and valor. This young lady was impressive in her efforts, and this admiring writer would love to get her on the early radar screen as an all-conference consideration.
After Kowalski's curtain-raising marker, Lauren Simakaski punched home her first goal of the season. Simakaski was lurking deep inside the six when Wood spilled a save following an Emily Clauss laser shot. Next, Emily Mahoney would join the goal scoring parade as would Kelly Seechock, Morghan Stiles, and Riley Mulherin--in that order. The undeniably adroit Mulherin registered her team-leading sixth goal of the young season.
As mentioned above, Kowalski would be responsible for the final goal--but her execution on the play was such that the goal was more like a finale at a fireworks display. She slipped through a crease, dribbled between two defenders, drew the keeper off her line, and chipped the ball in. Triple exclamation point!!!
The Lady Comets recorded a season-high 30 shots in this contest and held Honesdale's attack to just two on-target shots. In three games, AHHS has held its opponents to just one collaborative corner kick on the season.
It would be a gross understatement to say that a sizable number of players rotated into this match. In a game of "in again, out again Finnegan" the personnel on the field were sometimes changing so fast that there were more players waiting at the scorer's table than sitting on the bench. And many from this merry multitude got to score--six different players, in fact, were able to record a goal. There was no tension on the sideline; no concern about this or that. It was a pleasant afternoon in the sun.
NOTES: The girls from Honesdale were a bunch of fighters, and they must be commended for the way in which the battled Abington down to the final whistle. True to their name, the Hornets swarmed the ball, and they will win some games this season. However, for all practical purposes, the real season for AHHS starts tomorrow, when the Lady Comets motor out to the lake to tangle with the Wallenpaupack Buckhorns. We have already previewed this match on this website--scroll down if you have not yet looked at our pre-game reflections. If the Lady Comets can prevail in Hawley they will gain the early advantage in the race for the conference title. And such early-season advantages are great gifts indeed.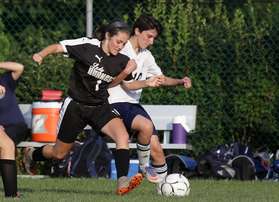 Carina Salerno showing her skill against Honesdale (Photo: E. Black)
Friday, September 8
STRAIGHT OUT OF THE GATE--EARLY GOALS SET TONE IN 4-0 LADY COMET WIN
Kelly Seechock frustrates Del Val's Haley Korfmann (Photo: E. Black)
It was unfortunate for the Delaware Valley Warriors that they lost the services of their starting goalkeeper before the match even began. In an unusual scenario, senior Juliann Winkler suffered a fractured arm during warmups, and the visitors had to hustle to summon a replacement from the bench. After this inauspicious setback, the day would grow even darker for DV as the Lady Comets proceeded to launch a menacing plethora of shots in the early minutes of the match to establish--in a most business-like fashion--a comfortable 3-0 lead before the midway point of the first half.
Struggling to stroke well-textured passes across a field that was softer than a Sleep Number mattress, the Lady Comets were still able to attack at will. The high-energy kids from Milford chased Abington all over the pitch, but the Lady Comets established commanding field position for most of the match and held a substantial majority of the possession.
The first tally of the day belonged to Kelly Seechock, who was returning from an illness that kept her out of the season opener against Tunkhannock. The goal, which occured just under 12 minutes into the contest, was the 30th of Seechock's impressive career; the finish developed off an entry pass from sophomore Morghan Stiles. Less than 5 minutes later, the precocious Riley Mulherin would continue the offensive spree she initiated against Tunkhannock and would score off of a Hannah Kowalski assist. Before the crowd could complete their round of applause for the Mulherin shot, Stiles would find the net using Mulherin's assist. All in all, the Lady Comets would strike 11 shots in the first half--putting 7 on frame--and the Warriors' reserve keeper, Alexis Sickler, would become an extremely busy backup indeed.
The Lady Comet defense deserves some credit for today's win. After all, they completely shutdown an opponent that scored 9 goals in its last outing and that features all-conference talent Reilly Henry at the wheel. Meghan Noone and Abby Brown--along with the speedy Paige Morgan--performed with their usual alacrity. However, less acclaimed than the work of this trio has been the exceptional efforts of outside back Jena Patel. Merely a sophomore, this kid plays with an uncommon diligence and, from what we have seen in the first two outings of 2017, she looks to have a momentous upside and a sparkling future.
The visitors played a stronger game in the second half, and quadrupled their number of shots--although that number was still not many. Everyone one knew that AHHS had salted away the match. Errol Mannick shuttled 20 players in and out of the contest, once again showing off the depth that we have on this website already recognized as special.
Now, here is the kicker: As good as Abington has looked in its first two games, one senses that there is even more bravura burgeoning inside the girls from Noble Road--there is a still-developing potential yet to comprehensively express itself. In other words, this Lady Comets' team has not completely blossomed, has not yet burst forth into the full flower of its soccer being. Its petals have yet to fully unfold. And perhaps this is one reason why Coach Mannick is forever calling his players "bud."
BOX SCORE AND UPDATED STATS AVAILABLE BY CLICKING ON THE STATS/SCORES TAB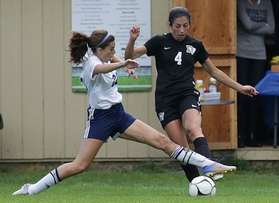 Paige Morgan extends against the Warriors' Reilly Henry (Photo: E. Black)
Friday, September 1
BOMBS AWAY--LADY COMETS PUMMEL GOAL IN SEASON OPENER
One wonders if Sigmund Freud hatched any theory that suggests grown humans can suffer from "playing-field envy." As today's visitors settled in at the especially verdant home of the Tunkhannock Tigers, they must have been jealous of the beauty of the setting--beautiful mountains, the beautiful playing surface, and--today, at least--beautiful weather. It was not, however, a beautiful experience for those looking for a competitive game. The Lady Comets jumped out on top early and powered their way to a 7-1 victory, supported by four goals from first-year forward Riley Mulherin and a brace of markers from senior Emily Mahoney.
Tunkhannock played with great determination and grit. However, the Lady Comets were simply too much for them. Although the Tigers played with the ferocity characteristic of their name, first-year head coach Errol Mannick was able to trot out wave after wave of thoroughbreds--going 20 players deep before the end of the first half. Such depth and experience will be trademarks of the 2017 Lady Comets, and those virtues were certainly on display today. Mannick will enter the league season with a formidable stockpile of talent, which is a lucky thing given the challenging schedule the Lady Comets will face this season.
It had to be frustrating to sit on the opposing bench where one might hear the staff saying: "good, he took her out--but, oh no, now here she comes." Senior Hannah Kowalski--who contributed both a goal and an assist--sliced her way through the Tiger's defense all day--and looked outrageously comfortable doing it. She seemed to be able to create space for herself almost at will. Tunkhannock also had tremendous diffculty finding someone who could mark Emily Clauss; indeed, there were 1v1 mismatches all over the shop. This will change when the Lady Comets line up against other opponents, but the players looked quite at ease today. Tunkhannock was a solid side with some good players; however, for much of the afternoon, Abington was able to simply switch it once or twice around the back and then play it long; only occasionally did the opponent force the Lady Comets to become much more sophisticated than that.
One should also note that the back line players were contributors to the offense today, as Meghan Noone provided the assist on the opening goal from Kowalski; and Abby Brown logged an assist when she played a sweet corner kick to Emily Mahoney who obliged with a far post finish.
The Lady Comets came out showing a three-front in this game. It was effective, particularly from a defensive point of view. Perhaps against stronger opponents the formation will have to be tweeked--yet, then again, perhaps not--that all remains to be seen. What also remains to be seen is whether the hometown girls, when they play against the top-level defenses, will be able to score like they did today. Fans may not have to wait long to find out, as highly-touted Wallenpaupack is next up on the schedule. The Lady Comets will travel out to the lake next Wednesday afternoon for what should be one of the early season's marquee games.