2017 SEASON: Welcome
Tuesday, September 19
INVADERS' INVASION FOILED--LADY COMETS HANDLE WEST SCRANTON
Grace Phillips was part of a strong AHHS defense (Photo: E. Black)
For those looking for an afternoon of suspense, the Lady Comets' 10-0 win over the West Scranton Invaders would not have not quite satisfied your desires. The always cordial and spirited girls from the city carried a much larger roster of players than the Lady Comets carried. However, that would be the only numerical advantage that the west-siders would be able to claim over the course of the day.
The Lady Comets scored early in this one--they would also score often. Barely 2 minutes into the match, Emily Mahoney would open the show, using an assist from Hannah Kowalski. Just five minutes later, Kelly Seechock penetrated the defense to make it a 2-0 score. Riley Mulherin would add an unassisted goal, before Lauren Simakaski would employ a Maddie Lucas assist to record Abington's fourth goal at the midway mark of the first stanza.
At the 35 minute mark, West Scranton was whistled for handling in the box, allowing Paige Morgan to tack on another goal when she finished the ensuing penalty kick. Next, Leia Parry would log her first goal of the season, knocking home a beautiful cross from Kate Chickillo.
It was finally halftime: Abington had played 26 kids already and had recorded 6 goals from six different goal-scorers with three more players getting into the act via the assist. A multitide of personalities shared the offensive spotlight. In total, AHHS received goals from NINE different players and was able to get the entire roster in for a substantial part of the game! And needless to say, the defense stymied the opponent and in fact did not allow a shot. This effort was spearheaded by many of the starting back line players, but also included substantial work from Grace Phillips,Tayla Grimaldi, Allie Nealon, Jena Scarfo, Elyse Simakaski, and Tori Wells.
The second half would look much like the first. Kowalski got things going when she found the net off of a nice delivery from Emily Clauss. The next AHHS marker could be labeled a "center back" special when Meghan Noone would score by combining with her backline partner Abby Brown--let it be said, however, that in today's game Noone and Brown were offered some opportunities to play higher in the formation than what is normal for them. Simakaski would be responsible for goal number 9 before Anna Marchetta capped off the proceedings, using a sensitive entry pass piloted by Elle Seyer.
After recording some pivotal saves against Crestwood on Saturday, first-year goalkeeper Abby Steenback had no one knock on her door today--and was forced only once or twice to become involved with the game action, action that occured for the most part deep into the West Scranton half of the field.
NOTES: Valley View will be next on the schedule. They will visit on Wednesday--probably riding on a psychological high after the Cougars defeated Wallenpaupack 2-1 yesterday. Then, on Thursday, mighty Dallas brings its distinguished entourage to town for another 4:15 kickoff. This latter should be a special game indeed.
Saturday, September 16
COMMANDING THE BOX--GOALKEEPER EXCELLENCE PRESERVES LADY COMET WIN
Olivia Marchetta gains separation against Crestwood. (Photo: E. Black)
We mentioned in our inevitable pre-game hype that Crestwood's Melissa Herrera is a fully certified soccer magician--and that, my friends, she certainly is--however, in today's 3-1 Abington victory most of the prestidigitation occurred in front of the Lady Comet goal, where, in the face of a relentless assault, first-year netminder Abby Steenback conjured some huge saves. Taking charge of her domain, Steenback consistently stymied her opponent's frequent sojourns into the box.
Despite the talent they placed on the field, the offensively competent visitors from Mountaintop were able to manage only one late-game goal. But let us again emphasize that Crestwood's relative lack of productivity was not a function of poor attack; it was the plain and simple result of some superlative Abington goalkeeping. Crestwood actually outshot the Lady Comets--and they also put more shots on frame than did the hometown girls--and the Luzerne County girls put a lot of pressure on the Abington back line. The principal difference was that an ever-ready Steenback displayed some terrific agility in dealing with Crestwood's well-struck shots.
Defense was indeed important throughout this game, and we should note that Steenback was not the only hero in this regard--AHHS benefitted from the always anticipated genius of Paige Morgan, Meghan Noone, Jenna Patel, and Abby Brown; and the midfield and the forwards also turned in standout performances on the defensive side of the ball. The hometown Comets were certainly not outworked by their namesake opponents. Homestanding meteriorites such as Emily Clauss, Carina Salerno, Leia Parry, and the Marchetta sisters were in full cometic motion and worked their proverbial tails off shutting down passing lanes and collecting 50/50 balls.
The first goal of the game was produced by first-year sensation Riley Mulherin who again made the most of her opportunties at wing forward. A combination of speed and concentration led to Mulherin's team-leading eighth goal of the year--she was assisted on the play by an alert pass from Morghan Stiles. Later in the half, Hannah Kowalski would get in behind the Crestwood defense and penetrate the box, where she was taken down unceremoniously just before she could shoot. Kowalski would connect on the ensuing penalty kick and the Lady Comets strode out to a 2-0 lead.
Again, much like the Prep game, this match was more closely contested than the scoreline implied. Yet the Lady Comets have been a very efficient team when it comes to converting chances. The final chance that they saw fit to convert arose in the game's 67th minute when Kowalski absolutely crunched home a cross-frame shot, using an assist from Kelly Seechock. This was the senior's seventh goal which places her first on the team in total points and just a small step behind Mulherin in total goals this season.
This afternoon's win had to be especially satisfying for the Lady Comets after Crestwood had blasted them twice last season by identical 5-1 scores. And, as always, there were many, many players who contributed substantially in today's team win; but this time--in the unfailing eyes of the omniscient soccer gods--the game ball simply has to be awarded to the keeper.
NOTES: There are many high quality opponents on the Lady Comets' 2017 itinerary, but the Crestwood Comets were one of the two biggest opponents on the schedule--the other "biggie" will visit CSE Field this Thursday. We recognize that there are other games that Abington has to play before then--and the Lady Comets can never afford to get ahead of themselves--but I, for one, will tell you without hesistation that there is more than a country gambler's chance that the Lady Comets will be taking an undefeated record into the match with Dallas. Therefore, that game could determine who will sit--at least, temporarily--in the penthouse of NEPA girls soccer. The only question remaining is: which of these two teams, Dallas or AHHS, is better suited to reach high places? When one considers this question, no definite answer appears. The celestial orbit of a Comet can certainly master the sky; but who better than a Mountaineer to become queen of the hill?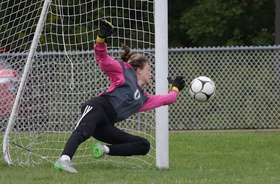 Abby Steenback getting the job done against Comets. (Photo: E. Black)
Wednesday, September 13
BUSINESS TRIP TO THE CITY--LADY COMETS POST 3-0 WIN AT SCRANTON PREP
Senior Lauren Simakaski finds space against Prep (Photo: E. Black)
It is no secret that the Lady Comets have often returned from Scranton Prep in a dismal mood. The plain fact is that the Classics' home turf has been a tough place for Abington to play in recent years. And, despite the somewhat misleading scoreline, it was a tough place to play again today. In a contest that was much closer than the 3-0 score implies, two of the area's premier programs battled each other with a quintessential ferocity. Ferocious shots, ferocious tackling, ferocious runs--these were all common sights on the pitch this afternoon. And all of this was accompanied by some superlative goalkeeping on both ends of the field.
The stat sheet revealed the competitiveness of today's game better than the scoreboard did. Here is the skinny: (1) shots only slightly favored Abington; (2) saves were even; (3) corner kicks were even; (4) neither team dominated possession. All in all, the match was spirited and physical--something fans have witnessed before when these two sides line up across from each other. Beyond this, the crowd was sizable and exuberant. And the overcast sky underscored the grey sobriety of the event. In other words, all of the usual characteristics of a Lady Comets/Classics matchup were palpable and plain.
Once again we witnessed the senior maturity of players like Hannah Kowalski, Emily Clauss, Kelly Seechock, Carina Salerno, Emily Mahoney, and Riley Mulherin. Certainly this latter player carries a poise to the pitch that most ninth-graders have yet to imagine--and, just 14 minutes into the contest, the freshman standout would jump start the afternoon's scoring with a beautiful breakaway goal--her team-leading seventh of the young season. After this wave of attack, the waters calmed down. There was a little back and forth after Mulherin's tally, but neither side really took charge of the match, although Clauss, Abby Brown, Paige Morgan, Meghan Noone, and Emily Mahoney--among several others--unleashed some tenacious play in what could be termed both a fuzzy and physical first stanza.
The second half would open up with a goal by Seechock, taken off a long ball through by Kowalski. Then, Kowalski herself would cap the scoring using an assist from Anna Marchetta. First-year goalkeeper Abby Steenback was challenged a bit more in this game compared to others, and she responded with a very solid effort, collecting her third clean sheet of the season and demonstrating that she has what it takes to stop shots in big games. Speaking of talented netminders, any self-respecting reporter would have to congratulate Prep's A.J. Hendershot who showed again today why she currently ranks at the top of the class of Lackawanna League goalies. She pulled crosses and corner kicks out of the air in an almost ballet-like fashion.
The bottom line is this: Three straight days of games! Three straight wins--two of which were especially huge! No one can say that the Lady Comets did not put in a solid first-half of a work week, even the scorekeepers are pining for a brief hiatus. Rest will be necessary as the seas are likely to get even rougher than they have been when highly-regarded Crestwood rolls into Clarks Summit on Saturday. Your hometown girls will be carrying an undefeated record into this contest against a similarly undefeated opponent.
Yesterday, the Lady Comets had the fortune to play against a Tirjan-less Wallenpaupack--the same will probably not be true when it comes to facing Crestwood's star. And although Rachel Tirjan is arguably the best player in the Lackawanna League, wait until you get a load of Melissa Herrera. This young lady is an absolute magician who really does perform "sleight-of-foot" tricks. For those of you new to high school soccer, Herrera and her cohorts took the measure of the Lady Comets TWICE last season--each time by decisive 5-1 scores. Find a way to make it to this 1:00 p.m. game, because there will be some dazzling dribbling on tap, and maybe some exemplary no-look passes will find their way into this match. And,from Abington's perspective, revenge will also be looming. Tickets are on sale now!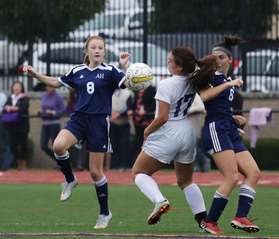 Tori Wells and Emily Clauss surround Prep's Julianna Penetar (Photo: E. Black)
Tuesday, September 12
FIRST HURDLE CLEARED--LADY COMETS GET PAST INJURY-PLAGUED BUCKHORNS 3-0
Outside back Jenna Patel flusters Buckhorns (Photo: E. Black)
Last week, the weather conditions forced postponement of what became today's game. However, today's match should have been rescheduled as well--and for a better reason: Wallenpaupack's Rachel Tirjan was not going to be able to play! To the dismay of all NEPA soccer fans,Tirjan suffered an eye injury on Monday that will keep off the field for about a week. The absence of the Buckhorn's poster girl had a definite impact on the game; but, for the visiting spectators, the experience was akin to travelling to the Louvre Museum in Paris, France on a day when the Mona Lisa was closed for viewing.
Despite the absence of their superstar, Wallenpaupack played bravely and with cunning. The sprightly Buckhorns' are certainly more than a one-person show. Nevertheless, without the juice from Tirjan's battery, Wallenpaupack struggled to get forward against a super-charged Abington defense that did a decent job of putting pressure on the ball. In fact, the Lady Comets defense was in the spolight all day. For example, Jenna Patel once again showed herself to be one of the most determined "ball hawks" this side of Poughkeepsie. A polite and rather quiet personality on the sideline, Patel is fully transfigured on the pitch and becomes, in Coach Errol Mannick's words, "a freakin' assassin."
Patel's spirited play coupled with that of the veteran trio of Noone, Morgan, and Brown (sounds like a law firm), kept a talented Wallenpaupack offense out of the Abington box, holding the Buckhorns to a mere handful of shots and allowing nothing that was placed on frame.
The most spectacular goal of the day--which occured early in the second half--flew off the foot of "Downtown" Abby Brown, who drove home a shot from close to 40 yards out. This enterprise was truly immaculate as Brown's shot found the far-side upper ninety. However, this superb shot was actually an encore, since Brown was mostly responsible for the first Abington goal as well, when back near the end of the first half, she whipped a perfectly-textured corner kick into the box and off the ready forehead of Morghan Stiles. The final goal of the match would occur at the 56:12 mark. Hannah Kowalski would partner with Riley Mulherin, with the former finishing the latter's cross inside the six yard box.
Although the Buckhorns were not at full strength today, the Lady Comets' victory will cause the pundits to proclaim Abington as momentary queens of the hill--and, after all, the Lady Comets do have the early win-loss edge. Wearing the mantle of "team to beat" is, however, a difficult burden in a world of Wallenpaupacks and Scranton Preps. Speaking of Jesuit schools in the city, Prep is up next for the Lady Comets--tomorrow! Abington cannot afford a letdown at Loyola Field against an always capable and fully-motivated Prep side. Any advantage gained in the standings from today's victory can be quickly erased with a loss in tomorrow's game. Kickoff is 4:15 on the turf. And watch out for the air horn!
NOTES: I must surely be an incurable Lady Comet fan to be typing this on the evening of my birthday--a birthday which I am proud to say that I share with my often-times idol Emmers Clauss . . . Prep will be ready tomorrow; they will, they will . . . the Classics feature some young talent, an experienced coach, and the league's best goalkeeper in A. J. Hendershot. . . and the Lady Comets have enjoyed mixed results on Prep's field. Be there to cheer on your first-place soccer titans.
BOX SCORE AND UPDATED STATISTICS AVAILABLE FROM MENU ON THE LEFT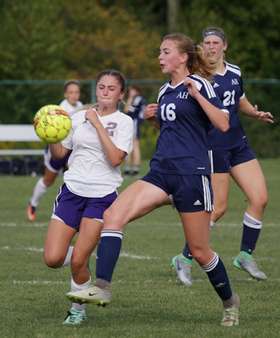 Abby Brown in the midst of her stellar day (Photo: E. Black)
Monday, September 11
ALL HANDS ON DECK--23 LADY COMETS PLAY IN 7-1 WIN
Senior Meghan Noone was a force against the Hornets (Photo: E. Black)
The omnipresent Hannah Kowalski provided both the initial and the ulitmate goal--as well as two assists in between--in another Abington onslaught at CSE field. This time, the Hornets from Honesdale were the victims of an athletic offense that runs on high octane fuel. Honesdale had tremendous difficulty advancing the ball into their attacking third--indeed, much of the game was played in the Hornets' half of the field, where the visitors showed a lot of pluck in fending off a hungry Abington attack. Nevertheless, the Lady Comets racked up their fair share of goals; and the 7-1 final score might have become even more one-sided had it not been for the brave efforts of Sadie Wood, who tended the Hornets' goal with uncommon vigilance and valor. This young lady was impressive in her efforts, and this admiring writer would love to get her on the early radar screen as an all-conference consideration.
After Kowalski's curtain-raising marker, Lauren Simakaski punched home her first goal of the season. Simakaski was lurking deep inside the six when Wood spilled a save following an Emily Clauss laser shot. Next, Emily Mahoney would join the goal scoring parade as would Kelly Seechock, Morghan Stiles, and Riley Mulherin--in that order. The undeniably adroit Mulherin registered her team-leading sixth goal of the young season.
As mentioned above, Kowalski would be responsible for the final goal--but her execution on the play was such that the goal was more like a finale at a fireworks display. She slipped through a crease, dribbled between two defenders, drew the keeper off her line, and chipped the ball in. Triple exclamation point!!!
The Lady Comets recorded a season-high 30 shots in this contest and held Honesdale's attack to just two on-target shots. In three games, AHHS has held its opponents to just one collaborative corner kick on the season.
It would be a gross understatement to say that a sizable number of players rotated into this match. In a game of "in again, out again Finnegan" the personnel on the field were sometimes changing so fast that there were more players waiting at the scorer's table than sitting on the bench. And many from this merry multitude got to score--six different players, in fact, were able to record a goal. There was no tension on the sideline; no concern about this or that. It was a pleasant afternoon in the sun.
NOTES: The girls from Honesdale were a bunch of fighters, and they must be commended for the way in which the battled Abington down to the final whistle. True to their name, the Hornets swarmed the ball, and they will win some games this season. However, for all practical purposes, the real season for AHHS starts tomorrow, when the Lady Comets motor out to the lake to tangle with the Wallenpaupack Buckhorns. We have already previewed this match on this website--scroll down if you have not yet looked at our pre-game reflections. If the Lady Comets can prevail in Hawley they will gain the early advantage in the race for the conference title. And such early-season advantages are great gifts indeed.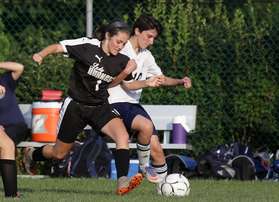 Carina Salerno showing her skill against Honesdale (Photo: E. Black)
Friday, September 8
STRAIGHT OUT OF THE GATE--EARLY GOALS SET TONE IN 4-0 LADY COMET WIN
Kelly Seechock frustrates Del Val's Haley Korfmann (Photo: E. Black)
It was unfortunate for the Delaware Valley Warriors that they lost the services of their starting goalkeeper before the match even began. In an unusual scenario, senior Juliann Winkler suffered a fractured arm during warmups, and the visitors had to hustle to summon a replacement from the bench. After this inauspicious setback, the day would grow even darker for DV as the Lady Comets proceeded to launch a menacing plethora of shots in the early minutes of the match to establish--in a most business-like fashion--a comfortable 3-0 lead before the midway point of the first half.
Struggling to stroke well-textured passes across a field that was softer than a Sleep Number mattress, the Lady Comets were still able to attack at will. The high-energy kids from Milford chased Abington all over the pitch, but the Lady Comets established commanding field position for most of the match and held a substantial majority of the possession.
The first tally of the day belonged to Kelly Seechock, who was returning from an illness that kept her out of the season opener against Tunkhannock. The goal, which occured just under 12 minutes into the contest, was the 30th of Seechock's impressive career; the finish developed off an entry pass from sophomore Morghan Stiles. Less than 5 minutes later, the precocious Riley Mulherin would continue the offensive spree she initiated against Tunkhannock and would score off of a Hannah Kowalski assist. Before the crowd could complete their round of applause for the Mulherin shot, Stiles would find the net using Mulherin's assist. All in all, the Lady Comets would strike 11 shots in the first half--putting 7 on frame--and the Warriors' reserve keeper, Alexis Sickler, would become an extremely busy backup indeed.
The Lady Comet defense deserves some credit for today's win. After all, they completely shutdown an opponent that scored 9 goals in its last outing and that features all-conference talent Reilly Henry at the wheel. Meghan Noone and Abby Brown--along with the speedy Paige Morgan--performed with their usual alacrity. However, less acclaimed than the work of this trio has been the exceptional efforts of outside back Jenna Patel. Merely a sophomore, this kid plays with an uncommon diligence and, from what we have seen in the first two outings of 2017, she looks to have a momentous upside and a sparkling future.
The visitors played a stronger game in the second half, and quadrupled their number of shots--although that number was still not many. Everyone one knew that AHHS had salted away the match. Errol Mannick shuttled 20 players in and out of the contest, once again showing off the depth that we have on this website already recognized as special.
Now, here is the kicker: As good as Abington has looked in its first two games, one senses that there is even more bravura burgeoning inside the girls from Noble Road--there is a still-developing potential yet to comprehensively express itself. In other words, this Lady Comets' team has not completely blossomed, has not yet burst forth into the full flower of its soccer being. Its petals have yet to fully unfold. And perhaps this is one reason why Coach Mannick is forever calling his players "bud."
BOX SCORE AND UPDATED STATS AVAILABLE BY CLICKING ON THE STATS/SCORES TAB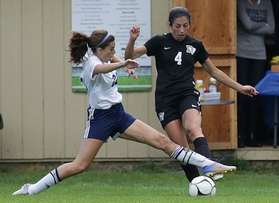 Paige Morgan extends against the Warriors' Reilly Henry (Photo: E. Black)
Monday, September 4
EARLY SEASON SHOWDOWN--POWERHOUSE PROGRAMS TO COLLIDE AT THE LAKE
It was not that long ago that the Lady Comets used to regularly barbecue the Wallenpaupack Buckhorns--and the scorelines from the matches suggested that the Abington girls liked their venison well done. Things have changed. Big time!
These days, the extremely tough customers wearing Wallenpauapck uniforms are no longer meat for their opponents' grills; in fact, they have been doing a little frying of their own for several seasons now.
Rewind to 2010 and 2011, and you will find the Lady Comets posting 7-1, 7-2, and 7-0 scores against the Lady Buckhorns. In 2012, Wallenpaupack reached the district semi-final, only to be thumped by Abington once again--this time by a 5-1 score. However, one could see that Coach Alicia Sodano was building something; she had gathered a collection of quality athletes; all they needed to do was learn the fine points of the game. Well, Sodano turned out to be a terrific teacher!
In 2013, Wallenpaupack started racking up wins, and played the Lady Comets close in a 2-0 regular season game. They generated a daunting momentum and, then, suddenly-- on a rain-riddled pitch--they won their first district championship, posting a 1-0 victory over guess who! That win would put an end to the Lady Comets' streak of five consecutive district titles. Since then, the two sides have played competitve matches in each of their four ensuing contests, with AHHS winning three and the Lady Buckhorns winning once.
The most recent matchup between these teams occured in last year's Lackawanna League Championship match--an epic battle that stretched two determined teams to their respective limits. The Lady Comets prevailed in a penalty kick shootout to gain the privilege of carrying home a title plaque that both teams deserved to win.
So, what are you doing around 4:15 this Wednesday? If you were planning to have a hoagie by the pool, you might want to rethink your plans, fill up the gas tank, and motor out to Hawley where the above-mentioned titans will be tangling with one another once again. After walloping relatively weak opponents in each of their most recent games, the two sides are getting ready to play some "big girl" soccer. The Lady Buckhorns won the Kotula Classic Championship on Sunday by posting an attention-getting 9-1 victory; the Lady Comets, meanwhile, also had an easy day at the office, gliding to a 7-1 triumph over Tunkhannock.
The ladies from the lake are led by all-everything star Rachel Tirjan--who, by the way, posted 4 goals and 2 assists in the Kotula Championship. Against the Lady Comets, she will be defended by members of her U-19 travel soccer team--friendly partners will thus turn into instant foes. However, for Meghan Noone, Abby Brown, and Paige Morgan, the sprightly Tirjan will be a known commodity--of course, such familiarity works the other way around as well. We will see who, if anyone, will be able to exploit it.
Wallenpaupack has many other weapons. Olivia Gregory returns at goalkeeper where she has turned in more than her fair share of tidy performances; entering the season, she ranks along with Scranton Prep's A.J. Hendershot at top of the list of Lackawanna League netminders.
The Lady Comets will also have to deal with the versatile Courtney Mooney and with what by all reliable opinion is a pretty good freshman; of course, with players like Riley Mulherin in tow, AHHS will be able to counter with some pretty decent first-year talent of its own.
Both sides are senior-laden--and Abington will likely be starting eight. Last year, the Lady Comets and the Lady Buckhorns were clearly the top two teams in any division of the Lackawanna League; and, as of the moment, it looks like we will revisit that scenario this fall, although there will be other talented sides out there with the potential to knock off either of these teams.
The season is young; but this could still be a pivotal encounter. The winner of this match grabs an early season edge in the race for the conference crown. And, after losing in last year's hard-fought league title match, you can bet your prize Chevy that the Lady Buckhorns are going to be ready for this one.
Friday, September 1
BOMBS AWAY--LADY COMETS PUMMEL GOAL IN SEASON OPENER
Errol Mannick with his new charges. (Photo: E. Black)
One wonders if Sigmund Freud hatched any theory that suggests grown humans can suffer from "playing-field envy." As today's visitors settled in at the especially verdant home of the Tunkhannock Tigers, they must have been jealous of the beauty of the setting--beautiful mountains, the beautiful playing surface, and--today, at least--beautiful weather. It was not, however, a beautiful experience for those looking for a competitive game. The Lady Comets jumped out on top early and powered their way to a 7-1 victory, supported by four goals from first-year forward Riley Mulherin and a brace of markers from senior Emily Mahoney.
Tunkhannock played with great determination and grit. However, the Lady Comets were simply too much for them. Although the Tigers played with the ferocity characteristic of their name, first-year head coach Errol Mannick was able to trot out wave after wave of thoroughbreds--going 20 players deep before the end of the first half. Such depth and experience will be trademarks of the 2017 Lady Comets, and those virtues were certainly on display today. Mannick will enter the league season with a formidable stockpile of talent, which is a lucky thing given the challenging schedule the Lady Comets will face this season.
It had to be frustrating to sit on the opposing bench where one might hear the staff saying: "good, he took her out--but, oh no, now here she comes." Senior Hannah Kowalski--who contributed both a goal and an assist--sliced her way through the Tiger's defense all day--and looked outrageously comfortable doing it. She seemed to be able to create space for herself almost at will. Tunkhannock also had tremendous diffculty finding someone who could mark Emily Clauss; indeed, there were 1v1 mismatches all over the shop. This will change when the Lady Comets line up against other opponents, but the players looked quite at ease today. Tunkhannock was a solid side with some good players; however, for much of the afternoon, Abington was able to simply switch it once or twice around the back and then play it long; only occasionally did the opponent force the Lady Comets to become much more sophisticated than that.
One should also note that the back line players were contributors to the offense today, as Meghan Noone provided the assist on the opening goal from Kowalski; and Abby Brown logged an assist when she played a sweet corner kick to Emily Mahoney who obliged with a far post finish.
The Lady Comets came out showing a three-front in this game. It was effective, particularly from a defensive point of view. Perhaps against stronger opponents the formation will have to be tweeked--yet, then again, perhaps not--that all remains to be seen. What also remains to be seen is whether the hometown girls, when they play against the top-level defenses, will be able to score like they did today. Fans may not have to wait long to find out, as highly-touted Wallenpaupack is next up on the schedule. The Lady Comets will travel out to the lake next Wednesday afternoon for what should be one of the early season's marquee games.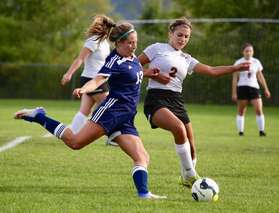 Sophomore Anna Marchetta taking charge against Tigers. (Photo: E. Black)