2016 SEASON: Welcome
Friday, September 23
MOUNTAINEERS REACH PEAK FORM IN 4-0 WIN OVER LADY COMETS
We have in the past referred to Dallas, on this website, as the "gold standard" for girls' soccer in the region; and the high-octane Mountaineers turned in a golden performance last evening as the iconic girls from Luzerne County multi-tasked their way to a 4-0 win; that is, they controlled the Lady Comets' quality offense while simultaneously launching a menacing attack of their own; indeed, the manner in which the offense balanced the defense for Dallas was so symbiotic, so contrapuntal, that it was nearly dialectical. Even the three high-minded words that I just now used in one sentence do not adequately describe the interconnectivity Dallas developed in last night's advance and recovery dynamics.
From relatively early on, there was a palpable Dallas "edge" to this game, even though the Lady Comets looked strong coming out of the gate and even though the match remained scoreless for the first 24 minutes. In fact, from this writer's up-close perspective, it seemed that there were times when the Lady Comets played as hard as they have played all season--for example, it looked for an emotive minute like Emily Clauss was going to knock the legs off my table when she slid out of bounds while hounding-down a loose ball.
In the first half especially, AHHS not only played hard, but much of the time they played relatively well. What one is forced to conclude, however, is that despite these indisputable instances of Lady Comet valor, there was never really a moment when one got a meaningful sense that AHHS was going to be able to win this one. That is simply how good Dallas was--it is also how good they are and likely how good they are are going to be for the rest of the season, and possibly for the next decade, and maybe even for the next millenium--for all I know, the Mountaineers may play like this for eternity.
Dallas is very athletic, there is no doubt about that. But the prevailing point is that the Mountaineers were last night the most technically-precise team that the Lady Comets have played all season. Perhaps Dallas is not always as sharp on the ball as it seemed to be last evening--indeed, if the Mountaineers do always play with such technique, they are clear state-championship material. Nevertheless, the bottom line is that Dallas won the game largely because they gave AHHS little opportunity to capitalize on unforced errors. Indeed, if one was waiting for Dallas to fumble a first touch, send a serve astray, lose the handle on the dribble, or hit a back pass without enough pace, one had to wait for a long, long time to feast on such mistakes. Such errors did on occasion emanate from the happy feet of the hometown players, but with much less regularity than one might expect.
Dallas won the statistical battles, and its goalkeeper Rachel Nelligan did an excellent job of handling the few solid shots the Mountaineers did allow the Lady Comets. Frustration was probably the name of this game for Abington. AHHS would often pass opportunistically and look pretty adept escorting the ball through the midfield; in fact, there were many times when the Lady Comets would actually produce some signficant penetration into the attacking third--and, then, just when one was ready to see the final pass or the well-earned shot--SLAM!--Dallas would shut the door; it was as if the Mountaineers had drawn a line about 28 yards out and announced that it would be tough tracking for any team audacious enough to try to cross that line. And, by the way, another "line" was exactly what we did not need last night as there was no shortage of lines--imaginary or real--on the multipurpose artificial turf. In fact, in front of the scorer's bench, four different lines were painted relatively close together and in such a way that they all seemed to be viable candidates for the touchline; they fanned out like the rings exxposed on a sawn oak tree; and these numerous lines did in fact cause some confusion.
There was a lot of intense defense from Dallas, which was seasoned with a good-sized serving of physical play. But make no mistake! Although Dallas did hold AHHS scoreless, the Mountaineers did not "bottle up" the Lady Comets; the Abington girls did get some good field position. The problem was that when the Lady Comets maneuvered into the region of the goal, they could not generally find the space to get off a quality shot.
Dallas picked up its first goal off of a rebound, and led just 1-0 at the half. So, the pain at intermission was somewhat bearable for those not privy to the scorer's book. The stat sheet, however, suggested that the midpoint score was pretty misleading; the Mountaineers had generated 11 shots in the half--that was more shots than the Lady Comets generally surrender in an entire game. The three second-half goals, including a dispiriting breakaway goal, were the result of perceptive play. After that, there was hope only that the Lady Comets might score, not win. AHHS was hoping to at least avoid being shut out for the first time this season. But, alas, no joy in that respect either, although there were a couple of moments near the end where Abington had decent shots.
Finally, I know there are those who hope that this season will finally be Dallas's last year of domination or feel that the Mountaineers' gushing stream of success cannot continue unabated and will simmer down somehow in the future; well, for those who feel that way, take note of this disconcerting news: all of the goals were scored by underclassmen, and the two monster goals in the middle of the game were delivered by a 9th grader. Sorry to pour poison on your begonias.
It is not so much that Abington was bad, its just . . . . .well, you know the rest of that line.
Friday, September 23
NEW INFORMATION FOR YOU
I want to point out that Larry Kowalski compiled and subsequently sent to me a spreadsheet that tracks the Lady Comets' win-loss records through various categories of competition. It represents a lot of work and breaks down the AHHS record in respect to AAA opponents, league opponents, district two opponents, etc. The current spreadsheet covers games through the Valley View match. You can access, download, and/or print out Larry's work by clicking on the 2016 STATISTICS AND BOX SCORES tab--the spreadsheet can be found under the Varsity Statistics category. Thanks, Larry, for your service to AHHS Girls soccer.
Thursday, September 22
LADY COMETS DOMINANT AGAINST VALLEY VIEW
Kelsey Jackson executes tackle against Cougars.. (Photo: E. Black)
For approximately 80 minutes, the Lady Comets played with Cougars last night but only once did they get scratched. In a game where AHHS hit a season-high with its shots-on-goal percentage, Abington coasted to a comfortable 6-1 win. AHHS scored early and often in this one, and maintained possession and field position for much of the game. One highlight for Valley View, which now drops to 0-5 in league play, was the performance of goalkeeper Olivia Muchal who recorded 13 saves against a relentless Abington attack.
Hannah Kowalski got the show started just over five minutes into the match, when she deposited an unassisted goal. This inaugural event was followed quickly by a stupendous goal from Paige Morgan--a goal that soccer-observer Will Misuira termed the "shot of the season" so far. Morgan drove up the right flank and launched the ball from downtown Archbald; her driven shot sizzled past the keeper and settled in the far side netting. This well-struck, cross-frame finish may have been in part produced from the team's recent practice session during which the Lady Comets focused on finishing.
Yet Morgan's goal would not be the end of it. With 26 minutes left in the half, Allyson Derry recored her 7th goal of the season, making good use of an assist from Ashley Mulherin. Valley View would temporarily interrupt Abington's run with a goal of its own near the end of the half. Thus, the sides gathered for intermission with a 3-1 margin up in lights.
Abington was as active offensively in the second act of the play as it was in the first. Part two of the show featured a brace of goals from Emily Clauss, whose standard of play seems to elevate each game. This kid has the potential to become scary good. Clauss scored on her own and then employed an assist from Derry to put the Lady Comets up 5-1.
The ultimate goal of the evening came when Kelly Seechock lifted a shot that hit off of the crossbar and rebounded to a poised and ready Ashley Mulherin who put the ball into the net.
DALLAS HOSTS LADY COMETS TONIGHT. The Lady Comets can take pride in their subjugation of the Cougars last might, but they will be facing a much stiffer foe tonight when they motor to Luzerne county to take on the #1 Dallas Mountaineers. Dallas is the "gold standard" for soccer in NEPA. In fact, on days when the Mountaineers lose a soccer game, they give the student body a day off from school to recover from the shock. As good as the Lady Comets are, they may not seem that impressive to Dallas. After all, if you are a Mountaineer you are not intimidated by extreme elevations--so what would they fear in all of Abington's considerable heights. Dallas and Abington have identical league records at 5-0, but the Mountaineers have already disposed of powerful teams like Coughlin and Crestwood, while the Lady Comets encountered some real trouble with the latter team and have yet to play the former. Tonight should be a big test, but one can bet that the Lady Comets have prepared well and are looking forward to the opportunity to make a name for themselves. You should be able to get to this one even if you have to work a little late, as kickoff will occur after the JV contest which itself will not commence until 6:00 p.m.

The colorful sky made Abington's 6 goals look even better. (Photo: E. Black)
Monday, September 19
WEST SCRANTON FINDS THE NET BUT STILL FALLS 9-1 TO LADY COMETS
Hannah Gilbert had 2 goals and an assist. (Photo: E. Black)
Abington used a string of goals scored during the middle portion of today's match to pull away from West Scranton and post a 9-1 victory in a Lackwanna League crossover game. Six different players contributed goals for the Lady Comets, while three additional players put their names in the assist column--all of this in a game where Coach Roger Jacobs used 22 players.
Although they recorded 24 first-half shots, the Lady Comets took over 32 minutes to finally get something into the net. For whatever reason, the Lady Comets initial shots were, time and time again, slicing wide or climbing skyward over the crossbar. Whether it was concentration difficulties or determination issues, Abington was having problems getting down to business as usual. Finally, Kelly Seechock got the scoring started when--literally, in the span of less than a minute--she nipped in Abington's first two goals, using assists from Hannah Gilbert on the first try and from Emily Clauss on the second. These engine-starters seemed to set the stage for Allyson Derry, who less than two minutes later collected a goal off of a pass from Paige Morgan to fix the halftime score at 3-0. Perhaps the bench should have phoned Ripley's Believe It or Not investigators because this pattern of scoring was an odd event indeed: no goals for over half an hour and then suddenly three markers in three minutes!
Refreshed but still geared-up after the intermission huddle, Derry went right back to work in the second period when she scored again just 1 minute and 46 seconds into the half. She was assisted this time by Lauren Simakaski.
Next, rising star Hannah Gilbert would add two successive goals--one an impressive blast from distance. In order to avoid confusion between players with the same name, Coach Jacobs refers to Gilbert as "little" Hannah, and it was not long after Gilbert's heroics that "big" Hannah Kowalski scored a goal as well. Finally, Megan Noone and Emily Cacioppo would add unassisted goals to complete the scoring.
When recounting significant moments in this game, it may be important to note that, although the always-energetic and upbeat West Scranton Invaders were not able to pick up a win at CSE Field today, they were able to do something that they had not done in any of the 12 games they had played with the Lady Comets since Abington Heights returned to the Lackawanna League; that is, the Invaders scored a goal. And it was a definitive goal indeed--a clean breakaway goal in which the West-siders flat out beat the Abington defense. The Invaders have created scoring opportunities against the Lady Comets in the past and actually came close to ending the series shutout streak last year at Memorial Stadium when they sent a penalty kick just wide. This year they got the job done by means of a stylish display from talented Taylor Robinson, who midway through the second half weaved her way around the Abington resistence and sent the ball home.
NEXT WE TRAVEL TO ARCHBALD. Please take note of the 5:45 starting time when traveling to Wednesday's Valley View game. Similarly, please remember that the JV match will occur before and not after the varsity contest. Valley View is 0-4 in league play this season, but the Lady Comets have traditionally found it difficult to get past the Cougars in their home den. No one seems to know the reason for this--maybe it is the fact that it is always a night game--maybe the Lady Comets do not like the spotlight.
HOW THIS WEBSITE WORKS. For visitors seeking information on this website, particularly those of you looking for post-game stories and statistics, here is the order in which the items are posted: usually, the first thing posted will be the box score followed closely by the updated individual and team statistics page; these are generally posted by 11 p.m.--and sometimes earlier--on the night of the game. These pages can be accessed by clicking on the "2016 Statistics and Box Scores" tab on the home page menu. The game stories, on the other hand, may not appear until the next morning--or even the next evening. Soccer rants by the webmaster have not really appeared yet this fall; but, because some people ask for them, at least a couple of polite and fastidious rants are going to be coming; however, they will appear quite randomly. Finally, we would like to extend a very large thanks to everyone who visits this site. We have just gone over the 67,000 mark in "hits"-- we understand that our readers come from all over the NEPA region (and sometimes beyond). We are thus gratified to know that there are so many Lady Comet fans. The AHHS girls soccer program has indeed been one of the very best in the Luzerne-Lackawanna area for many years and deserves your concerted interest and support. Hope to see you at the games.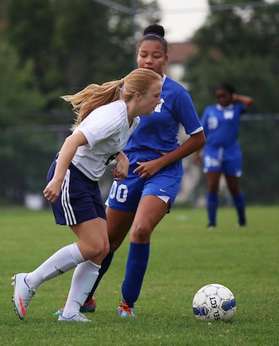 Tori Wells made her first varsity appearance of the season. (Photo: E. Black)
Sunday, September 18
TALENTED CRESTWOOD PUSHES PAST LADY COMETS 5-1
Taking seriously its location in the village of Mountain Top, Crestwood indeed performed like the "queens of the hill" in its match with AHHS yesterday afternoon. In an intergalactic contest where the Comets took on the Comets, fans were treated to a battle between celestial phenomena from adjacent counties; in the end, it was the Comets from Luzerne that flashed more brightly across the sky as Crestwood posted a marquee-worthy 5-1 win, handing Abington Heights just its second loss of the season.
In our pre-game notes, we suggested that Crestwood may stand second only to Dallas among the upper echelon of girls soccer teams in NEPA. And there was nothing we saw yesterday that would cast any doubt on that claim. Crestwood launched 20 shots in the match, and put a ton of pressure on the Lady Comets' back line. There were in fact times when Abington did play well, but each of those stretches was matched by countervailing periods when Crestwood played better.
Perhaps looking to get its equilibrium back after its 3-1 loss to Dallas on Thursday, Crestwood brought close to its best game to the pitch and captured everyone's attention early by scoring two goals in the first ten minutes of the contest. One could almost hear a collective "ouch" rise from the Abington bench at this point. But the resilient Lady Comets did regroup when, with just ten minutes remaining in the first stanza, Emily Clauss smashed in her second goal of the season after receiving nice near-post/far-post slant pass from freshman Anna Marchetta. The teams battled evenly for the rest of the period, and the 2-1 halftime tally sparked significant Abington optimism on the Lady Comets' bench.
But the upbeat demeanor degenerated quickly in the second period, when Crestwood would add three more goals. There were, by the way, no surprises among the players who led this Crestwood attack, as the nifty Bella Termini and the exquisite Melissa Herrera were involved either jointly or individually in every one of Crestwood's five goals. Both of these Crestwood stars stand out amid even the most outstanding crowd. Termini had two assists and two net benders. And Herrera, who had two goals and an assist, was a difficult horse to track all game long. She would spin, cut, and open up at the perfect times and at one point appeared to make a 20 yard pass to herself---but not really. She was marked, but she would often shake free. Herrera is indeed a terrific all-everything player.
AHHS did generate some offensive surges of its own and was close to sticking more goals--in fact, maybe the Lady Comets' attack would have been good enough for 2 or 3 goals if it had not come up against the tidy goalkeeping of Crestwood's Courtney Dushanko who had six saves.
Paige Morgan stood out as a positive force in this game for the Lady Comets, as she contributed on both the front and back lines. She solidified whatever region of the field she was asked to patrol. At the same time, Emily Mahoney did a good job of showing for the ball and played with a lot of confidence in the midfield.
Abington had the larger number of corner kicks, but that was not enough to match the overall starch of Crestwood's game. So, as we mentioned before, the Lady Comets had the honor of playing what is probably the second best team in all of NEPA; and, in less than a week, AHHS will get its chance to play against what is purportedly the best.
WEST SCRANTON TOMORROW. Your Lady Comets return home tomorrow (Monday) for a cross-over league match with the Invaders from West Scranton. Kickoff is 4:15 p.m. No particular pre-game notations here, except to say that the margins of the scorebook could be filled; in other words, come with the expectation that a lot of girls will see action in this game.
Wednesday, September 14
EARLY SCORING SPURT LIFTS AHHS TO 4-1 WIN OVER PREP
Ashley Mulherin wins a header over Prep defender.. (Photo: E.Black)
If you believed that it might take a profound act of nature to finally spur the Lady Comets past the ever-troublesome and always-capable Classics of Scranton Prep, then perhaps you were prescient. The torrential rains that pelted the pitch today seemed to pour relentlessly during Abington's most productive first-half stretch, a rain-soaked 24-minute outburst during which the Lady Comets racked up three straight goals to take early control in the match. With an undefeated record and elite resume, Prep came into the contest as the pundits' favorite, carrying with them, as always, a talented roster of players and an NPF power ranking two slots above that credited to the Lady Comets. As far as win-loss records were concerned, the teams entered the match tied for top honors in Division 2 of the league. The bottom line, in all of this, is that with their victory the Lady Comets were able to secure sole possession of first place and pick up their first win in their last four outings against the formidable Classics.
Abington Heights and Scranton Prep have stood among the better high school girls' programs for several years now. However, recently, the Lady Comets have tended to be the bridesmaids and not the bride--Abington was in fact developing a reputation as the league's second best program behind Prep. Today, two quality teams once again fought hard, but this time the Lady Comets prevailed.
A rumble of thunder halted the match for 30 minutes at halftime. The second stanza would be played in damp but less rainy conditions.
The real scoring drama started early as Hannah Kowalski used an Emily Mahoney assist to put Abington on the board in the second minute of the match. It was an authoritative statement in many ways and set the tone for two more AHHS goals that would be scored in the half. Emily Clauss was the second Lady Comet to register a goal and again Mahoney was the ally. At this point, the match was just a touch over twenty minutes old and AHHS was holding a 2-0 lead.
Soon, thereafter, at the 26:20 mark, Kelly Seechock would power her way to the net and splash home the third tally of the half.
The long halftime weather delay may have been bad news for Abington, as the stoppage seemed to drain some of the Lady Comets' momentum. And the girls from Noble Road did indeed come out a little slow in the second period; it was almost as if they were happier playing in the rain and could not adjust to the absence of precipitation. The Classics were able to launch more attack in the second half, and after several reconnaissance excursions into the Lady Comets' defensive third, Prep's Kerry McGrath finally nailed a beautiful goal at the 64 minute mark.
AHHS was able to hold the Classics at bay for the remainder of the game and actually launched some more qualiity attack of their own, with Allyson Derry twice getting in behind the defense but twice sending shots just wide. With the clock winding down, Carina Salerno would pick up her third goal in two games when she took a feed from Derry and steered it into the net.
Final score: 4-1. But let us hope that the Lady Comets do not always need monsoon conditons to excel. Our local climate is plenty wet already, and my umbrellas are not that sturdy.
CRESTWOOD ON THE HORIZON. The Lady Comets have already played some pretty good teams this year. Are there soccer sides better than Prep, Pocono Mountain East, and Wallenpaupack? You bet there are, and one of them may be the team awaiting Abington this weekend. A powerful Crestwood team--which has already gunned down Coughlin 4-0--is capable of playing at a very high level. This game will be on the road down in Mountain Top at 3:00 p.m. this Saturday. It will be worth the trip to see two good teams lace it up against one another.
Monday, September 12
SOMETIMES ERRORS DON'T HURT: DESPITE SOME BIG MISTAKES, LADY COMETS DOMINATE HONESDALE 8-3
Abington Heights ventured into the Honesdale Hornets' nest today, but it was only because of their own carelessness that the Lady Comets were occasionally stung. Three Abington errors--errors both tactical and technical in nature--led directly to three Honesdale goals. Such self-destructiveness might have been difficult to swallow except for the fact that the Lady Comets poured in 8 goals of their own.
Defensive mistakes happen on all teams and such mistakes can provide a means for learning. And let it be known that in regard to these mistakes there is absolutely no need to get into an individual blame game because there were more than just one or two girls involved in each malfunction. So, I will not dwell on details here other than to say, in the spirit of presenting a painfully truthful record, that Abington did essentially serve up the Hornets' three goals.
Although Honesdale played with great grit and hustle, there was not much that the Hornets could do to match the Lady Comets' superior athleticism. Time and time again, Abington forwards and midfielders sliced through the Honesdale defense, picking apart the opponent's formation with long passes and well-timed runs. If not for the tremendous work of Honesdale's hustling keeper Sadie Wood--who racked up 12 saves--Abington might have placed an outrageous number on the scoreboard.
Meanwhile, the homestanding girls were not getting a lot of opportunities--at least they were not generating on their own most of the chances they received. Perhaps we should put it this way: the stat sheet will include names of Honesdale girls who will be credited with assists on the Hornets' goals; and perhaps these girls should be so credited; but if the truth be told, the Lady Comets were the true "helpers" when it came to getting Honesdale on the board.
To their credit, the Hornets did come out of the gate with energy and played some solid soccer. There were, for example, some nice tackles from Honesdale; and their players were indeed alert enough to take advantage of Abington miscues. Plus, Honesdale showed resilience. After falling behind by two goals early, the homestanding insects buzzed back to score twice within the span of a minute and tie the game at 2-2 before the half. As the two sides gathered for halftime huddles, the Hornets appeared, at least for the moment, to have wrestled the momentum away from the Lady Comets.
However, after intermission, the Lady Comets re-established themselves, and reeled off six straight goals to take an 8-2 lead. With under two minutes left, the Hornets picked up a consolation goal to set the final score.
There were many girls involved in the Abington goal scoring barrage--and it would take too much space to review in detail each goal scored. However, taken in sequence, the Abington scoring looked like this: Carina Salerno punched home a rebound off a shot from Hannah Gilbert; Kelly Seechock pushed into the box for an unassisted score; Hannah Kowalski scored off a through ball from Megan Noone; Salerno then notched her second goal, again with an assist from Gilbert; then, Emily Mahoney would get into the act after being set up with a good ball from Leia Parry; with around 9 minutes left, freshman Morghan Stiles would record her first-ever varsity goal, using an Emily Clauss assist; but the Lady Comets were not through until Allyson Derry capped off the day with a brace of goals--one unassisted and another where Clauss was the provider.
One note of interest about a generally uninteresting game: the Lady Comets were charged with 5 offside violations today; that is a pretty substantial number; but, believe it or not, this is actually 15 fewer offside infractions than the team logged the last time Abington visited Honesdale.
PREP IS NEXT. The stands at CSE Field could be relatively full on Wednesday at 4:15 when the Lady Comets host Scranton Prep. This is not only because both sides see this as a huge match, but also because Prep travels well and might come close to filling their end of the bleachers. Attendance has been down a little this year. We shall see if this changes on Wednesday. Abington comes into this match at 3-0 in the conference and tied with Prep for the league lead. So, in this key contest, we will see which horse wants to get out to an early lead in the race to the title. Having already posted a win over contender Wallenpaupack, a win over a second contender could put the Lady Comets in good early position. However, Scranton Prep--which today used eight saves from A.J. Hendershot to prevail 3-2 in overtime against North Pocono--has controlled the recent history of competition and has beaten the Lady Comets in 7 of the last 8 matchups. Although the Daughters of Ignatius lost a truckload of talent from last year's team, they remain undefeated, and the NPF Power Rankings currently put Prep at #2 behind only Dallas. The Lady Comets are ranked #4.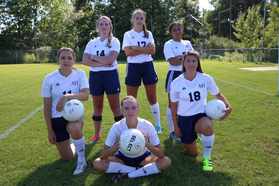 2016 Seniors