2016 SEASON: Welcome
LADY COMETS CLAIM LACKAWANNA LEAGUE TITLE IN PK SHOOT-OUT
Lady Comets celebrate their first league title since 2011.(Graphic. E.Black)
GAME STORY WILL BE POSTED FRIDAY. STAY TUNED...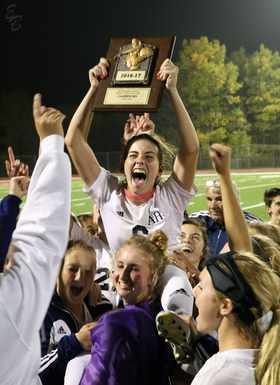 Emily Clauss celebrates with teammates. (Photo: E. Black)
Wednesday, October 19
CHAMPIONSHIP THURSDAY
Two familiar foes will be facing each other in Moscow tomorrow night when the league's regular-season co-leaders meet up for all of the coal in the county. In recent seasons, the Lady Comets and the Wallenpaupack Buckhorns have, along with Scranton Prep, distinguished themselves as the most consistent programs in the Lackawanna League. When the game kicks off at six tomorrow night, fans will get a chance to see who garners this year's ultimate distinction. And, just a hint here, boys and girls, this is the biggest game of the year--so, if you cannot rearrange your schedule to make the 30-minute trip down to North Pocono High School, you will need to supply the Lady Comets with a written excuse. The AHHS girls need you there, and they need your enthusiastic support. Indeed, since this is a neutral site match--and there is no true home team--it will be interesting to see who turns out more fans for this contest: AHHS or the folks driving over from the woods.
Abington found itself in this identical post-season position last year when it faced a championship playoff with Prep. AHHS dropped that contest; so the girls from Noble Road will be looking to take advantage of a second chance. Although they are perennial championship contenders, the Lady Comets have not won a Lackawanna League championship since 2011. And one has to go back another 8 years to locate the last championship they won before that.
The teams in tomorrow's matchup have split their season series, with each side winning at home: Abington posted a 2-1 victory, while the Lady Buckhorns slipped past AHHS 1-0 in overtime. Both sides feature athletic players which, if they are on their games, could be fun to watch. Each team is familiar with the strengths and weaknesses of its opponent. This could be one of those games where "the team who wants it the most" will prevail. However, cliches are usually unreliable indicators.
What, on other hand, might be a reliable indicator is the 15 fouls that were called the last time these two teams met. There has been a history of physical play when these two sides get together.
Wallenpaupack is coming off of a 3-0 win at Valley View. The Lady Comets' 1-0 win against Scranton Prep perhaps belies Abington's achievements in that game. Which team will be more in tune? If statistical history matters, do not expect a lot of goals in this game. But since when does statistical history really matter?
One interesting thing to note is that the AHHS boys team clinched their Lackawanna League championship just last week on this same field. Can the Lady Comets follow suit and thus make it twice in one year that a team from Abington gets to dance on the North Pocono Turf?
It has been a good year for Abington soccer; will it be a great one? That exciting question must rest unanswered for now--but, in the meantime, your Lady Comets are "goin to da 'ship."
Wednesday, October 19
SALERNO BREAKAWAY GOAL SECURES 1-0 OVERTIME WIN
It would have been devastating if the Lady Comets had lost this game. Devastating! And not merely because a loss to a rival like Scranton Prep always stings. And not merely because a win was needed in order to move into tomorrow night's league title game. A loss would have been devastating for many other reasons as well. For example, AHHS had controlled the contest statistically, had created some terrific shot opportunities, and had played some consistently strong defense; in effect, Abington had established early momentum in a game where the Lady Comets had, on many occasions, advanced the ball deep into Prep territory only to encounter some tough luck in their efforts to get the ball into the net: AHHS had collected the cash but, for an agonizing span of 82 minutes, they could not find a way to drop the penny into the bank.
Prep played well. The daughters of Ignatius wore a countenance of determination. They were able to short-circuit many Abington attacks with some excellent last-ditch defending and with an all-conference-worthy performance from A. J. Hendershot who turned away 8 on-frame attempts Carrying an appropriate last name, A.J. can "hinder your shot" in many ways, and the Lady Comets were frustrated by her versatile defending all day. She read the Abington attack well, staying put when the situation called for it and then coming off of her line on cue.
After a full 80-minute serving of frustration, junior Carina Salerno became the hero, taking a pass from Hannah Kowalski and streaking beyond the Prep defense to beat Hendershot in a one-on-one breakway scenario. The overtime goal was the fifth on the season for Salerno and came just over two minutes into the first extra period.
Abington held a 9-1 shot advantage at the half, but the Classics elevated the level of attack in the second half, getting after the AHHS goal with more purpose. Trish Caucci was, however, up to the challange and collected four saves that helped neutralize Prep's second-half energy.
CHAMPIONSHIP CONTEST IS NEXT. The victorious Lady Comets will now turn their attention to tomorrow night's championship playoff game against Wallenapupack. The match will be held on neutral ground at North Pocono High School at 6:00 p.m. More on this game will be posted later today.
Thursday, October 13
LADY COMETS CELEBRATE SENIOR DAY WITH 4-0 WIN
As part of their tribute to the team's six outstanding seniors, the Lady Comets made sure they secured a victory over a feisty Valley View team. With the win, Abington was able to keep pace with Wallenpaupack and may be on a collision course with the Lady Buckhorns as far as a post-season championship playoff game is concerned. If both Abington and Wallenpaupack win their final matches--AHHS vs. Scranton Prep and the Lady Buckhorns vs. Valley View--fans would be treated to a championship event next week. And such would be deja vu all over again for the Lady Comets who went to a post-season tiebreaker game against Scranton Prep last season.
Although Abington dominated the statistics in today's contest, the homestanding girls did not put much on the scoreboard until the second half. The Lady Comets led only 1-0 at the break. Despite the fact that early on in this match AHHS was able to generate shots, the Lady Comets were not finding the frame and were not particularly confident nor steady on the finish. They were also a fraction of a second slow on the release of many shots--and perhaps a step slow in general. The hope is that these developments will not extend into the upcoming post-season.
In the second half of this game, Valley View--after recording just one first-half shot--broke through the Abington defense on a couple of occasions, but each time junior goalkeeper Trish Caucci thrilled the crowd with an excellent save, turning in some of her best work of the season. Caucci was, in fact, rather relentless throughout the entire match--at least, throughout the portions of the match that took place down in the Abington end. To be honest, Valley View did not generate enough play in the Abington end to be particularly competitive.
It is interesting how two games against the same opponent can mimic each other. Although the scoring margin (4-0 as oppossed to 6-1) were not identical, today's game and the one played earlier this fall at Valley View shared far too many similarities. For example, the last time AHHS met up with Valley View, Hannah Kowalski scored the first goal--and this time Kowalski also nailed the curtain-raiser. Last time at Valley View, Paige Morgan delivered the second goal--and this time, wouldn't you know it, Morgan would again provide the second score. Emily Clauss registered two big goals last time out in Archbald, but one was from a right side diagonal smash. And, again today, she would knock home a right side diagonal shot from nearly the same distance and angle. Ashley Mulherin recorded her second assist of the season today. Her other assist came against? Guess who! In the previous Valley View game this year, Abington outshot the Cougars 26-6; that statistical margin was mirrored almost exactly in today's 23-6 differential. Abington also had exactly 7 fouls in each game and compiled exact 3-0 offside margins. The apparent "spookiness" of these coincidences arises not from the fact that Halloween is only half-a-month away, but from the soccer truism that similar things seem to happen in games played against the same team. For goodness sake, I should have saved myself a lot of work and simply photocopied the scorebook from the first contest. All that I would have then needed to do was dab a little "white out" here and there and make a couple of minor adjustments to the page.
PREP IS NEXT. As mentioned above, the Lady Comets have to clear one more hurdle before they would reach a league championship playoff. This next Tuesday, they will have to travel into city to take on Prep (7-3) at Loyola Field. The tough-monded Classics are usually pretty solid at home. This figures to be an interesting game. Book your seats now!
CONGRATULATIONS: The team honored Allyson Derry, Ashley Mulherin, Bella Demo, Kelsey Jackson, Mackenzie Machell, and Nicole Getz this afternoon. Six exemplary athletes and scholastic citizens. Best wishes to them all, and thanks for the great memories.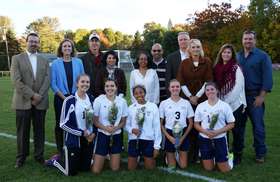 Six seniors were honored during the game. Absent from photo is Mackenzie Machell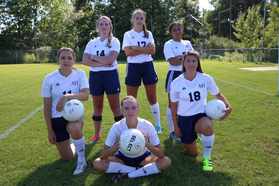 2016 Seniors