2015 SEASON: Welcome
LADY COMETS ENJOY CELEBRATORY BANQUET
2015 Lackawanna League Regular-Season Co-Champions
Players, family, and friends of the Lady Comets gathered last evening at Glen Oak Country Club to reflect on a banner season and pay tribute to the coaches and teammates who contributed to the team's success.
The following players were recognized:
School Board Award (for exemplary team player): Tiana Yarns
Dagger Award: Adrianna Green
UNICO All-Star Game Selections: Ally Christman, Emma Henzes, Adrianna Green
All-Conference Selections: Emily Bonsick, Ally Christman, Emma Henzes, Adrianna Green, Johanna Show,Tiana Yarns
Four-Time Letter Winners: Ally Christman, Emma Henzes
Three-Time Letter Winners: Emily Bonsick, Tiana Yarns, Allyson Derry, Adrianna Green
Second-Time Letter Winners: Abby Brown, Emily Clauss, Johanna Show, Carina Salerno, Emily Mahoney, Meghan Noone, Nicole Getz, Ashley Mulherin, Kelly Seechock, Paige Morgan, Hannah Kowalski
First-Time Letter-Winner: Kaila Steenback
Participation Certificates: Bella Demo, Lauren Simakaski, Emily Marquardt, Mackenize Machell, Kelsey Jackson, Tori Kurter, Hannah Gilbert, Leia Parry, Emily Caccioppo,Tori Wells
FAHS President Jennifer Seechock recognized the kind contributions of time and substantial support provided by the parents during the year. Coach Jacobs also offered remarks in which he expressed his thanks, his admiration for his players, and his personal summary of the season. Near the end of the festivities, those in attendence watched a 25-minute video that captured in photogrpahy the spirit of the successful 2015 campaign.
The team concluded the banquet by singing a rendition of "Fight Song" by Rachel Platten. Click below to download a clip of it.
We will be covering the UNICO game this weekend, so look for more from us before we shut down the website for the season.
Fight Song by AH Team
HENZES, CHRISTMAN, AND GREEN PLAY IN UNICO CUP
Sunday, November 15, 2015 - On a chilly day and half-cloudy day, Ally Christman, Emma Henzes, and Adrianna Green represented the Lady Comets in the annual UNICO CUP "Pink vs. Green" Senior All-Star game held yesterday at Fitzpatrick Field on the campus of the University of Scranton. The event featured many of the best players from all divisions of the Lackawanna League. The AHHS trio played significant minutes for the pink squad, and Christman led her team in shots. However, the green team eventually prevailed 5-1. Scranton Prep's Cara Griffith won the game's MVP honor, after scoring a goal in each half of the action. The charity event drew a large crowd, with players from more than a dozen teams participating.
Photography by Emma Black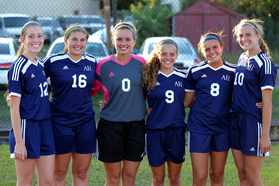 2015 LADY COMET SENIORS (Photo: E. Black)