2015 SEASON: Welcome
Monday, October 5
SURVIVING ANOTHER ROAD TRIP: LADY COMETS WIN 3-0 DESPITE SHOOTING WOES
The road has been a bit cruel to the Lady Comets this season. Although the team holds an admirable 6-1 road-game record, all four of Abington's worst shooting performances of the year have come on the road. In fact, if you subtract the one anomolous outing at Delaware Valley, where the Lady Comets were super sharp with their play, the team has a cumulative road-game shooting percentage of just .088. If one sets that along side the .216 shooting percentage the team has established at CSE, the genuine contrast is apparent.
Once again today, at Honesdale, the girls from the beautiful suburbs overcame a dismal road-game shooting exhibition and prevailed 3-0 in a match where the Lady Comets squandered opportunity after opportunity by not being precise enough on the finish. Granted, the Hornets are a better team at home than they are when they venture out of the hive, but AHHS shot just .075 on the day--not the number one would expect from an offensively-oriented team; and this less-than-impressive statistic, by the way, was itself bolstered significantly by a late Abington goal.
There were an uncommon number of saves in the game, so good goalkeeping was part of the story; but the Lady Comets' attack was thwarted, not merely by the 19 denials credited to keeper Madison O'Hare, but also by the twenty--count 'em, twenty--offside violations that Abington used to deny themselves on attack. As any sane person might imagine, today's twenty offside calls stands as a new record for the team--a record, at least, within the limited history of our stat keeping--it breaks the previous record of what was itself an astonishing 15 offside calls chalked up in last year's match against this same Honesdale team. At the time, we thought the dizzying count of 15 was so extraordinary that it would be a nearly unimpeachable and forever impregnable record. Boy, were we wrong.
Here is a fascinating aside: of the twenty offside calls, seventeen of them were in the second half--surely, this has to be the new world record for number of offside violations committed within any 40 minute time span! Yes, the Hornets were using an offside trap, but a team of the Lady Comets' caliber should be able to adjust after they take note of what is happening, especially since the Hornets seemed to be doing much of the same thing they did last year. Besides, this sudden fit of offsidedness was not solely the product of Honesdale's tactical genius; Abington players were often making themselves "trapable" due to lack of concentration and by moving vertically where they should have been making diagonal or horizontal runs across the opposition's back line.
Despite the breakdowns in the offensive third, this was a game wherein Abington commanded field position and ball possession--it was a game of Lady Comet shot dominance in which Abington enjoyed an absolutely stunning 22-0 corner-kick differential.The reasons why this lopsided run of play resulted in nothing more than a 3-0 score have been stated above. What is left to recount are the goals that the Lady Comets did score--and they were all sparklers.
Early out of the gate, Ally Christman returned into the goal a blocked shot and put Abington up at just eight minutes into the game with her 9th tally of the season. After a rather lengthy lull, the Lady Comets would score again just before the end of the first stanza when Kelly Seechock was able to record her 8th goal of the year, utilizing a fantastic Carina Salerno cross.
Not much seemed to be happening in the second half--that is, outside of the "offside" festival--but with just about six minutes left in the game Salerno nailed a beautiful cross-frame shot which not only added a bit more to the scoring margin but also kept the Lady Comets' shooting percentage from falling under the .050 mark on the miserable day.
This writer certainly admires and enjoys the Lady Comets and any criticism sent their way is tendered with respect. These young women are "big girls" and skilled athletes who are mature enough to understand what they did not do well today. Unlike most other teams, the Lady Comets are out to do more than play a good game of soccer; they are trying to set standards; they aim to win championships. When these are your ambitions, your responsibilites run deeper, and your "gut checks" are more frequent. When these are your ambitions, your margin for error is smaller, and what you expect from yourself is greater. There is a boatload of talent on this team, but talent is nurtured by sacrifices--sacrifices that the Lady Comets seem to be willing to make.
THE VIBE GOES ON: Yet again today, immediately after Coach Jacobs sent a player to the scorer's table to check in, the player that is about to be replaced scores a goal; this time, it was Carina Salerno who scored, seconds after her impending substitute had settled in to wait at the half line. This is getting to be pretty mystical.
Friday, October 2
COUGHLIN'S CRUSADE CONTINUES: LADY COMETS FALL 2-1
Kelly Seechock on the move against Coughlin (PHOTO: E. Black)
There is no doubt that the Coughlin Crusaders are an excellent soccer team. First of all, they are an absolutely explosive offensive team; they have never scored fewer than 2 goals in a game this year--and they kept that record intact today with a gritty, athletic performance at CSE. In contrast, this is only the second time all season that the Lady Comets have allowed 2 goals in a game. It did take Coughlin three-quarters of the game before they scored their first goal, but upon doing that they quickly added a second goal and that would be enough to hold off Abington and bring an end to the the Lady Comets' current winning streak.
After a scoreless yet fascinating first half, the Lady Comets drew first blood in the match, when Tiana Yarns pushed in an Emily Clauss corner kick at the 57 minute mark of the contest. Yarns has been active on attack recently; this was her second goal in the last three games, and she produced an assist in her last outing as well.
Prior to the Yarns' goal, Coughlin had been winning the statistical battle on the afternoon, but they certainly had not shut the Lady Comets down, as both teams were able to launch some significant attacks on goal, although Coughlin enjoyed a few more trips into opposition homeland than did the Lady Comets.
Both of the Coughlin goals were scored by Mary Tona who was a real handful on the field. The strikes from the visitors came in close succession--less than five minutes apart--but the go-ahead goal did not seem to discourage the Lady Comet attack. In fact, there were at least three times in the last few minutes of the game when Abington got the ball in behind the Coughlin defense and was denied either on the finish, the final pass, or a last-ditch defensive play. These late-game assaults included a patented Allyson Derry accelaration break-through-to-the goal in which her shot sailed just high. The teams kept the match exciting to the end--and this was a good thing because the cold and persitent rain would have been much more of a pain in a less dramatic contest.
Both goalkeepers played well, and Johanna Show collected 11 saves, some of which were pretty routine as Coughlin did launch a couple of hopeful shots from Never-Never Land. However, some of the saves were pretty special--and special play is exactly what fans have come to expect from Show. She also did an excellent job of claiming crosses out of the sky and directing traffic in the back.
Yet there was more to the contest than simply the Show show. Every girl who participated added something unique or timely.There was strong midfield play; some great covering runs, and close-down sprints. Perhaps the Lady Comets could have done a better job of getting pressure on the ball, but Coughlin was an active team with a dynamic mindset.
The Coughlin Crusaders are currently number 1 in the NEPA Power Rankings, and they acted today like the want to hold onto that position, although they suffered their first loss on Wednesday when they were upset by Lake Lehman 3-2. One might have guessed that the Crusaders would be especially tough today with that loss still dancing in their heads. However, the bottom line reads like this: the Lady Comets not only finished within one goal of the #1 NEPA team, they had genuine chances to both tie and win the game in the final minutes. Kudos to Coughlin; and kudos to the Lady Comets--there is certainly a spring fisherman's chance that these two sides could see each other again this season.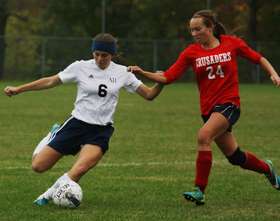 Emily Clauss looks to drive ball against Crusader defense (PHOTO: E. Black)
Wednesday, September 30
MAHONEY'S MONSTER GOAL HIGHLIGHTS 6-0 WIN
Allyson Derry scored 4 goals within 2 games this past week (PHOTO: E. Black)
It was as if she were responding directly to Monday's game story wherein we noted that Emily Mahoney is an excellent player but her talents are not often reflected on the stat sheet. The sophomore midfielder suddenly decided it was time to record her first career goal today--and she did so in a very big way. With a little over ten minutes left in the game--and with the Lady Comets enjoying a comfortable four-goal lead over the visitors from North Pocono--Mahoney, perhaps hoping to pull fans out of an impending slumber, drilled the ball home from approximately 30 yards out-- yes, a shot of which even Carli Lloyd would be proud. This play created within the humble environs of CSE Field a genuine Sports Center moment! It was an extra large goal from a player Coach Jacobs inappropriately calls "little Em."
Yet the fireworks had already begun before Mahoney launched her majestic blast, as four different Abington players had registered antecedent goals. The odd thing was that no goals were scored at all until 11 miuntes into the second half. No first-half goals for the Lady Comets, despite the fact that the Clarks Summit girls outshot their opponents 10-0 in the first stanza and pressed North Pocono keeper Ashley Kamla into six first-period saves. No goals resulted from copious penetration and poised ball possession, even though the Lady Comets were on North Pocono's front porch for a good portion of the opening period. There was a lot of pressure on the goal, but the marble somehow stayed out of the pouch.
What was heartening was the fact that this ever-maturing Lady Comet team did not get frustrated, and was able to return with a calm and re-focused demeanor in the second half, when their dominance finally began to show itself on the scoreboard. First to break through was Paige Morgan when she got on the end of a Kelly Seechock cross and scored at the game's 51:48 mark. The flood gates opened, and just 7 minutes later Emma Henzes scored off of a textbook cross from fellow team captain Ally Christman--a picture perfect play. Later in the period, Nicole Getz would score, as the British might say, a "cracker" of a goal. Getz, just like Morgan and Christman, also utilized a ball crossed into the box--this time the provider was Tiana Yarns.
The score was now 3-0, and with all due respect to the Temptations refrain from "My Girl," the Lady Comets were now producing their own "sunshine" on this particularly cloudy day. Christman would be next to bask in the solar bliss when she finished yet another cross, with the assist courtesy of Morgan. Mahoney's climactic shot was next, before Seechock lit the final candle on the cake with a pretty 18-yarder at the 77 minute-mark.
Abby Brown, Adrianna Green, Kaila Steenback, and Emily Bonsick anchored a defense that once again held the opposition off the board. Only in an early-season, non-conference game against Dallas has an opponent put more than 1 goal on the board against the Lady Comets.
North Pocono is a solid soccer side. There are some quality athletes on their team, and they will be in contention for the division two championship. However, the next team on Abington's schedule is a flat out formidable team from a almost-legendary program--currently, they are the #1 ranked team in NEPA--indeed, they are the dangerous soldiers from Coughlin. This match has no bearing on the league standings, but it will provide the Lady Comets with a real measuring stick and a chance to see how far AHHS might be able to go in the post season.
HERE IS A TRICK: It seems that the best way to score a goal is to have Coach Jacobs send a substitute to check into the game for you. Sometimes a coach will send a substitute for a player to the scorer's table right after the player she is replacing scores a goal. But today both Paige Morgan and Ally Christman netted shots while their replacements were already making their way to the scorer's bench.
Thursday, September 24
STRONG SECOND HALF LEADS LADY COMETS PAST WALLENPAUPACK 2-0
Carina Salerno locks in on ball against Wallenpaupack (PHOTO: E. Black)
There was no doubt that the ladies of the lake came to Clarks Summit to play some serious soccer. Even as the match wore down into the 10th minute and the Lady Comets were up 2-0, the spirited players on Wallenpaupack were pushing themselves to levels of intensity and persistence that teams of lesser character would have abandoned at such a late stage in the game.The Lady Buckhorns are quite simply an excellent soccer team, and they are going to win a lot of games this year; but on this particular day Abington was able to outlast the gritty girls form Hawley--and the Lady Comets demonstrated some flair in geting the job done.
The first half of the game was scoreless and pretty even; in fact, halftime statistics showed the contestants to have 4 shots a piece and an equal number of saves. However, things turned around a little bit in the second stanza when the Lady Comets started to gain more of the possession and were able to navigate their way to better shots. Wallenpaupack was still playing solid defense, but one could sense that Abington was inching closer to hitting a goal. And, then, just twelve minutes into the second period, Allyson Derry stepped up and delivered the stalemate-breaking shot--this tally lit a fire under the Lady Comets, and they were able to control the flow for much of the rest of the match, although the ever-persistent Buckhorns did keep Johanna Show in the game when late in the action they ripped a couple of on-frame shots from long distance just to let everyone know that they were not going to go away quietly.
With the score holding at 1-0--and with about fifteen minutes left in the game--Ally Christman decided it was once again time for another one of her "determination goals." One can now almost sense when these Christman will-power scores are coming; she builds up a burst of energy and simply burrows her way to the goal. She nailed another one today, much like she did Monday over at Western Wayne--this time she dribbled across the top of the box, slipped around the corner (see photo below) and spanked the shot home from distance. After the game, Wallenpaupack Coach Alicia Sodano shared the fact that right before this goal was scored she had been ready to institute man-marking on Christman, but then changed her mind.
Sodano also felt that the Abington defense had been more difficult to attack than Scranton Prep's flat-back four. In fact, Abington is the only team in the league to hold Wallenpaupack off the scoreboard this season. Adrianna Green again put in an industrious day at work, as did Kaila Steenback, Emily Bonsick, Meghan Noone, and Abby Brown. Despite the strong Abington defensive effort. the talented Buckhorns did produce some quality attack and did force Show into four saves. The Lady Buckhorns make their opponents earn victories; and there may not be many teams that will be able to beat them down the road.
Meanwhile, the Lady Comets now stand 6-0 in league play. However, they will need to keep that record intact if they want to keep ahead of Scranton Prep. A loss in league play could set Prep up to pull the title away from AHHS in a return match. Time to focus.
SOCCER IS A FUNNY GAME: Abington won each of its last two games by a two-goal margin. But let us announce for the record: Wallenpaupack is a much better team than Western Wayne.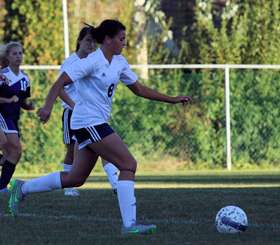 Ally Christman stepping into her goal-scoring shot (PHOTO: E. Black)