99 Boys Jones Soccer: 3v3 Soccer
Friday, April 27
3 v 3 Soccer
º 3 v 3 soccer is a fast paced match comprised of two 10 to 12 minute halves.
º 3 v 3 games are played on a small field with no goal keepers.
º 3 v 3 soccer is an excellent way for players to strengthen their passing skills, foot work, communication, and teamwork in order to aide their long term development as a soccer player.
º
3 v 3 Live Soccer Tour
and
Kick-It 3 v 3 Soccer Shootout
are two organizations that sponsor 3 v 3 soccer tournaments.
º
MLS Futbolito 4v4 Tournament
is a 4 v 4 tournament sponsored by Major League Soccer.
º Upcoming 2007 local area tournaments are scheduled for May 5, 2007 in Mesa Arizona and May 19, 2007 at Rose Mofford Park in Phoenix, Arizona.
º We generally need a squad of 5 or 6 players to enter a 3 v 3 tournament.
º Players interested in forming a 3 v 3 squad and participating in tournaments should contact
Coach Sean Sweeney
at 480-255-3957.
May 5 3v3 Live Tournament - Mesa, AZ


Congratulations to the two 99 Xtreme squads for both reaching the finals in the 3v3 Live tournament in Mesa. Both teams played an outstanding final match with the lead constantly alternating back and fourth. With their one - two finish both squads qualified for the Western Regionals. Way to go boys!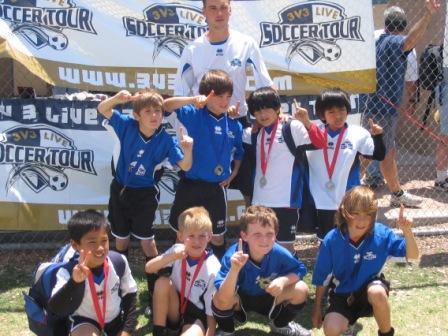 99 Xtreme 3v3 Live Champions