'97 Lobos: Dana's Page
Thursday, March 20
Dana's Page
DANA
We are ready to take this Journey with you!
Your 97 Lobos Family is with you all the way!!!
---
Michele Cunnane has graciously set up a CarePage Website for Dana to help and support her through her Battle with Breast Cancer. The Logo/Link below will take you to the site where you may send her messages and keep up with all the miraculous progress she will be making along the road. Below is a snipet of Dana's message posted on her website.....
---
Wow, what can I say? Things are moving and they are moving quickly now.
Life as I've known it is all going to change. But I get my strength from the Lord, my family, and my friends, so I'm ready to get started.

I am also thankful for anyone who comes here to check on me. I will do my best to keep you updated. Keep me and my five boys in your prayers… we are going to need them!!!!

James 5:16 The earnest prayer of a righteous person has great power and wonderful results.

I love you all!
Dana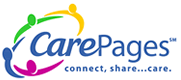 Dana's Page