Scottsdale Blackhawks 97 Boys Red: Welcome

97 Blackhawks Red
Welcome to the team web site for the Scottsdale 97 Blackhawks Boys Red soccer team! We are a part of the Scottsdale Soccer Club in Scottsdale, Arizona.
The team plays in the Maricopa County League, participates in tournaments, and practices two to three times a week during the season.
Scottsdale Soccer Club emphasizes the development of fundamental skills and enjoyment of the game to build a foundation for long-term success in soccer. The Club has a full time, highly qualified professional coaching staff that works with all teams at all levels. Formal tryouts for the 2012-2013 season have concluded; however, interested players may contact Coach David Scarle at 480-235-8678.
Scottsdale Parks Field Status Hotline
(480) 312-RAIN (7246)
Link to Max Shacknai Invitational Schedule
http://events.gotsport.com/events/schedule.aspx?EventID=27236&GroupID=241205&Gender=Boys&Age=16
2/23/2013 Boys U16 Red
Game Time Home Team Away Team Location Bracket A
8:00 AM SCOTTSDALE BLACKHAWKS 97 RED (AZ) ESTUDANTEZ AZE DO FUTEBOL NORTHERN AZ ESTUDANTEZ (AZ) Reach #2
1:15 PM SCOTTSDALE BLACKHAWKS 97 RED (AZ) SAN TAN SC 97 LEGACY WHITE (AZ) Reach #15
2/24/2013 Boys U16 Red Game Time Home Team Away Team Location Bracket A
9:45 AM SCOTTSDALE BLACKHAWKS 97 RED (AZ) CCV STARS 97 WHITE (AZ) Reach #15
Playoffs Final
3:00 PM Bracket A #1 Bracket B #1 Reach #16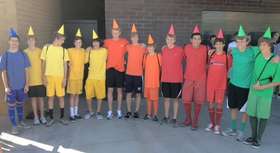 2012 Fun Run
2012-2013 Season Tournament Schedule
TOURNAMENT SCHEDULE DATES TOURNAMENT LOCATION
February 8 - 10 SC Del Sol Desert Classic Reach 11
February 22 - 24 Blackhawks Invitational Reach 11
March 15 - 17 & March 22-24 AYSA Presidents Cup - TBD - Outside of Phx This could change. (Phx/Tuscon)