Deltona Adult Soccer League: Welcome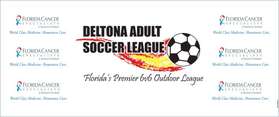 DASL & FCS Banner
Wednesday, January 2
WELCOME TO DELTONA ADULT SOCCER LEAGUE a 501(c) Non-Profit org, THE PREMIER OUTDOOR 6V6 SOCCER LEAGUE IN FLORIDA
In Partnership with the City of Deltona, the Deltona Adult Soccer League along with Florida Cancer Specialists provides our low cost adult 6v6soccer program.
Deltona Adult Soccer League is for all ages from 18 to 100 years old and both genders. Adults play 6 V 6 in Winter (Jan/Feb) & Summer (June/July) to continue enjoying the sport they love at a recreational level. This site will help bring all the soccer players together in the Central Florida area.
Winter season Jan. 8th to Feb. 27th 2019.
YOU MUST BE 18 YEARS OLD OR OLDER TO PLAY, IF YOUR 18TH BIRTHDAY IS DURING THE SEASON, YOU CAN START PLAYING ON YOUR BIRTHDAY.
INDIVIDUALS THAT DO NOT HAVE A TEAM, CALL ME, WE'LL SIGN YOU TO A TEAM, CHARLIE 386-748-5508.
WINTER 2019 JAN 8TH-FEB 27TH
Only 3 team spots open in the CO-ED B division. Call Charlie if you still wish to get a team in.
WINTER 2019 Divisions:
CO-ED OPEN, will only be a B & C Div. on Tuesday Nights, Games at 7pm, 8pm & 9pm.
Men's OVER 30 Plus Div. on Wednesday Nights, Games at 7pm, 8pm & 9pm.
Men's Over 40 Plus Div. on Wednesday Nights, Games at 7pm, 8pm & 9pm. Will play with OVER 30's if fewer than 4 teams.
Men's Over 30's you may have a Goalkeeper as young as 25, and 2 players 28-29, SEE OUR PLAYER RULES FOR DETAILS.
SEND YOUR E-MAIL ADDRESS TO: Cvance2@cfl.rr.com
AND YOU WILL GET E-MAIL REMINDERS WHEN TO SIGN UP.
CLICK ON "PLAYER INFORMATION" AT THE TOP FOR GENERAL RULES. COST: ($65.00 Per Player Cash or Check, $70.00 ONLINE TO COVER credit card bank charges).
Click above on "REGISTER ONLINE HERE" to pay by credit card, all paperwork will be done at the fields before games, but you have to pay your fee first.
Any questions this website can't answer call Charlie Vance Anytime: 386-748-5508
Deltona Adult Soccer League


Stay up to date on game schedules, Changes and Seasonal News on Twitter.com/charlie6v6, click on the birdie. Then link your cell phone to your twitter acct, lastly send "follow charlie6v6" to 40404 and you will receive our twitter text messages instantly on your cell phone, mainly used to notify you of cancelled games instantly.