5CYB: Welcome
Welcome to Five Cities Youth Basketball.
.............................................
Get the updates when we post them... Find us on Facebook...
Got Questions? Call AG Parks & Rec • 805.473.5474
1221 Ash Street • Arroyo Grande
Saturday, August 22
DONATE TO 5CYB WHEN YOU SHOP ON AMAZON!!
Next time you shop on Amazon.com, start here...
smile.amazon.com
Then find and select us - Five Cities Youth Basketball League
That way, all your shopping makes a 0.5% donation to our league.
Thank you an happy shopping!!
2015-16 Registration dates
2015-16 Registration Dates: 5:30-7:00pm on
Sept. 15th
Sept. 22nd
Sept. 24th
Registration will be at Women's Club Community Center
located at 211 Vernon St, Arroyo Grande. (Corner of East Branch)
PLEASE HAVE INSURANCE INFORMATION WITH YOU AT REGISTRATION.
Handout:
Registration & Code of Conduct forms
REGISTRATION FORM..
Please download and complete this registration form. Please print 3 copies and bring those with you to the registration night.
Handout:
Registration & Code of Conduct forms
2015-16 Registration.
Sponsored by the 5CYB Board, the City of Arroyo Grande, and the SLO County YMCA
Five Cities Youth Basketball 2015-16
Girls Grades 1st – 9th
Boys Grades 1st – 8th

Separate Girls and Boys Divisions:
1st/2nd Boys and Girls
3rd/4th Boys and Girls
5th/6th Boys and Girls
7th/8th Boys
7th/8th/9th Girls

League Dates:
Coaches meeting - November 12th
Coaches contact players by November 16th.
Games begin November 1st.
The season will end by Feb 28th.
7th, 8th & 9th Graders:
Please register during the above dates to secure your spot on a roster.
Do not wait. Players can and do play on both school and Five Cities Youth Basketball teams.
Skill Day October 10th (location to be announced).
Late Registration:
Late registration fee is $95 and will be taken September 26th – October 2nd at the Elm Street Community Center, 1221 Ash St., Arroyo Grande. October 4th or later, players will be placed on a space available waiting list. There is no guarantee that children on the waiting list will be placed on a team.
Fees:
$75 per player (all divisions),
$60 for each additional eligible family member (must have same permanent address).
Fee includes all games, picture package, team shirt, and end of season awards.
Late Fee: Additional $20 per player starting September 26th, 2014
Refunds: Fees can be refunded, less a $20 administrative fee if requested before November 8th.

Parent Registration: Parent volunteer coaches and referees can register at the same time they register their children.
For more info call A.G. Recreation at 473-5474 or visit www.5cyb.org

SPONSORS NEEDED!!
Dear Prospective Sponsor:
It is that time of year again... Five Cities Youth Basketball would like to update you on the 2015-16 season. Players will register September 3rd through September 24th, with games scheduled to begin November 30th. Five Cities Youth Basketball is administered by the Arroyo Grande Parks, Recreation and Facilities Department and the SLO County YMCA and is guided by a Board of Directors. We are a non-profit organization under IRC 501(c) and our tax identification number is 77-0247530. We are a volunteer-oriented group, which draws its funds from registration fees and sponsorships such as yours. We appreciate your support and hope you feel a bit of pride for helping the youth in our community.

As we prepare for the 2015-16 basketball season, we again need the support of our past sponsors, as well as any new sponsors we may acquire. Your tax deductible donation goes into the general fund, which pays for a team's uniform (with your business name on the back of the shirt), insurance, gym rental and gym monitors.

If you will be able to sponsor a team this year, will you please fill out the bottom portion of this letter and return it by September 25, 2014 to Five Cities Youth Basketball, P.O. Box 3464, Pismo Beach, CA 93448 We thank you in advance for your support.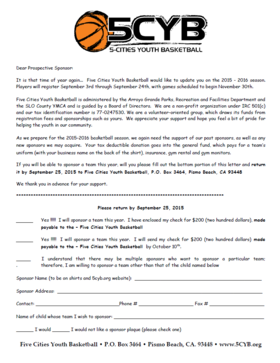 SIGN UP FOR THE EMAIL LIST
Saturday, August 15
COACHES
Prospective Coach:
Thank you for volunteering to coach this year. There have been many questions about how the league selects the teams and how coaches are placed, so we hope to clarify some misconceptions with this informational sheet.
Team Selection Process
In all divisions except 7th and 8th grades, teams are generally formed by schools. There are no guarantees though because odd numbers of sign ups are usually the norm at each school, so some players will have to be combined with other schools to form a team.


A committee of impartial officials - such as referees, and school officials ? is used to select the teams.


Teams are formed in this priority:

Each team must have a coach.
Each team must have a sponsor. The sponsor usually has a child on the team.
The team must be competitively balanced with the other teams at the SAME school. This of course is an inexact science and on some occasions mistakes are made.
Last on the priority list are ?Requests?.


Coaching Placement
Sometimes there are more coaches than there are teams at a given school. In this instance teams may have ?Co-coaches?. Also some coaches may be asked to be assistants or some volunteers may not be provided with a team this year? especially if they are already coaching another team. If this occurs, the league is hoping that the adults will be able to work together to provide a positive learning experience for their players.


Some schools will have more teams than coaches who have volunteered. In this case, all available coaches at that school sight will be asked to coach a team whether they signed up as an ?assistant? or whether they wanted to ?co-coach? with another parent. Remember your child or other children CAN NOT play without a coach. If no one volunteers to coach, we will be forced to drop your child and all children on that team on to the waiting list.


Requests to coach together will only be granted if the teams are balanced, all teams have a coach, and teams have a sponsor. Requests are last on the priority list when it comes to coach placement (expect in the 1st and 2nd grade division in which case most requests are granted if there are enough coaches).


Coaches may be asked to coach multiple teams in different divisions if there are not enough coaches at a particular school sight. Scheduling requests will be fulfilled so there are no conflicts with teams playing at the same time.


There are NO guarantees about any coaching placement.


In closing, the league appreciates the fact you have signed up to be an active participant in the lives of our youth. We hope that your main priority is to provide a positive learning experience for all players.

CODE OF ETHICS:
I will place the emotional and physical well being of my players ahead of a personal desire to win.

I will treat each player as and individual, remembering the large range of emotional and physical development for the same age group.

I will do my best to provide a safe playing situation for my players.

I will promise to review and practice the basic first aid and principles needed to treat injuries of my players.

I will do my best to organize practices that are fun and challenging for all my players.

I will lead by example in demonstrating fair play and sportsmanship to all my players.

I will provide a sports environment for my team that is free of drugs, tobacco, and alcohol, and I will refrain from their use at all youth sports events.

I will be knowledgeable in the rules of each sport that I coach, and will teach these rules to my players.

I will use those coaching techniques appropriate for each of the skills that I teach.

I will remember that I am a youth sports coach and that the game of for children and not adults.