50 Plus Baseball League, Inc.: Welcome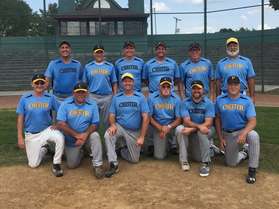 2017 50+ American Champs - Chester
Oct 8, 2017
Congratulations to our 2017 Playoff Champions!
50+ National Division - Niles
50+ American Division - Chester (back to back and 5 of last 7 years)
Note: We will be in need of a 58s VP and American Division VP for the 2018 season. Many thank yous to Mark Elston and Don Christian for their services as VPs.
**************************************************************************
League officers for the 2017 Season:
President, Dave Smercansky
Secretary, Jack Hay
Treasurer, Jack Lewis
Vice President American 50+, Don Christian
Vice President National 50+, Moe Meissner
Vice President 58+, Mark Elston
****************************************************************************** Website Updates Any scores, schedule changes, contact information and league news should be emailed to Ron Thomas at rthomas1@atlanticbb.net or call/text Ron's cell at 814-779-0565. ************************************************************************************************** 2017 Teams
American 50+ Division:
Boardman, Chester, Greenville, Hubbard, Westside & Youngstown
National 50+ Division:
Crestview, Girard, Jamestown, Niles, Salem, Springfield & Warren
58's Division:
Girard, Classics, A to Z, Warren & Fog

Tuesday, April 12
50 Plus Baseball of Youngstown