16U AASA Applegate: Welcome
Welcome to the AASA 16U- Applegate Website
Debbie Nelson's All American Sports Academy is proud to sponsor the All American Sports Academy Teams. Debbie has dedicated her career to the sport of fast pitch softball from ending her college career as an All American Athlete at Sacramento State University, holding the head coaching positions at Sacramento and San Jose State University. Debbie has recently held the position of asst. coach with the California Sunbirds of the Women's Professional Fast Pitch League.

In 1997 Debbie started All American Sports Academy in Tracy, California as the sole instructor in a single lane facility. The Academy has since grown to one of the top facilities in the U.S. with 6 full size pitching and batting lanes, 11 instructors, and a spacious observation area. The Academy currently has over 400 students in the sports of baseball and fast pitch softball.

Debbie Nelson has now entered the arena of Travel Softball with All American Sports Academy Teams. Debbie feels that "The organization will be run like a Division 1 college softball program. We are looking for highly skilled, academically focused and team oriented athletes to complement the current athletes on the team"

Mission Statement
The Academy teams are a competitive youth organization dedicated to talent, leadership, sportsmanship, and teamwork along with professionalism on and off the field. We emphasize the importance of family support, performance in the classroom followed by talent on the field.

We intend to give our student/athletes the opportunity to showcase their talents and compete at the highest level. In attaining these goals our student/athletes will develop the life experience to assist them beyond the classroom and the playing field.
2013 Spring Season
We are looking for a couple more competitive players to showcase their talents at the different showcases we will be going to this Spring 2013. We love to compete at the highest level.
If you have any questions, please call Coach Applegate @
209-996-8880
All American Sports Academy 16U-Applegate Summer Schedule
May 25th & 26th A.A.S.A.- Tracy
June 1st & 2nd Grapettes Showcase- Stockton
June 8th & 9th Invitational Showcase-
Fountain Valley Sports Complex
June 15th & 16th Association Tournament- Stockton
June 21st, 22nd, & 23rd Salinas PGF Qualifier- Salinas Sports Complex
June 29th & 30th Local Tourney
July 5th - 9th Champions Cup- Irvine
July 12th - 14th ASA Qualifier- Buchanan Softball Complex ?
July 20th - 26th Premier Nationals- Huntington Beach, CA
July 28th - August 4th ASA Nationals- Sunnyvale
16U Champions!!! Grapettes Jr College Event 9/29 & 9/30
Outstanding job this past weekend girls, all your hard work, effort and time are starting to pay off. Keep on working to reach your goals!!!!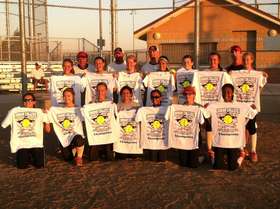 Champions!!! Grapette Jr College Event 9-30-2012