12U Heartbreakers : Welcome
Friday, February 7
Welcome to the 12U Heartbreakers Team Site!
Introducing the 2013-14 12U Heartbreakers
Coach John Harrison

Coach Dave Wetherholt
#1 Imani Campbell
#2 Maria Jiffas
#5 Destiny Simms
#7 Kaleah Wetherholt
#10 Spencer Rupinta
#12 Peyton Wetherholt
#13 Jenny Harrison
#15 Haylee Wastler-Grimes
#19 Paige Bernard
#24 Gabby Archie
#25 Braidan Wastle-Grimes
#26 Madison Dean
The Heartbreakers 12U Fastpitch Softball Team is one of 6 travel teams in the Heartbreakers organization, which includes teams in the 10U,12U, 14U, 16U and 18U age brackets. Based in Frederick, MD, the Heartbreakers were established in 1993 and provide girls of all ages the opportunity to compete at the highest levels of fastpitch softball.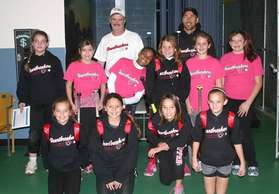 2014 12U Heartbreakers